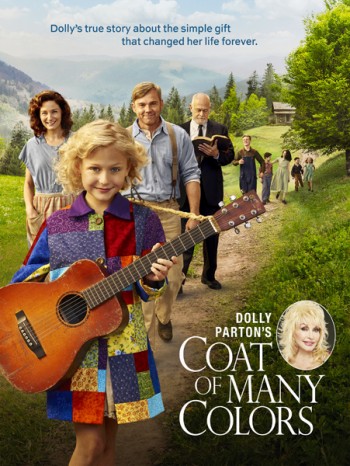 When it aired on NBC in December 2015, "Dolly Parton's Coat of Many Colors" turned out to be the highest rated TV movie since 2011. Much of its appeal had to do with the fact that it told a compelling story grounded in love of God and family. It was, of course, inspired by Dolly's classic song about growing up in a poor family in East Tennessee, and having a mom who sewed her a coat made out of different colored patches, just like Joseph in the Bible.
If you missed the movie when it aired, it's now available on DVD. And we will be honoring it with a Christopher Award this Thursday, which will be accepted by executive producer Sam Haskell.
Sam recently joined me on "Christopher Closeup" for an interview about the movie and the importance of faith in his own life as one of the most powerful men in Hollywood. Here is an edited version of our conversation:
Tony Rossi: "Coat of Many Colors" has always been my favorite Dolly Parton song. So at first, I was happy when I heard it was going to be made into a TV movie. And then, I was even happier when I saw how well it turned out! So take me back to the beginning. How did you and Dolly come together and decide to create a movie out of this classic, very personal song of hers?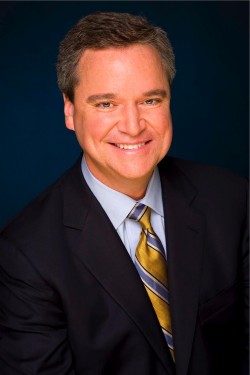 Sam Haskell: Dolly and I had been friends for almost 30 years, and I represented her for half that time when I was an executive at the William Morris Agency. We're very close friends. Dolly and I sat down about 14 months ago, and started thinking about ways that we might do some television projects together. We came up with this idea of taking some of her hit songs, one of which of would be "Coat of Many Colors." Of all the 3,000-plus songs she's written, "Coat of Many Colors" is her favorite.
We thought to ourselves, "Let's see if we can find a network that might want to consider doing TV movies." Now, TV movies at the network level are basically null and void. We both had a relationship with Bob Greenblatt, who's the Chairman of Entertainment at NBC. So we had lunch with him and we threw this concept out, and he bought it. I just started putting it together with friends.
Ricky Schroder, who plays Dolly's dad, was my client when he was eight-years-old in "The Champ." Gerald McRaney, who played the grandfather, has been one of my closest friends for 35 years. And Jennifer Nettles – this was her first major acting role, and how incredible she was, a true revelation! And then we looked at over 200 little girls before we found Alyvia Alyn Lind, and no one could have played Dolly more perfectly. When Dolly saw her audition for the first time, she cried, and we knew we had the right child.
From my point of view and Dolly's, we needed to give the audience something they can hold onto, something faith-based and inspirational, and it fits all the criteria of the Christopher Award. And I must tell you, being the recipient of a Christopher Award is a dream come true for me, because I have admired for so many years, the kinds of programs that you honor. And for our first one out of the box together, to be the recipient of the Christopher is such an honor, and it just, it just makes this whole experience perfect!
TR: One of the things I appreciate about the movie is that it beautifully tells the story of Dolly's "coat of many colors," but it also expands the story by touching on themes like grief and forgiveness and bullying. Those are timeless, relevant issues. What went into the development of that part of the story?
Sam Haskell: These were all things that actually happened in Dolly's life – a series of events that happened when she was nine-years-old, and set her on the path to where she is today. Whether it was the development of her music, her teacher discovering her ability to write, her mother and father raising them in the church – even though her father was a reluctant Christian, he found his way, eventually, as we tell in the story – and the way she's dealt with bullying. The bullying aspect of the story is very important, especially for kids today.
Through her Imagination Library, Dolly has published a children's book based on "Coat of Many Colors." That book and several others are given to every child in Eastern Tennessee, and now it's opening up all over the country so that millions and millions of books are given to children who need them.
But there's also another important message, and that's faith. It's something that I don't think people are getting enough of today, when dealing with socioeconomic times, political times that are unsettling. To find something consistent and faith-filled, I think, is what brought the audience to us. People were anxious to see something they could hold onto at a time when they really needed it.
TR: The Christopher Awards are about shows that light a candle rather than curse the darkness. And one of the things the movie doesn't do is it doesn't sugarcoat the times of darkness. Because the Parton family went through some major struggles. One of my favorite scenes is after Dolly's mom loses the baby, and Dolly is out in the field, Alyvia Alyn Lind is playing her, and she's showing her anger at God. And it was such a powerful scene about them dealing with grief and how God plays into all this.
Sam Haskell: Dolly's grandfather, her mother's father, was a preacher – Pastor Jake Owens – and he was beautifully played by Gerald McRaney. Faith was what everything was based on, when they didn't have enough food for all those twelve kids, when they didn't have enough new shoes or any kind of warmth in the winter, they relied on faith. I've often been asked the question, "How do you explain Dolly's success?" I say, "Dolly gives her audience her heart and her stories of her life, and her realness, and her talent." And the audience's gift to Dolly is her success and that is based on the faith of a little girl. That is based on the faith of a mother and a father raising their family against all odds in a poverty-stricken area, and all believing that everything's gonna be okay! And somehow, with a faith that strong, things have to work out – and they did! And Dolly looks back on those days as life lessons being taught, learning strength of character and integrity — all the things that are really what's most important.
TR: You mentioned before Jennifer Nettles plays Dolly's mom in the movie, and she comes across as a very strong, loving woman. But I know in your own life you were also raised by a strong, loving woman named Mary Kirkpatrick Haskell, who you wrote about in your book, "Promises I Made My Mother." Did you see any similarities between Dolly's mom and your own?
Sam Haskell: I did and I have to tell you, if you go back and watch the movie, you will see Jennifer as Avie Lee Parton say to her children, "Come on, babies." Instead of saying their name, she would just call them "babies"or "baby." And my mother called me "baby." Jennifer did not know that. And the day that we shot little Dolly coming out of the house in her coat on her way to school, before the bullying happened, I heard Jennifer say, "Come on, babies. Get ready for school." And I thought, "Oh my God, I just got a chill down my spine!" Because that's the way my mother always referred to me and my brothers!
Jennifer did that on her own, and I took her aside after the first day of shooting and told her that. And we both hugged over it, because she said that's the way she was raised, too. It may be a Southern thing, but it really touched me at that moment. And I appreciate you mentioning my mother because she was a very strong presence in my life, and the life of my brothers, and we lost her much too early to cancer. And I thought about her so many times during the production of this movie, which is about a mother's love for her children.
TR: We were talking about Dolly's faith before, but I know your faith was also an important part of your life. How did your mother model it for you, that it made it grow roots in your soul?
Sam Haskell: We were raised in the church. My grandparents and mother were members of the First Baptist Church in Amory, Mississippi. My father was from Cincinnati, Ohio, so my mother had married a Yankee, and he had been raised Episcopalian, and really didn't go to church much. So my mother made sure that my brothers and me were in church every Sunday and involved in every activity at the church. So it was very much a part of my upbringing. And when you get to a point in your life where you make the decision, "Am I going to continue this or not," I made the decision to continue it. And through my mother's faith, I found my own…
It's that faith that put me on the right path; it's that faith that made me sort of stand out differently in Hollywood. A lot of people say that the thing about Sam Haskell was you could always trust him. Well, I believe that comes from my faith. Trust and character and integrity are of the utmost importance to me, at all times. And I try to exemplify that every day of my life.
TR: You just mentioned Hollywood, so I'm curious – was it difficult to hold onto your faith when working in Hollywood?
Sam Haskell: I had young agents or even co-workers, executives, mentors say to me, "How are you able to stay so calm when the storms get so rough?" And I go, "It's my faith." My mother taught me that when the storms come, you get on your knees and pray for strength to endure. Or you pray for mental capacity to help others get through it so that it works out – and I've always looked at it that way. My mother taught me that it's very important to pray. You can pray in the shower or driving a car, wherever you are. But she really thought the most important place to pray was on your knees. So when I really have something that's a burden that I think I need help with, I get on my knees.
I'm sixty-years-old, and I still think of what my mother told me as a little five-year-old. I still think about that, and it touches my heart, and it gives me warmth and peace. Ultimately, that's what we all are looking for, so I would bring that to every situation I was involved with in Hollywood. And it set an example that others wanted to follow, whether they were Christian, Jewish or agnostic. My mother used to say to me as a little boy, "You go stand in the light of God's grace, and you show people who you really are, and they will respond. Do not hide in the shadows or the darkness. You stand in the light." And that's what I've always tried to do, and I know that with my many conversations with Dolly about that, we both try to stand in the light.
I think "Coat of Many Colors" is an example of a story and a production that the light has been shined upon and a group like the Christopher Awards honoring it, is just an incredible thing for us. We've had people talk about making a profession of faith after seeing the movie, or children asking their parents about God in heaven and "Why does she want to be with Him in heaven? What does that mean, Mother?" And mothers writing to us and telling us that letting them watch "Coat of Many Colors" helps them explain it.
(To listen to my full interview with Sam Haskell, click on the podcast link):

(Photos courtesy Sam Haskell/NBC)
Stay in touch! Like The Christophers on Facebook: