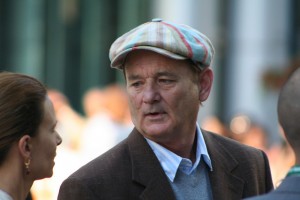 Bill Murray was in the news last week because his beloved Chicago Cubs finally won the World Series after 108 years. But he also earned some other recognition recently when he was awarded the Mark Twain Prize for American Humor, in a ceremony that aired on PBS.
While there were plenty of funny stories told that night – especially about Murray's propensity to do zany things or pop up at people's weddings – the most poignant story came from David Letterman, a comedian better known for snark than softheartedness (in public, at least).
Murray was a guest on Letterman's talk shows 44 times through the years. After an appearance about 13 years ago, Murray asked Letterman about his plans for the weekend. Letterman responded that his son was being christened. Murray congratulated him and wished that everything would go beautifully.
One hour later, a box arrived at the studio addressed to Letterman from Murray. Letterman took it home and let his wife open it. She was surprised by what she found inside. It was a handmade christening gown made of Irish linen.
Letterman said, "That Saturday, my son, in Bill Murray's christening gown, was christened at St. Ignatius in Manhattan. We have this memory, we have this gift, we have this gesture for the rest of our lives,"
(Photo credit: djp3000 via Visual Hunt / CC BY)
Stay in touch! Like The Christophers on Facebook: