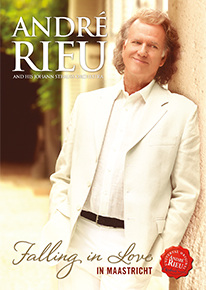 While eating lunch on Saturday, I stumbled upon Andre Rieu's latest PBS special, entitled "Waltzing Forever" (though internationally, it's known as "Falling in Love in Maastricht"). Rieu has a gift for inspiring his audiences to dance in the aisles, but he also included professional ballroom dancers in this concert. To my surprise, several of the dancers, both men and women, in a couple of segments were in wheelchairs.
Highlighting what people with disabilities are capable of doing is a praiseworthy decision on Rieu's part, who smilingly asserts that "A waltz a day keeps the doctor away."
In the video of the full concert posted by the Andre Rieu Fan Club, you can find the first segment at 1:31:50 ("Somewhere, My Love" from "Dr. Zhivago").
I couldn't locate the full second segment, but you can see the athletic highlight in this promo video (the male dancer lifts and spins the female dancer, who is in a wheelchair) at 1:18.
Stay in touch! Like The Christophers on Facebook: