Have you heard of Men's Fraternity? It's the world's most popular men's discipleship curriculum. Thousands of churches around the globe have used this much-loved video series to challenge their men.
Men's Fraternity began in the early 1990s. Pastor Robert Lewis of Fellowship Bible Church in Little Rock saw his men returning from Promise Keepers rallies excited about their faith — but there were few resources to disciple them. The men were asking, "Now what?"
So one Sunday Lewis announced that he was going to offer an early morning weekly talk on men's issues. He rented an old gymnasium and expected maybe 50 guys to show up. To his amazement more than 300 men packed the gym that first morning. Within four years more than a thousand men were attending his weekly talks. Men's Fraternity was born.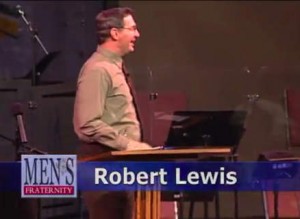 Lewis eventually videotaped his sessions. He co-founded an organization called Fellowship Associates, which distributed and marketed these lessons on VHS and DVD. Men's Fraternity videos have been viewed by millions of men around the world.
The original Men's Fraternity videos contained great teaching – but they were delivered in a straightforward, talking-head style. The videos featured one guy on stage in a church setting. So a few years ago, the Fellowship Associates team began to brainstorm: How can we make Men's Fraternity more relevant to today's busy young man?
Their concept was called "33 – The Series." (The number 33 refers to Authentic Manhood as Modeled by Jesus in his 33 years on earth.)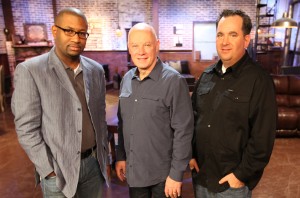 33 – The Series offers many of the same teachings as the original Men's Fraternity — delivered in a package that's more relevant to today's guys:
Thirty-three is shorter. Each Men's Fraternity module consisted of 24 sessions at 55 minutes each. Thirty-three is built around a series of six-week modules at 35 minutes each. Shorter sessions leave more time for men to discuss the lesson afterward — and guys will more readily commit to six weeks than to twenty-four.
Thirty-three is filmed in a man-cave. Men's Fraternity featured Robert Lewis speaking from a church podium. Thirty-three is filmed in a studio with lots of guy-oriented stuff in view.
Thirty-three is team-taught. Instead of one speaker, 33 is led by three pastors of different ages and races.
Thirty-three brings in new voices. Interviewees include rappers, athletes, pastors, counselors, and many others.
Thirty-three includes strong visual content. Each video includes interviews, documentaries, testimonies, round-table discussions and dramatic vignettes.
Thirty-three is available on multiple platforms. Participants can access 33 on DVD, computer and mobile devices. It can be purchased in a kit or episode by episode.
Rick Caldwell is executive director of Authentic Manhood, distributor of Men's Fraternity and 33. Caldwell says that 33 is being used not only in churches, but also in homes, coffee shops, cigar shops, and restaurants. "We just got a note from a guy in Trinidad, who's using it in the correctional system," Caldwell said.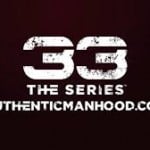 Caldwell's son recently returned from Afghanistan, where troops were watching the 33 videos on their smartphones and iPads. Thirty-three is used by on military installations around the world.
"We're also seeing huge success in the African-American community, because one of our presenters on the 33 team is a prominent African-American pastor," Caldwell said.
Each year, Authentic Manhood donates all the proceeds from DVD and online sales to an organization that plants five new churches each year. The church planters use 33 – The Series as a teaching tool in their communities – even before they launch a worship service. These gatherings help the planters identify men who often become leaders within these new congregations.
Caldwell says that even as 33 gains in popularity, the classic Men's Fraternity series with Robert Lewis continues to sell well. "Some guys prefer the more traditional teaching style – different approaches work with different groups of men," he says.
Volumes one through four of 33 are now available online and on DVD. Each volume consists of six sessions. During the next year the final two volumes (5 and 6) will be produced. After that, "we'll explore what men need to be doing," Caldwell said.
To learn more about Men's Fraternity and 33: The Series, click here. To listen to my podcast interview with Rick Caldwell, click here.