Imagine a church that meets outdoors. Rain or shine. Next to a fishing hole. Around a campfire.
There's no shortage of men in this church. In fact, guys come early to go fishing – and stay late to talk around the fire.
Sound like a little bit of heaven? It's called The Sportsman's Church, and it meets every Sunday night in Victoria, Texas, 125 miles southwest of Houston.
Bring your Bible – and your fishing pole.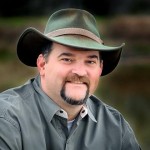 The founder of Sportsman's church is Glen Dry. He was working part time on a church staff when an idea hit him: launch a congregation that targets the camo crowd.
Glen already had numerous irons in the fire. He's a busy father to 3 active kids. Starting a church was the last thing he wanted to do.
"I didn't want to be a church planter, but I've learned that obedience is a lot better than misery," Dry said.
The Sportsman's Church launched February 3, 2013. The church meets on Sunday nights so outdoorsmen have the weekend free to do what they love.
"It's gospel centered, relationship centered and also very man-centered," Dry said.
In just 14 months the church has grown from a handful of worshippers to more than 100 in regular attendance.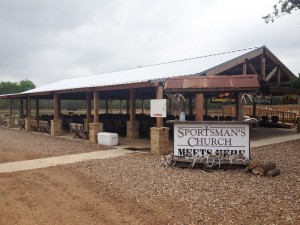 Attendance varies depending on the weather — because the church has no walls. The worshippers gather under a pavilion – whether it's 40 degrees or 100 degrees. "The good thing about this is I've got a church of people who want to be there," Dry says.
Worshippers start to assemble at 5 p.m. Sunday on a party deck. The church provides snacks and soft drinks. The band starts playing a little after 5. Then Glen shares a hunting story or a testimony. Hunters and fishers are allowed to share their stories (thou shalt not lie!).
Glen's sermons are brief (15-20 minutes). The service (or Bonfire, as it's called) wraps up a little after 6 pm, but hardly anyone goes home. Instead, they gather around campfires and visit until dark. "If we kept the lights on they'd probably stay all night," Dry said.
"It's exciting to see people coming to church not just for a show, but they are coming for the relationships, and I believe, to experience God in those relationships," Dry said.
The church is hoping to keep meeting outdoors, but is looking at an indoor option for the coldest winter days. If they do eventually move indoors, they're seeking a light, airy facility where they can bring the outdoors in.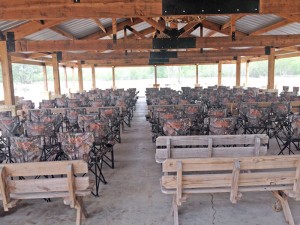 One of the great strengths of the Sportsman's Church model is how inexpensive it is to operate. There's no building to rent, heat and cool – just a concrete slab, an aluminum roof and some camp chairs. "There is hardly any overhead in this church," Dry said.
The congregation has grown without much advertising because it offers such a unique approach. Sportsmen are a tight community who are accustomed to doing things together, so they're not shy about inviting friends.
Sportsman's Church carries the outdoor metaphor into its midweek ministries. They offer small groups called Campfires. Their children's program is known as Camo Kids, while the nursery is called Critter Care. The Student ministry goes by the name Wild Life. It's a youth group where teens blow stuff up, shoot arrows into targets and draw Biblical lessons from the outdoors.
But Dry's greatest joy is the conversations he has with men. Practically every week one approaches him saying something like, "This is what's been missing in my life. I can relax in this environment and be a man and bring my family."
"I'm baptizing guys I'd have never dreamed I'd see in church," Dry said. "They don't fit into the traditional church culture America has created. So this is just a great option for them."
To learn more about The Sportsman's Church, click here. To hear a podcast interview with Glen, click here. Offer your comments below, or join the conversation on our Facebook page.
Here are some photos I snapped during a midweek visit: