They are not the same. What you focus on during your weekly services will determine how many men you have in your church.
* * * * *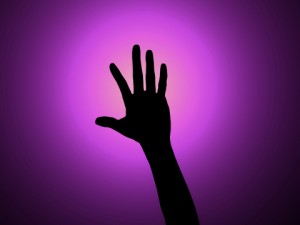 A few weeks ago I visited a small, traditional church in Anchorage. About 100 worshippers had gathered at 10:30 on a drizzly Sunday morning to enjoy the four Ss: singing, sermons, sacraments and socializing.
The worship service started off well. I was delighted when we sang "Onward Christian Soldiers," a politically incorrect favorite that's rarely heard in my church of 2,500.
Then an elder stepped up and asked for prayer requests (another practice that's gone by the wayside in my large congregation). One-by-one the people stood and shared various needs. Several asked for physical healings for far-flung friends and relatives. They asked prayers for upcoming events in the church, and "traveling mercies" for congregants traversing the globe.
The people kept sharing. And sharing. For forty-two minutes. One woman held the floor for more than 12 minutes, telling three lengthy stories that weren't really prayer requests at all.
By the time the sermon began, we had already been gathered for more than an hour. Mercifully, the pastor breezed through his message in just under 20 minutes, and after a closing hymn we were out the door shortly after noon.
After the worship service we went to lunch with another couple that were also first-time visitors. I asked them what they thought about church. Their reaction was overwhelmingly negative.
"I would never go to that church," said the man.
"Why?" I asked.
"It was just really boring. I was practically falling asleep during all those prayer requests," he said.
"I couldn't believe that woman who talked for 12 minutes!" the woman said. "She was practically incoherent, but nobody had the guts to tell her to zip it!"
Why am I telling this story? Because a church that wants to grow (and attract new men) must keep a vertical focus during its worship services.
One time a man asked Jesus, "What is the greatest commandment?" He replied, "You shall love the Lord your God with all your heart and with all your soul and with all your mind. this is the great and first commandment. And a second is like it: You shall love your neighbor as yourself."
Christ established a hierarchy of sorts: we must love God first. That's the purpose of worship – to transcend this world and connect with God. The focus is vertical.
Fellowship is different. The focus is horizontal. Fellowship is designed to connect us with one another. This is how we fulfill the second greatest commandment.
So here's the problem: that little church was using half its worship time for fellowship. It was focused horizontally when it should have been focused vertically.
For forty-two minutes that church was basically functioning as an oversized support group. And worship services are lousy support groups:
They're too big and anonymous to provide real support.
People are afraid to share embarrassing needs (divorce, family dysfunction, etc.) so they end up praying only for socially acceptable needs such as physical healings and traveling mercies.
Spoken prayer requests make visitors feel like outsiders, since they have no relationship with the individuals who are making requests.
Worship services provide little or no follow up for people who are hurting.
Prayer-and-share can serve as a platform for gabby folks who seek the limelight.
Megachurches attract a higher percentage of men – and one of the reasons is that they've divided worship and fellowship into two separate events.
Megachurches have realized their members need both worship and fellowship – but you can't do both well in the same meeting. So they work hard to provide a quality worship experience on Sunday – while pushing their members into midweek fellowship groups. Sunday morning is for vertical; Tuesday night is for horizontal. Worship is love God time; Small Group is love people time.
This is why megachurches continue to grow, even though they tend to be more impersonal than small churches. By creating specialty tools, the megachurches are elevating the quality of both worship and fellowship.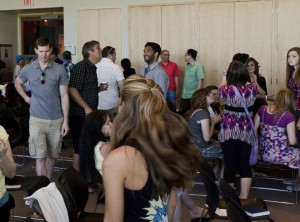 A lot of people who grew up in small churches feel uncomfortable or even hostile toward megachurches because their worship services feel so cold and impersonal. There's little human interaction – just staring at a stage. But this is by design. These king-size congregations are just admitting the obvious – you can't really love one another very well on Sunday morning. Taking a few prayer requests or 10 minutes of chitchat after church isn't the deep fellowship the Bible describes. So they have moved their fellowship component to their small group ministry.
But that little church I was visiting was trying to create both worship and fellowship on Sunday morning – and was driving away visitors as a result.
So how about your church? What percentage of your worship service is horizontally focused vs. vertically focused? If you spend more than 20% of your worship time trying to love one another you may be driving visitors away – particularly guys. Leave your comments below or join the conversation on my Facebook page.