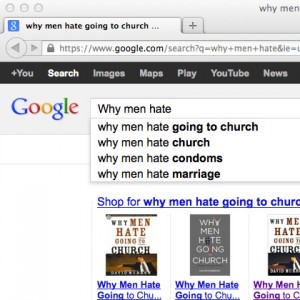 According to Google, the number one men thing men hate is going to church.
Go ahead. Type "why men hate" into any popular search engine. The first result on Google, Yahoo! and Bing is the same: Why Men Hate Going to Church.
Google's top five hits under "why men hate" all involve church.
Search engines give top billing to phrases that are sought most frequently. The topic of men and church is obviously being discussed fervently online.
I want to thank you, my readers, for keeping this topic on the radar in your churches. The more we press this uncomfortable issue in our congregations, the more positive changes we will see.
So tell me your story. Have you spoken to anyone lately about the Christianity's gender gap? What was said? Was anything done about it? Please post your comments below, or join the conversation on my Facebook page.