The following blog post is an excerpt from my book, How Women Help Men Find God. To order an autographed copy, click here.
• • • • •
You may think that men don't pay attention to décor. You're wrong. The way a space looks and feels is very important to men, because the male brain is intensely visual-spatial.
Men love to gather in spaces that are decorated according to their tastes – think Man Caves, a sports bar, or a stadium. The right décor can even convince a macho man to enter feminine territory—and pay to do it. Let me show you how this principle is working in the business world.
One Saturday I was visiting my mother in San Antonio, Texas. She was getting her hair done and asked me to pick her up at the salon at noon. I followed her directions to a high-end strip mall. I glanced up and saw a pair of neon scissors in the window, so I figured I'd found the right place.
I pulled open the door and couldn't believe my eyes. I'd never seen a hair salon like this one. Hanging to my right was a ceiling-to-floor banner for the San Antonio Spurs basketball team. The waiting area featured replica trophies, autographed jerseys, gym-style lockers, and a big-screen TV flashing sports scores from around the country. Each hair-cutting station featured a personal TV monitor tuned to a sports channel.
I was in the wrong place—but I liked it.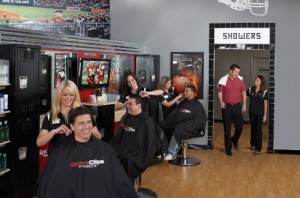 I had stumbled into Sport Clips,a grooming destination for men. This guy-oriented hair cutting chain was founded in 1995 by a fellow named Gordon Logan, who sensed men's discomfort with the typical styling salon. Logan reasoned that guys would spend more time and money in a place that was decorated according to their tastes. By simply changing the décor, Sport Clips has made the beauty parlor a masculine destination.
How is Mr. Logan's formula working? Entrepreneur magazine listed Sport Clips as one of the one hundred fastest growing franchises in the US. The day I accidentally found Sport Clips, every seat in the waiting area was full of men and boys. I looked at the prices—these haircuts weren't the cheapest in town. Mr. Logan is right: guys are willing to shell out a few extra bucks for a haircut delivered in a masculine environment. Their slogan: It's good to be a guy.
Think about it. Men will not only do something girly, but they'll pay a premium price to do something girly if we simply cloak it in a theme they can relate to.
By now I was late picking up my mom. So I stepped outside and found her salon, which was three doors down. I pulled open the door and the difference slapped me in the face. The first thing I saw was a quilted banner with the word welcome hung lovingly across the face of the front counter. The room was painted a soft pink, with silk flowers perched on Greek-revival pedestals. Four women sat in the waiting area, thumbing through magazines like People, O, Better Homes and Gardens, and Redbook. Scented candles adorned the reception table, and a decorative container of potpourri was placed beside the cash register.
Take a guess: which space felt more inviting to me?
Now let's bring this home. Tell me the truth: is your church decorated more like Sport Clips or more like my mother's beauty salon?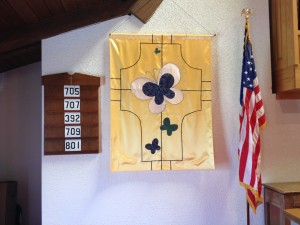 As I speak in churches, I notice the beauty salon motif everywhere. Quilted banners and silk flower arrangements adorn church lobbies. More quilts, banners, and ribbons cover the sanctuary walls, complemented with fresh flowers on the altar, a lace doily on the Communion table, and boxes of Kleenex under every pew.
Also common are tacky bulletin boards festooned with photos, yarn and construction paper lettering that appears to have been stolen from a kindergarten classroom.
Ribbons. Flowers. Quilts. Lace. How has this become the default look for the local church? In what way does this dewy décor reflect our mission? And what does this motif communicate to men? It's good to be a grandmother.
Fortunately, churches are beginning to redecorate with men in mind. Gender-neutral décor is one of the hallmarks of the modern megachurch. You won't find a single quilt, banner or bulletin board adorning the interior walls of America's fastest growing congregations.
Smaller churches are getting on board, too. John Eldredge tells the story of a church whose prayer room was seldom used by men. It was adorned with silk flowers, lace curtains, candles, and boxes of Kleenex everywhere. The pastor asked his men why they rarely used the room. "Because it's so feminine!" they replied. The pastor challenged his men to redecorate. They stripped the place and put up swords, shields, Celtic banners, and tomahawks. In short order the church's prayer ministry team tripled in size, thanks to an influx of men. Not surprisingly, the young women of the church also loved the new decorating scheme.
Which brings me to my final point: women love to invade guy spaces – but men avoid gal spaces. For example, my wife is perfectly content at Home Depot, but I hate going into JoAnn Fabrics. So if your church has a guy-friendly decorating scheme, you'll make everyone feel welcome. But if your worship space is decorated like Aunt Polly's parlor, don't expect men to feel comfortable there.
In a future post I'll share the story of a church built from the ground up to attract guys. And your jaw will drop when you see how this young pastor broke every rule of church decorating.
So how is your church decorated? Share a photo or join the conversation on our Facebook page. Or leave your comment below.