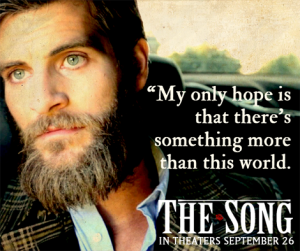 Is a man destined to repeat the mistakes of his father? Is it wise to pray for wisdom? What's more dangerous – failure or success?
I don't usually place movie reviews on this blog, but I had the opportunity to watch a pre-screening of a remarkable new film that deals honestly with the challenges successful men face. It's a retelling of the life of King Solomon titled, "The Song."
In this version, Solomon is a country music star. But first we meet his father: David King (a nice turn on "King David"), a renegade crooner who rules country music.
At home, King plays the family man, but on the road he parties hard. In a moment of weakness he takes the wife of a friend and gets her pregnant. David tries to cover his sin, but eventually the truth comes out. His marriage is destroyed, the child is aborted, and his friend is killed.
Eventually David marries his friend's widow, and they bear a son named Jedediah (which happens to be the name Nathan the prophet gave to Solomon in 2 Samuel 12:25).
Fast forward to present day. David dies after years of hard living. Jed has grown into a handsome but not-too-talented singer playing in dive bars to get by. Jed trades on his famous father's name with only modest success. His agent tells Jed to "find his song" and then offers him a last chance opportunity – a solo gig at a wine festival.
It's in that vineyard that Jed meets the love of his life – Rose Jordan, the vintner's daughter. Jed woos Rose and eventually weds her.
Throughout the film we hear Jed's voice speaking the words of Solomon as taken from Proverbs, Ecclesiastes and Song of Solomon. The ancient texts lend a sense of gravitas to what would be just another cinematic love story.
This device is particularly effective during Jed and Rose's wedding and honeymoon scenes. As the couple embraces we hear Jed's voice reciting the words Solomon wrote to his beloved on their wedding night. After thousands of years these verses still smolder with erotic passion.
Jed writes Rose a song on their wedding night – and "The Song" quickly propels him to stardom. Wealth, success and fame follow.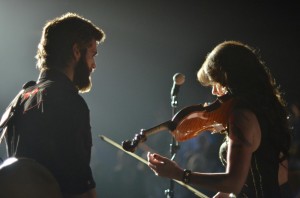 Jed's agent arranges a tour with country singer and violinist Shelby Bale – and the trouble begins. Bale is a pitch-perfect femme fatale, a beautiful, sassy temptress who relentlessly pursues a tryst with Jed. He resists her charms for a long time, but he's lonely.
To his credit, Jed sees the storm brewing and begs Rose to leave their home in Louisville and tour with him. But she refuses. Her father is ailing, and doesn't want to subject their young son to life on the road. Rose represents the foolish woman who sabotages her marriage by refusing to leave her parents – or by subsuming herself into the life of her children.
Eventually Jed succumbs to the temptations that took down his late father. He and Shelby descend into a maelstrom of drugs, alcohol and sex. Jed's marriage is nearly destroyed when his infidelity is exposed. In one of the best on-screen marital spats I've ever witnessed, Rose and Jed scream out their frustrations, standing in the unfinished chapel where they were wed.
The Song avoids many of the pitfalls of a low-budget Christian film. The dialogue and acting are good. It's very well shot and edited. The film points us to the Bible – without beating us over the head with it. The Song reminds viewers that marriage is not merely a union of two souls, but a picture of something much larger.
Unlike many Christian films that take a "blame the husband" approach, The Song is fair to men. Jed really tries to stay faithful and keep his marriage together. Meanwhile, Rose unwittingly pushes her husband away and allows her love to grow cold. The Song honestly portrays the temptations men face when their dreams come true. And it deals with the tension every man faces: how to balance success at work with success at home.
I enjoyed watching for Biblical parallels as the story unfolds (many of which are so subtle I missed them). A favorite: Jed is teaching Rose how to skip rocks across a pond. When she praises his skill, he holds up a smooth stone: "My dad was deadly with one of these."
Guys, take your wives to see The Song. You'll enjoy it, and she'll be moved by it. And if that leads to a romantic evening, you're welcome.
The Song opens this weekend. There's a six-week couples' study called Awaken Love that accompanies the film. For more information or to order resources click here. From City on a Hill Productions.
(Full disclosure: I did not receive any compensation for this review. I just liked the movie and decided to release my inner Roger Ebert.)