You may not think church décor matters to men.
It does. A lot.
Men are intensely visual. The way a room is decorated tells guys whether they are welcome in that space.
Take a look at these two spaces. Which one looks more inviting to you?

The typical church is decorated grandma-style: Quilted banners and silk flower arrangements adorn church lobbies. More quilts, banners, and ribbons cover the sanctuary walls, complemented with fresh flowers on the altar, a lace doily on the Communion table, and boxes of Kleenex under every pew. And don't forget the framed Thomas Kinkade prints, pastel carpets, and paisley furniture.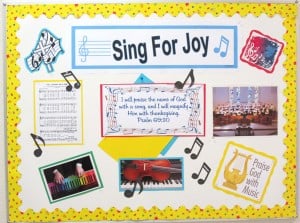 Hallways are often covered with handmade signs, photo collages, or school-type bulletin boards that suggest a kindergarten classroom.
This femme décor sends a powerful subconscious message to men: you are out of place. The moment men set foot in the vestibule, they look around get the same uneasy feeling they experience in a fabric store, flower shop, or any other female-oriented locale.
Many men would deny feeling this way (after all, men aren't supposed to care about décor). But some men are becoming more open about this. There's even a TV show about masculine décor called "Man Caves."
Décor is certainly not as important as the working of the Spirit within the church. But all things being equal, a church's choice of décor can make a difference in reaching men. Visit any megachurch – you won't see a quilt, felt banner, construction paper bulletin board or lace doily anywhere. Large churches are very intentional about bringing in men – and décor is a part of their strategy.
Just yesterday I got an e-mail from a reader in Ontario. He wrote:
"Our sanctuary is painted in tones of rose. It is very feminine in color. We also hold a service in our gymnasium and it is up for a face-lift. All the women look at me sideways when I mention men friendly color. Do you have any examples that you can point me to of worship spaces painted specifically to appeal to men?"
A few years ago I visited a church in Charleston, WV that's decorated with men in mind. Bible Center Church looks more like Cabela's than your typical church. Take a look at these photos I snapped during my midweek visit.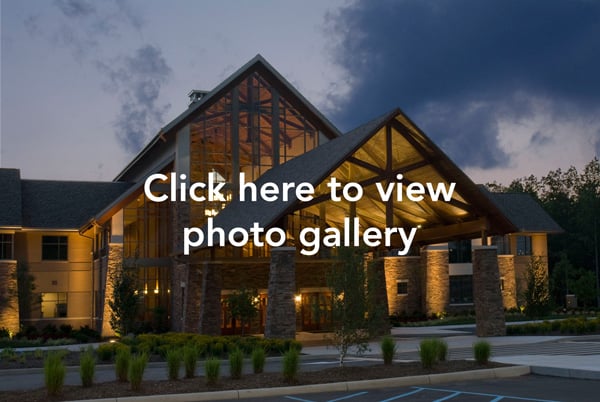 You don't have to have a $10 million budget to make your facility more appealing to men. Try these simple steps:
Paint your walls in the colors of the field: browns, tans, greens, etc. Avoid pastels and pinks.
Use natural building materials: stone, natural wood and slate tile.
Keep walls free of clutter. No bulletin boards. No taping flyers on walls, doors, etc.
Take down the quilts, banners, lacy curtains, etc.
If you really want to go for men, hang decorations that resonate with the men of your community. Brandon Smith at Paradise Outfitter Ministries is targeting the camo crowd, and has covered the walls of his 7-year-old church plant with taxidermy. Have a look: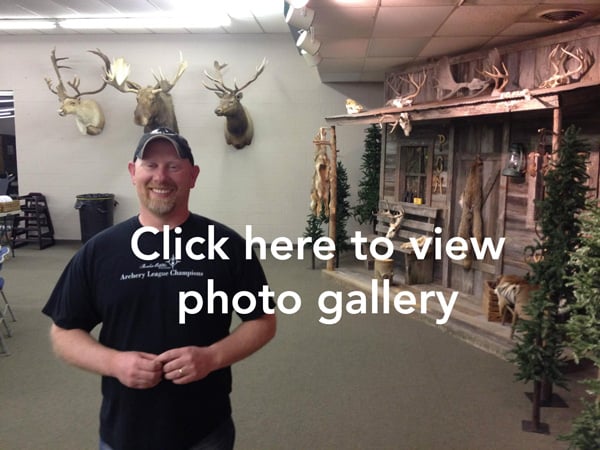 So men, what do you think? Are you more comfortable in a ladies boutique or an auto parts store? Does feminine décor bother you, or am I the only one?
Before you pull out your paintbrushes, read this interesting article from Paul Lous Metzger about the importance of space and structure in worship.
---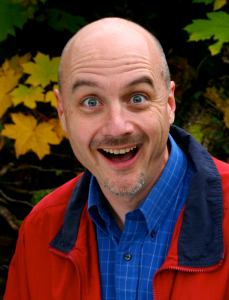 David Murrow is the author of the bestselling book, Why Men Hate Going to Church. David's books have sold more than 175,000 copies in 12 languages. He speaks to groups around the world about Christianity's persistent gender gap. He lives in Alaska with his wife of more than 30 years, professional silk artist Gina Murrow. Learn more about David at his Web site, www.churchformen.com, or join the conversation on his Facebook page, www.facebook.com/churchformen. Don't forget to share this page by clicking on the links below, or scroll down and leave a comment (right below those annoying ads that pay for this blog).