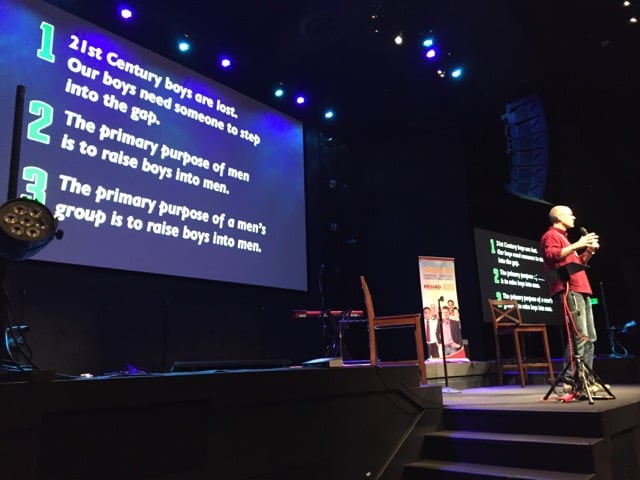 We just wrapped up the 2015 Reload Leadership Summit in Denver (to see pictures, use the facebook hashtag #Reload15).
Reload is the world's largest gathering of men's ministry leaders. Our host was Flatirons Church, a man-friendly congregation in the foothills of the Rocky Mountains. Appropriately, we experienced an avalanche of new ideas and a flurry of networking opportunities. It was an amazing three days. Here are ten takeaways:
Interest in Men's Ministry is growing. The National Coalition of Ministries to Men has grown to record size. Attendance at this year's conference also set a record. Even though high-profile men's conferences such as Promise Keepers are getting smaller, the number of organizations that minister to men is growing larger.
The secret sauce = grace. All three of our keynote speakers (Pastor Scott Nickell, Pastor Darrin Patrick and Focus on the Family president Jim Daly) touched on the same theme: men are changed when they respond to God's grace. Not fear. Not pride. Not guilt. Grace. Amazingly, these three speakers didn't collaborate – yet God gave them versions of the same message.
Methodists are returning to Methodism. Back in the mid 1700s, John Wesley invented the weekly discipleship class. This became the "method" by which many thousands were converted and discipled. Today, men around the USA are reviving the Methodist Classes – with a new twist. Using computer technology, groups of men are meeting weekly via the Internet — asking each other the same seven accountability questions Wesley probed his disciples with in the 1700s.

Every ministry needs a one-sentence elevator pitch. Men's ministers often have trouble describing their ministries to others clearly, quickly and succinctly. NCMM board president Leary Gates and I taught these leaders how to give two pitches: a 30 second "elevator pitch" and a one-sentence "fast pitch" for their ministries. We captured many of these pitches on video, which we will distribute on the NCMM web site.
What do you know – young men want to hang out with older men! More than two dozen millennial men made the long drive from Tennessee to attend this year's Reload conference. These young men were associates of Narrow Gate, a residential disciple-making program for men age 18-25. The men of Narrow Gate provided an unforgettable evening of worship music, teaching and interactive lessons to help us understand how to interact with younger men around the gospel.
Grandfathers – we need you. With more than 40% of U.S. children born to single mothers, grandfathers have a unique opportunity to step up to the plate. Ken Canfield and Dan Erickson are working on a nationwide grandfathering project to connect retired men with kids who need male mentors.
Christian films are exploding. Two faith-based films were screened at Reload — Finding Noah, a documentary about the search for the elusive ark, and God's Not Dead 2, which will hit theaters in April. Distributors are recognizing how important Christian men are to the success of their films, and they're relying on NCMM to help get the word out.
Military men need men. More than 22 U.S. veterans attempt suicide every day. Almost all are men. Four different ministries that help military veterans presented at Reload 2015.
Discipleship is moving to mobile devices. American Bible Society introduced an app that allows military families to study the Bible together — even when one of them is deployed half way around the world. Lifeway featured an app called DevoHub that automatically downloads devotional content to a subscriber's phone every time he or she attends church. goTandem from Back to the Bible sends you customized devotional content throughout the day based on your personalized spiritual needs.
Passivity kills. In his opening night keynote Pastor Scott Nickell reminded us that passivity was Adam's sin. It's so easy for men to kick back and let someone else do it. I come from a long line of passive men — and I have struggled with passivity my entire life. My prayer in 2016 is to reject passivity in all its forms – to be faithful and diligent in pursuing His calling. Please pray for me.
Finally – the date and location of Reload '16 was announced: November 14-16 in Orlando, FL. I'll be there – and I hope you will be, too.
If you minister to men you need to be a member of NCMM. Annual memberships start at just $75. For more information, click here.
---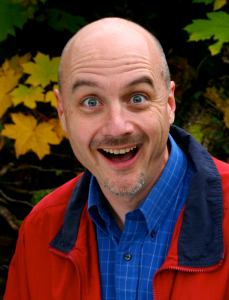 David Murrow is the author of the bestselling book, Why Men Hate Going to Church. David's books have sold more than 175,000 copies in 12 languages. He speaks to groups around the world about Christianity's persistent gender gap. He lives in Alaska with his wife of more than 30 years, professional silk artist Gina Murrow. Learn more about David at his Web site, www.churchformen.com, or join the conversation on his Facebook page, www.facebook.com/churchformen. Don't forget to share this page by clicking on the links below, or scroll down and leave a comment (right below those annoying ads that pay for this blog).