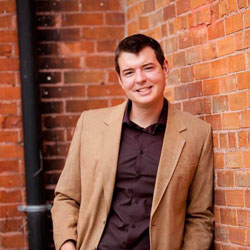 This week's guest blogger is David Paisley, a twenty-something Canadian who follows Church for Men. He contacted me hoping to write a book someday: Why Men Hate Going to Youth Group. I suggest he start with a blog post.
David is a volunteer youth leader from Elmira, Ontario. He takes an unusual approach to discipling young men: he puts the older teens in charge of raising up the younger ones. David works in the agriculture industry. He's single, but open to possibilities. Follow his blog at www.DavidPaisley.ca
---
Sitting before me was a group of teenage boys age 13 to 17. The only agenda that night was to study God's word and to pray with one another. There were no tricks involved, no pizza party or games to draw them. No one had made them come — indeed some of their families were not church goers and would be quite happy if they hadn't come — yet come they did.
These were normal boys, with all the energy and short attention spans that accompany that stage of life. I watched as they switched effortlessly between debating the merits of Calvinism and breaking into hysterics over an odd sounding burst of flatulence and then straight back to predestination without missing a beat.
These rowdy teenage boys had attended Bible Study (or B-Stud, as they preferred to call it) nearly every Wednesday for over a year. Why did they come week after week? Not because of my superior leadership skills. I'm sure of that – because I wasn't leading.
The leaders of this group were two young men of 17. Week after week they prepared and delivered Bible lessons, prayed for their group and made a point of staying accountable with each other. I was merely a guest that night — the only adult in attendance. Some nights no adults attended at all.
After the Bible lesson the boys proceeded to share their struggles and prayer requests with the group and then pray for the person sitting next to them, one at a time until everyone in the group had been prayed for. It was one of the most honest and genuine times of accountability and prayer I had ever witnessed. Two seventeen year old boys had modeled what real friends — real men — do for each other.
The presence of He who is love was tangible in that room.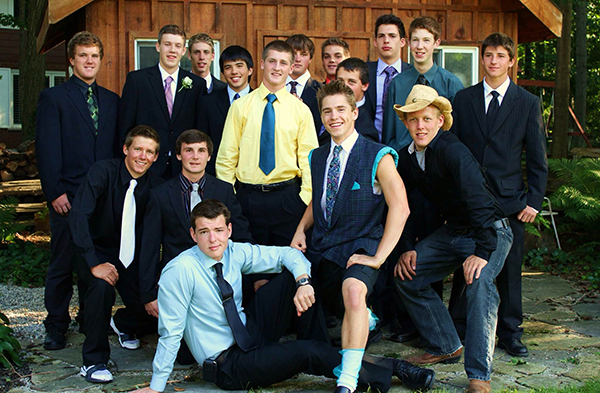 A number of years ago I was faced with a wonderful problem. I had been leading a boys' Bible study which had grown to an unmanageable size. I either had to close the group to new members or to split into two groups. Stopping the boys from inviting more of their friends and welcoming younger members into the group wasn't really an option and so we decided to split. But who would lead this new group? Our youth pastor was already overloaded with responsibilities and we were very short on adult volunteers. I was working 50 hours a week in a day job and so I could not commit to running any more groups.
My only viable option was to split the group in two but continue to meet in the same house at the same time. Two mature 17-year-olds took the younger half of the group to another room for their Bible study, while I continued to lead a group in the living room. One night, one location, two groups.
I watched with amazement as the young men who had been assigned as leaders rose to the occasion. They began investing so much of themselves into the younger boys' lives and developing their very own beloved B-stud.
The groups continued to grow, Soon the 17-year-olds broke away to meet in another home. They were completely independent of the original group save for my ongoing mentoring of the two leaders. The multiplication continued as more groups formed and split off. Within a few years God raised up a network of young men's B-Stud groups with more than 100 young men meeting in various homes all over town. Each young leader took ownership of his group, planning lessons and weekend retreats (even a missions trip) with only minimal support from me and the youth pastor.
We saw 17-year-old boys praying for their friends, evangelizing to them and leading them to Christ. Young men were borrowing theology books from the library and preparing pulpit-worthy Bible lessons. At Friday night youth group the boys outnumbered the girls 2:1. We had so many young men willing to be leaders there was a shortage of responsibilities to give them. Fourteen-year-old boys began talking about the day they would one day lead their own B-stud and make disciples.
Who were these boys? Hockey heads and skater kids, straight-A students and those just getting through, confident loud outspokens and barely speak-at-alls. No one had told the jocks that Bible study was lame — and the shy, quiet kids didn't realize that leadership wasn't for them. Stereotypes didn't matter much to this crew of boys because their role models were praying, preaching, Jesus loving B-stud leaders — and they wanted to be just like them.
But the greatest transformation occurred in me. I began to see teenage boys as my brothers — not my projects. I discovered a force which was just waiting to be called upon and unleashed, a force not even the gates of hell can hold back. I saw men of God in the making.
Of course, these were boys. One night at B-Stud a wrestling match broke out. It wasn't planned. One of the boys had been poking another all evening. The poke-ee grabbed his tormentor and wrestled him to the ground. The whole gang of boys immediately formed a circle around the combatants and cheered them on until one had tapped out.
Now that the testosterone was surging the group quickly paired off two more boys for another match. And so it went. Catcalls and shouts of laughter could still be heard from outside the house as I quietly slipped out and let the boys be boys.
The presence of He who is love remained tangible in that room.