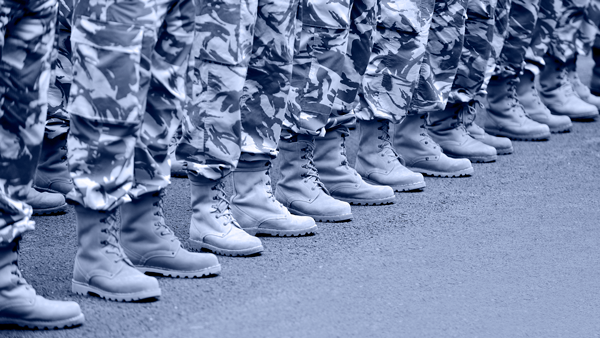 Something powerful happens when men of God assemble. Throughout both the Old and New Testaments God moved powerfully when men got together – and got organized.
So when do the men of your church gather? Do you ever organize men into teams for ministry? Heck – when do they even get a chance to talk with each other about their lives? A church that does bother to assemble and organize its men should not be surprised that its men become lazy and apathetic.
The men's retreat is the perfect opportunity to gather and organize your men. But our typical approach – men signing up for the retreat individually, arriving individually, attending individually and focusing on their individual spiritual lives – won't produce the kind of camaraderie that transforms men.
In a previous post I suggested that it's time for a new kind of men's retreat – because the format is dying. I offered suggestions for a new kind of retreat in this post and this post. If you haven't read these please take a moment to do so.
This week I'll be covering the point system – a motivational tool that builds positive peer pressure as men work together to achieve their goals. Men bond when they face a challenge together. The point system constantly challenges men to give their best effort. It builds a sense of teamwork and camaraderie that can extend long past the retreat itself.
Here's a very brief overview of the point system. It's a work in progress. Some points are earned individually; others are earned team-wide.
| | |
| --- | --- |
| Task | Points awarded |
| PRIOR TO RETREAT | |
| First team to reach capacity (paid registrations) | 25 |
| Second team to reach capacity | 15 |
| Third team | 5 |
| Captain meets with each team member before retreat | 5 per meeting |
| ATTENDANCE RELATED | |
| One point for every man who arrives on time Friday night | 1 |
| One point for every man who arrives on time Sat. morning | 1 |
| All men present | 10 (per session) |
| SPIRITUAL DISCIPLINES | |
| Confess your sins one to another | 2 points per man |
| Bible memory verse (there's only one) | 2 points per man |
| Share your testimony with your brother | 2 points |
| Complete the prayer journal | 4 points per man |
| LESSONS – ACTIVE PARABLES | |
| First team to saw through the tree branch w/steak knife | 10 points |
| First team to figure out a lesson | 5 points |
| First team to find its way back from point A | 10 points |
| | |
All weekend long the teams vie for points. The teams work through half a dozen (or more) challenges together. The retreat leader tallies score, but keeps the total a secret until the final hour. As the retreat draws to a close he gathers the teams together and announces the totals. But then he drops a bombshell – the winning team will not be determined until next Sunday at church.
What?
That's right – the winner won't be crowned until the Sunday after the retreat. This dirty trick is designed to keep the team system going even after the retreat is over.
Men's Day – the Sunday after the retreat
A wise pastor will schedule a Men's Day the weekend following the men's retreat. This is a man friendly service that will draw large numbers of guys. And it gives the teams a final chance to compete for points, along these lines:
Each man who's there for church on Sunday: 5 points to his team.
Team that brings the most men to church next Sunday: 40 points.
Each visiting man they bring to church: 20 points.
Etc, etc.
Men's Day should be a special guy-oriented service. Service length should be one hour or less. Go light on the music. Keep the sermon short and focused on men's issues. Remember, you'll probably have lots of visiting men, since the teams will have a strong incentive to invite their unchurched buddies to this service. The idea is to engage irreligious guys, with the hope they'll come back.
The centerpiece of Men's Sunday should be testimonies. Choose 3 or 4 well-spoken men who were profoundly moved by God at the retreat. Give each man 2 to 3 minutes to tell his story before the church. This is such a powerful moment – especially for boys who may never have heard an adult layman speaking publicly of his faith in Jesus.
Ideally, Men's Sunday ends with an invitation to the men to continue meeting together. Schedule an early morning or evening gathering in the next couple days. Kick off a six-week video series such as Genesis of Manhood or 33: The Series. These easy to pull off since the teaching is on video and the discussion guides are already done. Heck – I'd keep the team-and-point system going. Award points to each team for attendance, inviting new men, service projects, etc. Why squander your momentum – keep it going!
So when do you crown your winning team? I recommend you conclude Men's Day with a whole-church luncheon or picnic. During the luncheon you can announce your winning team and award the trophy.
So that's it. A successful men's retreat begins well in advance – by organizing men into teams. Build relationships and team identity long before the retreat begins. Help the men bond by issuing team challenges throughout the weekend. And keep the team structure and point system going after the retreat concludes.
I will be rolling out this retreat model in August of 2016 in Ohio. Please pray for me as I create the challenges. If you have experience designing team-building exercises or outdoor recreation experiences please contact me – I'd like to pick your brain.
Once we get the system down I want to offer it as a complete men's retreat in a box– including pre-retreat training, retreat leadership and post retreat consulting. Interested? Drop me a line at: david@churchformen.com.