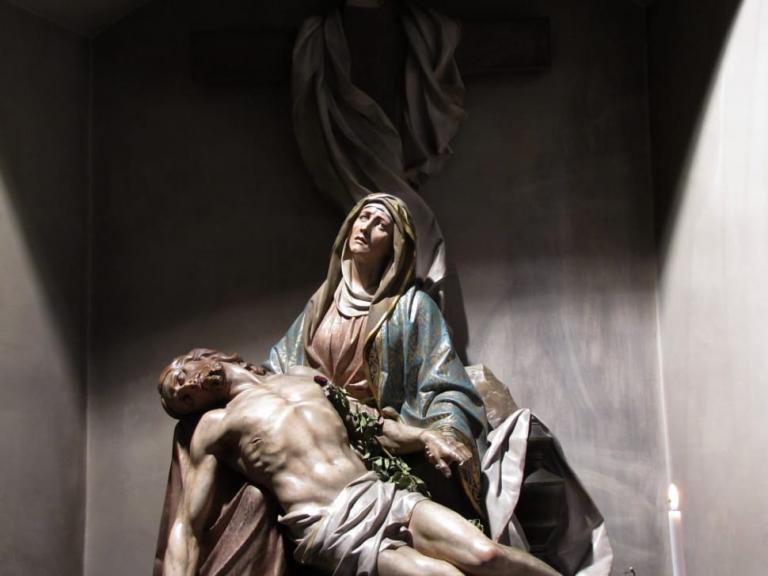 One of the most common criticisms towards Catholics is how they seem to elevate Mary to an equal status or above Jesus Christ. When one believes that both iconography and veneration of any created being is inherently unbiblical, it's understandably easy to completely write it off as idolatry. Especially when much of the imagery in the average Catholic Church usually includes Mary holding an infant Jesus, wearing a jeweled crown on her head or a combination of the two. For most Evangelical Protestants, this observation seemingly comes into direct conflict with scriptural passages such as,
"…be it known to you all, and to all the people of Israel, that by the name of Jesus Christ of Nazareth, whom you crucified, whom God raised from the dead, by him this man is standing before you well. This is the stone which was rejected by you builders, but which has become the head of the corner. And there is salvation in no one else, for there is no other name under heaven given among men by which we must be saved."
— Acts 4:10-12 RSV
While I believe statues and icons can certainly become idolatrous, I explain in a separate article how sacred images are meant to direct our worship as opposed to being the object of worship. It's also worth noting there are only four Marian dogmas that have been declared infallible by the Catholic Church so far. These would include her status as Mother of God, Immaculate Conception, Perpetual Virginity and Assumption. Other titles for Mary such as Co-Redemptrix and Mediatrix are not official dogmas of the Catholic Church, but are rather doctrines under development. And like the formation of the Bible Canon, dogmatic teachings can take several years, even centuries, to develop. This only scratches the surface as for why the Assumption of Mary was declared an infallible dogma as recent as the year 1950 A.D.
When Catholics address Mary as Co-Redemptrix, it means she uniquely participated in the redemption of humanity with her Son Jesus — though in a completely subordinate and dependent manner to that of her Son. Though because many North American Catholics have been poorly catechized, it would be unsurprising if some actually believed Mary was somehow equal to Christ — which would certainly validate the skepticism of the biblically-literate Christian. Explaining this to Evangelicals requires a clear explanation that acknowledges Scripture. Yes, we as Catholics believe Jesus (not Mary) died for our sins (2 Cor. 5:21), but that doesn't mean Mary had no special role in God's plan for mankind's salvation (Luke 1:28). Yes, we believe Jesus is the only mediator between God and mankind (1 Tim. 2:5), but that doesn't mean all the members of the mystical Body of Christ cannot prayerfully 'mediate' with one another to Christ while under the influence of the Holy Spirit (Galatians 3:20, Hebrews 12:1) — which would logically include Mary herself as a believer.
The word
'Co-Redemptrix'
is not found in the Bible, but neither is the word
'Trinity.'
This title, among others, is used by some Catholics as a descriptor of the Virgin Mary — similar to how the
Trinity
is used by most Christians to describe how God exists in three persons (the Father, Son and Holy Spirit). This does not mean the Trinity is a form of polytheism, as some would claim. The Greek word
'Theotokos'
was coined by the Council of Ephesus in 431 A.D., which translates to
'God-bearer'
in English and is also where the title
'Mother of God'
comes from.
Saint Irenaeus
, an early Church Father from the second century, referred to Mary as
'causa salutis'
(Latin for
'cause of our salvation'
) in his theological work
Against Heresies
.
But due to the caliber of controversy surrounding it (especially in the wake of the
Protestant Reformation
), Mary as Co-Redemptrix has never been declared an infallible dogma of the Church. Not yet, anyway.
I think much of the apprehension towards Mary co-operating with God's plan for humanity's salvation stems from the idea that the total depravity of mankind renders free will to be nonexistent — hence why most Protestant Christians believe Mary was a sinner like everyone else. Much of this can be derived from a literal interpretation of the following passages,
"…as it is written: "None is righteous, no, not one; no one understands, no one seeks for God."
— Romans 3:10-11 RSV
"Since all have sinned and fall short of the glory of God." — Romans 3:23 RSV
"But we are all as an unclean thing, and all our righteousnesses are as filthy rags; and we all do fade as a leaf; and our iniquities, like the wind, have taken us away." — Isaiah 64:6 KJV
Given how some westernized Christians may have adopted preconceived views on free will influenced by Calvinism, it's easy to isolate singular passages of Scripture through that lens. The Bible also says, "Ask, and it will be given you; seek, and you will find; knock, and it will be opened to you. For every one who asks receives, and he who seeks finds, and to him who knocks it will be opened (Matthew 7:7-8 RSV)." It is important to consider literary devices the ancient Jews used throughout Scripture such as hyperbole, which is evident in some of the teachings of Jesus throughout the Gospels (Matthew 5:29). The act of repentance requires a certain level of grace in conjunction with the free will to choose or reject it (Isaiah 55:6-7, Mark 8:34, Hebrews 10:26, Revelation 3:20). In Mary's case, her involvement with God's plan was a combination of both divine grace and free will.
In the book of Genesis, the creation account shows that God had given Adam and Eve a choice whether to obey God's command to not eat the forbidden fruit (Genesis 2:16-17). The fall of man is often credited to Eve's choice to listen to the serpent who tempted her to eat the fruit, though Adam was equally complicit by not stopping it from happening. Where Adam and Eve had failed to obey God and brought sin into the world, Mary succeeded by the grace of God. Eve's disobedience brought the curse of Original Sin upon humanity, whereas Mary's obedience resulted in the redemption of humanity through her son Jesus the Messiah. How do we know this? The first indicator we see in Scripture is when Mary gave her consent to the invitation of the angel Gabriel to bear the Savior of the world in her womb.
"And Mary said, "Behold, I am the handmaid of the Lord; let it be to me according to your word." And the angel departed from her." — Luke 1:38 RSV
Unlike any other human before or after, Mary was so intimately united with Jesus during his earthly life that the sheer emotional trauma of witnessing her Son's crucifixion and death reaffirms Simeon's prophesy,
"…and Simeon blessed them and said to Mary his mother, "Behold, this child is set for the fall and rising of many in Israel, and for a sign that is spoken against (and a sword will pierce through your own soul also), that thoughts out of many hearts may be revealed." — Luke 2:34-35 RSV
By giving birth to Him, raising Him, feeding Him, washing Him, watching Him grow up only to watch Him suffer and die a brutal death is a heavy cross that only mothers who have lost their own offspring can relate to what Mary had felt. By witnessing Jesus' death, she partook in the redemption of the world, not by dying on the cross, but through the emotional and spiritual suffering that a mother endures in light of losing her Son. In any case of child mortality, it is a tragedy nonetheless. No parent should ever have to endure the painful experience of burying their deceased child. But unfortunately, that is a reality many parents face in light of the fragility of human life. Which brings me to another passage in Scripture that seemingly relates to Mary's spiritual suffering,
"If one member suffers, all suffer together; if one member is honored, all rejoice together."
— 1 Corinthians 12:26 RSV
In Romans 8:16-17, Paul makes a point about believers being co-heirs with Christ, (or 'sons' of God in the King James Version). Typically, when Christians refer to themselves as 'sons' or 'daughters' of God, they're not elevating themselves to the same level of sonship as Jesus Himself (at least I hope not). But when people co-operate with God's grace, they are essentially allowing God to make them members of His Kingdom. Similarly, Mary's co-operation with the grace of God also made her a type of co-heir.
"…it is the Spirit himself bearing witness with our spirit that we are children of God, and if children, then heirs, heirs of God and fellow heirs with Christ, provided we suffer with him in order that we may also be glorified with him."
Though debate over the title of Co-Redemptrix has been ongoing since roughly the 15th century, support for establishing it as a fifth Marian dogma ramped up in the 20th century among laypeople. In response, the Holy See formed a commission to seek the opinions of scholars and theologians regarding the appropriateness of making it an official dogma. In recent times, Pope Francis has been the subject of controversy (surprise, surprise!) after warning not to get lost in foolishness regarding giving Mary the title of Co-Redemptrix. It is worth noting that Marian dogmas usually have substantial support either through Scripture, Historical Tradition, divine revelation or a combination of the three. For example, when Mary appeared to Saint Bernadette, she introduced herself as, 'The Immaculate Conception.' So far, there have not been any explicit or concrete revelations or apparitions known to reveal the Virgin Mary referring to herself as 'Co-Redemptrix.' But that certainly doesn't mean the case is closed.
As far as Mary being called Co-Redemptrix, it does not invalidate what Christ has done for us in His suffering, death and resurrection in any way, but much rather reaffirms that God will utilize His followers to carry out His will as He sees fit. To quote Severus of Antioch, "Without a preliminary death, how could the Resurrection have taken place?" Jesus could have defeated death through any other means driven by omnipotence. He could have came straight down from Heaven and materialized into a human being while simply obliterating sin with a snap of His fingers. Instead, He chose to enter this world by entrusting His earthly life in perfect humility to a young Jewish girl — a girl who willingly co-operated with His grace and endured the emotional turmoil alongside His physical suffering for the sake of humanity's redemption.