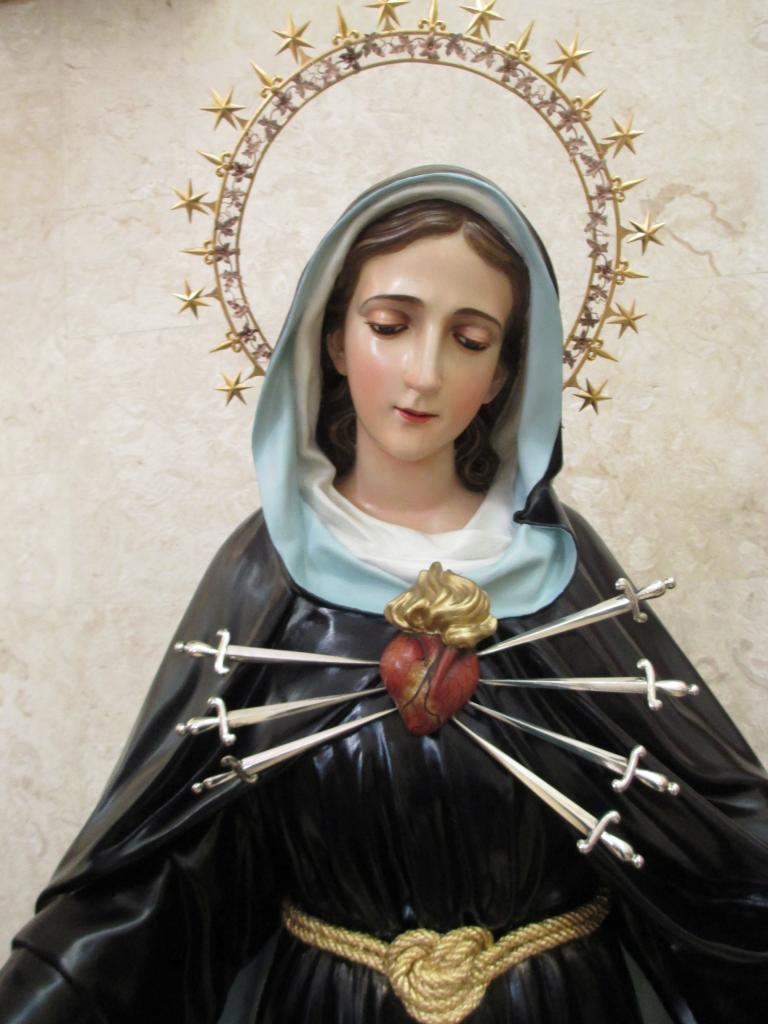 Many Christians rely on devotionals as a regular part of nurturing a spiritual relationship with Jesus. Usually it entails a specific theme that meditates on certain passages in the Bible, or even a commentary on Scripture. The Seven Sorrows of Mary are a Roman Catholic devotion that acknowledges seven sorrowful events that have shaped Mary's walk with our Lord. In Catholic iconography, the Virgin Mary is depicted in a grieving state, with one or seven long blades piercing her heart — each sword representing an event in Scripture that has wounded her.
There are several devotional prayers that contemplate the Seven Sorrows of Mary based on the prophecy of Simeon in Luke 2:25-35. Some examples of prayerful devotionals are the Servite rosary (also know as the Chaplet of the Seven Sorrows) and the Seven Joys of Mary.
For the purpose of reference (and prayerful meditation and contemplation if you like), these are the passages in Scripture in which the Seven Sorrows of Mary are derived from…
1. The prophecy of Simeon (Luke 2:25–35 RSV)
Now there was a man in Jerusalem, whose name was Simeon, and this man was righteous and devout, looking for the consolation of Israel, and the Holy Spirit was upon him. And it had been revealed to him by the Holy Spirit that he should not see death before he had seen the Lord's Christ. And inspired by the Spirit he came into the temple; and when the parents brought in the child Jesus, to do for him according to the custom of the law, he took him up in his arms and blessed God and said,
"Lord, now lettest thou thy servant depart in peace,
according to thy word;
for mine eyes have seen thy salvation
which thou hast prepared in the presence of all peoples,
a light for revelation to the Gentiles,
and for glory to thy people Israel."
And his father and his mother marveled at what was said about him; and Simeon blessed them and said to Mary his mother,
"Behold, this child is set for the fall and rising of many in Israel,
and for a sign that is spoken against
(and a sword will pierce through your own soul also),
that thoughts out of many hearts may be revealed."
2. The flight into Egypt (Matthew 2:13-18 RSV)
Now when they had departed, behold, an angel of the Lord appeared to Joseph in a dream and said, "Rise, take the child and his mother, and flee to Egypt, and remain there till I tell you; for Herod is about to search for the child, to destroy him." And he rose and took the child and his mother by night, and departed to Egypt, and remained there until the death of Herod. This was to fulfil what the Lord had spoken by the prophet, "Out of Egypt have I called my son."
Then Herod, when he saw that he had been tricked by the wise men, was in a furious rage, and he sent and killed all the male children in Bethlehem and in all that region who were two years old or under, according to the time which he had ascertained from the wise men. Then was fulfilled what was spoken by the prophet Jeremiah:
"A voice was heard in Ramah,
wailing and loud lamentation,
Rachel weeping for her children;
she refused to be consoled,
because they were no more."
3. The loss of the Child Jesus in the Temple of Jerusalem (Luke 2:41–50 RSV)
Now his parents went to Jerusalem every year at the feast of the Passover. And when he was twelve years old, they went up according to custom; and when the feast was ended, as they were returning, the boy Jesus stayed behind in Jerusalem. His parents did not know it, but supposing him to be in the company they went a day's journey, and they sought him among their kinsfolk and acquaintances; and when they did not find him, they returned to Jerusalem, seeking him. After three days they found him in the temple, sitting among the teachers, listening to them and asking them questions; and all who heard him were amazed at his understanding and his answers. And when they saw him they were astonished; and his mother said to him,
"Son, why have you treated us so? Behold, your father and I have been looking for you anxiously." 
And he said to them, "How is it that you sought me? Did you not know that I must be in my Father's house?"
And they did not understand the saying which he spoke to them.
4. Mary meets Jesus on the way to Calvary (Luke 23:27-31 RSV)
And there followed him a great multitude of the people, and of women who bewailed and lamented him. But Jesus turning to them said,
"Daughters of Jerusalem, do not weep for me, but weep for yourselves and for your children. For behold, the days are coming when they will say, 'Blessed are the barren, and the wombs that never bore, and the breasts that never gave suck!' Then they will begin to say to the mountains, 'Fall on us'; and to the hills, 'Cover us.' For if they do this when the wood is green, what will happen when it is dry?"
5. The Crucifixion of Jesus on Mount Calvary (John 19:17–30 RSV)
So they took Jesus, and he went out, bearing his own cross, to the place called the place of a skull, which is called in Hebrew Gol′gotha. There they crucified him, and with him two others, one on either side, and Jesus between them. Pilate also wrote a title and put it on the cross; it read, "Jesus of Nazareth, the King of the Jews." Many of the Jews read this title, for the place where Jesus was crucified was near the city; and it was written in Hebrew, in Latin, and in Greek. The chief priests of the Jews then said to Pilate, "Do not write, 'The King of the Jews,' but, 'This man said, I am King of the Jews.'" Pilate answered, "What I have written I have written."
When the soldiers had crucified Jesus they took his garments and made four parts, one for each soldier; also his tunic. But the tunic was without seam, woven from top to bottom; so they said to one another, "Let us not tear it, but cast lots for it to see whose it shall be." This was to fulfil the scripture,
"They parted my garments among them,
and for my clothing they cast lots."
So the soldiers did this. But standing by the cross of Jesus were his mother, and his mother's sister, Mary the wife of Clopas, and Mary Mag′dalene. When Jesus saw his mother, and the disciple whom he loved standing near, he said to his mother, "Woman, behold, your son!" Then he said to the disciple, "Behold, your mother!" And from that hour the disciple took her to his own home.
After this Jesus, knowing that all was now finished, said (to fulfil the scripture), "I thirst." A bowl full of vinegar stood there; so they put a sponge full of the vinegar on hyssop and held it to his mouth. When Jesus had received the vinegar, he said, "It is finished"; and he bowed his head and gave up his spirit.
6. The Piercing of the Side of Jesus with a spear, and his descent from the Cross. (John 19:31-37  RSV)
Since it was the day of Preparation, in order to prevent the bodies from remaining on the cross on the sabbath (for that sabbath was a high day), the Jews asked Pilate that their legs might be broken, and that they might be taken away. So the soldiers came and broke the legs of the first, and of the other who had been crucified with him; but when they came to Jesus and saw that he was already dead, they did not break his legs. But one of the soldiers pierced his side with a spear, and at once there came out blood and water. He who saw it has borne witness—his testimony is true, and he knows that he tells the truth—that you also may believe. For these things took place that the scripture might be fulfilled, "Not a bone of him shall be broken." And again another scripture says, "They shall look on him whom they have pierced."
7. The burial of Jesus by Joseph of Arimathea (Luke 23:50–54 RSV)
Now there was a man named Joseph from the Jewish town of Arimathe′a. He was a member of the council, a good and righteous man, who had not consented to their purpose and deed, and he was looking for the kingdom of God. This man went to Pilate and asked for the body of Jesus. Then he took it down and wrapped it in a linen shroud, and laid him in a rock-hewn tomb, where no one had ever yet been laid. It was the day of Preparation, and the sabbath was beginning.