***SATIRE***
Well, it happened. Catholics all over North America have had enough of that Francis-guy and pushed the Vatican to hold another conclave in a rush to choose the next Pope. But as it turns out, it wasn't someone anyone had expected. As smoke billowed from the chimney of St. Peter's Basilica, the sky darkened and the sound of roaring guitars, wailing drums and piercing synthesizers could be heard resonating behind the Vatican City walls. The new (un)holy father happens to be none other than Tobias Forge, lead singer of the heavy metal band Ghost.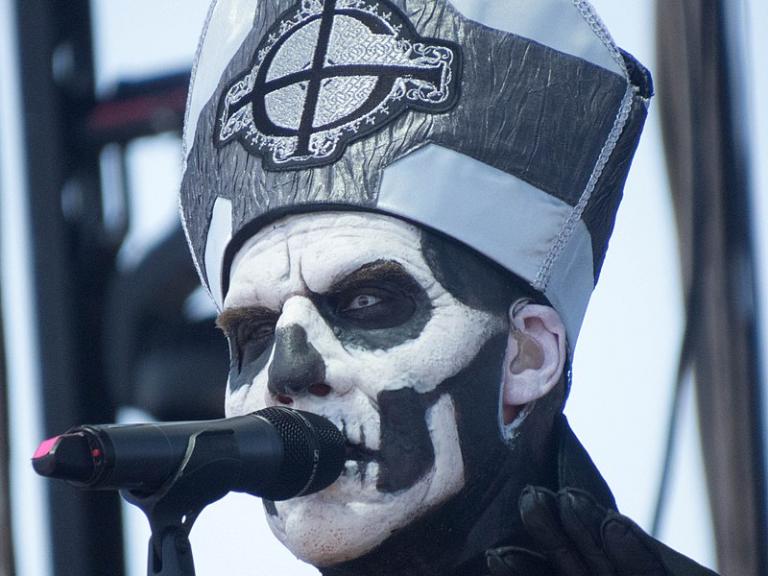 "How the heck did this guy get in?" says one Vatican official. "He's not even a Cardinal!"
Many faithful Catholics were at a loss of words at the news of the new pope, but most of those who were critical of Francis expressed immediate relief and acceptance.
"You know what," exclaims Dr. Taylor Marshall on his latest podcast, "He'll do. I'm just glad that other infiltrator is out of the papacy!"
Critics have since raised concerns about the seemingly sinister appearance of the dark pontiff. In what was supposed to be a Mass to initiate the new pope, Tobias Forge invoked his musical assistants (whose faces were covered with demon masks for protection from the COVID-19 virus) to perform a hymn that sounded very much like a rock n' roll ode to Lucifer.
"How can anyone listen to this guy and his minions?" says another critic of the new pope. "He looks like Gene Simmons went to seminary and assembled a Blue Öyster Cult tribute band!"
After performing Ghost's most popular single 'Square Hammer,' several Catholic podcasters and media sources tried to point out the blatant references to Freemasonry, though many listeners brushed them off as conspiracy theorists gone off the rails.
"You see," says one defender of Forge on his latest blog, "the word 'Lucifer' is Latin for 'morning star.' It does not mean the pope is offering praise to the devil. He could very well be referring to Jesus as the morning star since the terms can be interchangeable! And the square hammer thing? Please. Jesus was a carpenter for crying out loud! I mean, come on, give the guy a chance!"
"We've had bad popes in the past," claims an outspoken guest theologian on a Catholic talk show. "I mean, he couldn't possibly be worse than our last Pope!"
"Hey, whatever happens, we have to pray for our leaders and keep him accountable!" writes one Catholic apologist. "We have no sure evidence that the supreme pontiff is an anti-Pope. We have to remember the words of Christ, '…upon this rock I will build my church, and the gates of Hell shall not prevail against it!'"
It has also been reported that shortly after his initiation as pope, Tobias Forge and the rest of his band were forced to flee from Rome after the door to his hotel room did not prevail when it was stormed by the Vatican police.