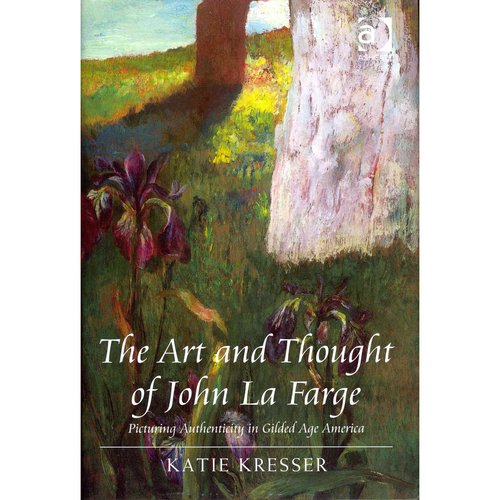 Today is the anniversary of the death of a long overlooked figure in American Catholicism whose underground influence touched many. But let's forget that for a minute. We'll take an artistic detour first.
Exactly one week ago I went to a lecture sponsored by IMAGE Journal on the work of long-forgotten American painter John La Farge (1835-1910). He was an American painter, whatever people call those who make stained-glass windows, and he decorated interiors–both private homes and churches such as the historical Trinity Church (22,000 square feet of interior murals!).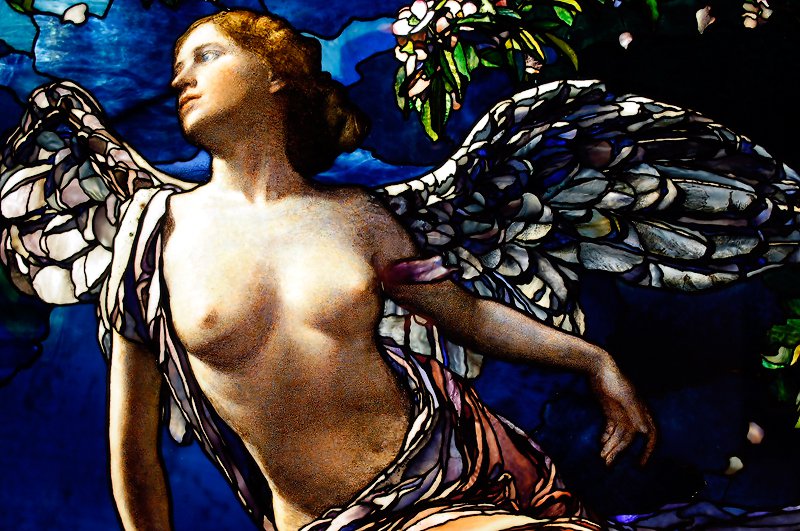 Katie Kresser of SPU, author of The Art and Thought of John La Farge, discussed the ubiquitous influence of La Farge during his own lifetime. His European exoticism appealed to both philosopher William James and Henry James (whose essays on culture surprisingly also include some interesting pieces about religion). The art critic Henry Adams was also part of the circle. Some of his essays on La Farge are compiled in another attractive collection about La Farge's work.  Kresser noted how La Farge's Catholicism probably influenced his swimming against the stream of mainline artistic idealism of this time.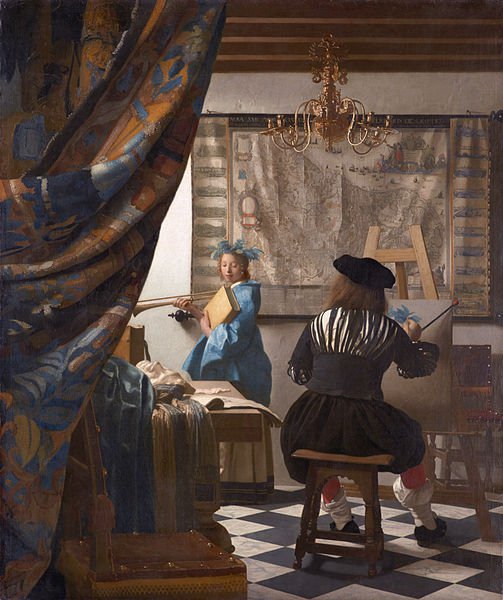 She chalked up La Farge's resistance to the subjectivism of his time (all of the above mentioned friends were idealists) to the incarnational theology La Farge absorbed, probably indirectly, through years of Catholic schooling. Kresser demonstrated this by showing an exemplary 18th century Allegory of Painting that featured the painter as the main figure projecting ideas onto a mirror shaped canvas.
La Farge's variation on the theme was more in line with Vermeer's version above. It has the painter looking beyond his canvas and in a realist gesture concentrating upon what the subject (nature, but I could not find a sample picture online) dictates. The difference between the two modes of approaching the subject has some interesting parallels between what Jean-Luc Marion understands as, especially in the works The Idol and Distance and God Without Being, the different ways in which we experience idols (roughly the same as idealism) and icons (realism, where one is called by what one encounters).
[Sidebar: One of the audience members resisted the label "incarnational" in favor of "sacramental" for a Catholic like La Farge. I can see how sacramentalism might be a Catholic way of speaking about what's going on in his paintings, but is the "incarnational" vocabulary more Protestant? If so, why?]
All of this brings me back to the issue of Catholicism and America. I put a little crimp in the Kennedy Catholic moment in yesterday's
post
about the implied meaning of the Houston speech. Now, much was made of the fact that
C.S. Lewis
,
Kennedy
, and
Aldous Huxley
all died on the same day, but Joseph Koczera of
The City and the World blog
 told me it's a shame that John La Farge's eponymous son is almost all but forgotten in Catholic circles (just as his father has been mostly forgotten in art circles–until now).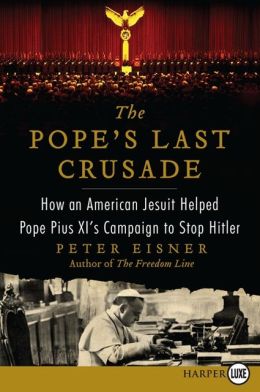 La Farge, SJ (1880-1963) is significant because of his unadulterated (no pun intended) commitment to civil rights when such causes were not on anyone's radar. He wrote several books before World War II about racism. These came to the attention of Pius XI who asked La Farge, Jr. to pen an encyclical. The resulting document, Humani generis unitas, did not see the light of day, because it was completed a few weeks after Piux XI died. It is known as the hidden encyclical. I suppose the Vatican was too busy with the election of a new pope and World War II to take up the document. I'd like to do more research on this story.
There's also a new book Joe pointed out to me (out of Jesuit pride?), The Pope's Last Crusade: How an American Jesuit Helped Pope Pius XI's Campaign to Stop Hitler, that only makes me all the more curious about La Farge, SJ. If one can judge a book by its blurb, then The Pope's Last Crusade looks like a ripping good read:
"Drawing on untapped resources, exclusive interviews, and new archival research, The Pope's Last Crusade by Peter Eisner is a thrilling narrative that sheds new light on Pope Pius XI's valiant effort to condemn Nazism and the policies of the Third Reich—a crusade that might have changed the course of World War II.
A shocking tale of intrigue and suspense, illustrated with sixteen pages of archival photos, The Pope's Last Crusade: How an American Jesuit Helped Pope Pius XI's Campaign to Stop Hitler illuminates this religious leader's daring yet little-known campaign, a spiritual and political battle that would be derailed by Pius's XIs death just a few months later. Peter Eisner reveals how Pius XI intended to unequivocally reject Nazism in one of the most unprecedented and progressive pronouncements ever issued by the Vatican, and how a group of conservative churchmen plotted to prevent it.
For years, only parts of this story have been known. Eisner offers a new interpretation of this historic event and the powerful figures at its center in an essential work that provides thoughtful insight and raises controversial questions impacting our own time."
It seems like American Catholics should do a lot more to highlight the proud heritage of the La Farge dynasty. John Jr., SJ died today in 1963. Mark the date.