I think I first encountered the notion of Krakow as the capital of phenomenology in Kenneth Schmitz's At the Center of the Human Drama: The Philosophy of Karol Wojtyla/Pope John Paul II. I didn't know what this meant until I spent three years in Krakow.
While in Krakow I took a seminar on Max Scheler's Ordo Amoris with Swierzawski and translated essays for the Tischner's journal of philosophy Thinking in Values. Phenomenology is alive and well there.
I also keenly remember reading the poet Adam Zagajewski's memoir Another Beauty where he describes Ingarden's lectures. The sense of discovery associated with this philosophy comes across in the following passage from that book:
"Roman Ingarden was the philosophers' god. He'd already retired by the time I started my studies, but he stopped by the department regularly, like an ageing nobleman who no longer governs his estate but still takes an interest in the fruits produced by the legacy that he's passed on to a younger generation. He was able to function normally at the university to conduct classes without making concessions to the prevailing doctrine of base and superstructure: this was one of Krakow's great surprises. He was rather short and had the handsome head of an elderly gentleman. This student of Husserl, the author of subtle studies on the nature of artworks was also renowned for this marvelous lectures. His former students tried to describe Ingarden's manner to those unfortunates who'd come too late to experience his charisma, precision, and eloquence firsthand.
'One time he had a pitcher of water in front of him. He started talking about it, an insignificant pitcher, not even crystal, with such force that after an hour or so this humble pitcher—you wouldn't have given it a second glance ordinarily, in a junk shop you'd have ignored it completely, gone looking for prettier pitchers or secondhand beads–had become more beautiful for us than all the palaces of the Emperor of India (even if there is no such person). All he had to do was trace the shape of a chair with his hand, like a painter, and the chair stood there before us. When he was in good form, well rested, not under fire from the administration, it seemed as though he were creating objects with the wave of his hand, bringing them into being.'
'He was a great poet, a poet of objects. Sometimes he'd talk about the role of everyday things in our lives, how we treat them, how they dwell with us, seemingly tamer than the friendliest dog or cat. But we never see them whole, they always hold a certain mystery, a side we can't see, and for them is is perhaps their key, their root, their heart, their core. We'd relinquish our mundane sense of reality; and the barrier that divided the dull, everyday trappings of the lecture hall from the worlds created by Professor Ingarden would disappear.'"
These words capture some of the beauty and attention to detail I experienced while taking Strozewski's lectures on Scheler's "Ordo Amoris" [The Order of Love]. We spent a whole academic year dissecting every word and sentence of the German philosopher's essay on love's order.
I expected that my experience was buried in my obscure native language, but it turns out that a surprising amount Polish phenomenological thinkers have been translated into English. Reading Michael Gubser's The Far Reaches: Phenomenology, Ethics, and Social Renewal in Central Europe has inspired me to dig up the following sampler of Polish phenomenological treatises in translation with blurbs and a little bit of commentary from me.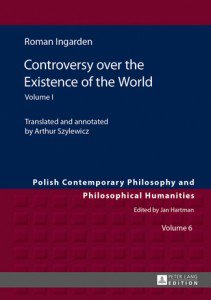 The Controversy Over the Existence of the World by Roman Ingarden
I was slated to translate volume two of this work, but things didn't work out according to plans. Ingarden is the forefather of phenomenology in Poland and its direct link to Husserl.
"Roman Ingarden (1893-1970), one of Husserl's closest students and friends, ranks among the most eminent of the first generation of phenomenologists. His magisterial Controversy Over the Existence of the World, written during the years of World War II in occupied Poland, consists of a fundamental defense of realism in phenomenology. Volume I, which receives here its first complete and critical translation into English, initiates the grand project of refuting transcendental idealism, and begins by setting the foundations for an elaborate and precise ontological system. This is Ingarden's greatest accomplishment, who is rather known as a theoretician of literature than an ontologist outside of Poland. The most important achievement of Ingarden's ontology is an analysis of the modes of being of various types of objects – things, processes, events, purely intentional objects and ideas. The three-volume Controversy is perhaps the last great systematic work in the history of philosophy, and undoubtedly one of the most important works in 20th century philosophical literature."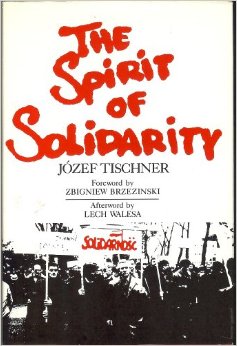 I spent most of my time in Krakow translating Jozef Tischner's work. He is important because he was both the theorist and chaplain of Solidarity.
The Spirit of Solidarity by Jozef Tischner
This collection is comprised of a series of sermons and lectures Tischner delivered in the early days of Solidarity.
"Fr. Jozef Tischner, makes a modest but impressive debut on the American scene. The two dozen or so sermons and lectures collected here articulate a sort of ethical constitution for Polish workers. The approach is popular but thoughtful, the language restrained but forceful, the accent warmly patriotic but not chauvinistic. Tischner posits a fundamental dialectic between socialism and Christianity, between justice as the end result of class conflict and justice as a product of love. Both systems seek to promote human happiness, but thus far they have clashed and cooperated. "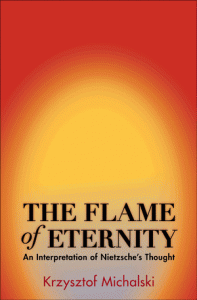 I encountered Michalski during a lecture he gave on this book and during an interview I conducted with him about it. It's as if every fiber of his being vibrated with the question you addressed to him. He was Tischner's best student. Together they started the Institute for Human Sciences which has supported the work of outstanding scholars such as Timothy Snyder and Charles Taylor.
The Flame of Eternity: An Interpretation of Niezsche's Thought by Krzysztof Michalski
"The Flame of Eternity provides a reexamination and new interpretation of Nietzsche's philosophy and the central role that the concepts of eternity and time, as he understood them, played in it. According to Krzysztof Michalski, Nietzsche's reflections on human life are inextricably linked to time, which in turn cannot be conceived of without eternity. Eternity is a measure of time, but also, Michalski argues, something Nietzsche viewed first and foremost as a physiological concept having to do with the body. The body ages and decays, involving us in a confrontation with our eventual death. It is in relation to this brute fact that we come to understand eternity and the finitude of time. Nietzsche argues that humanity has long regarded the impermanence of our life as an illness in need of curing. It is this "pathology" that Nietzsche called nihilism. Arguing that this insight lies at the core of Nietzsche's philosophy as a whole, Michalski seeks to explain and reinterpret Nietzsche's thought in light of it."
Strozewski was my direct link to Husserl. His seminar was a study in close reading.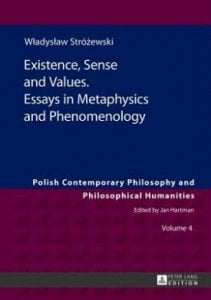 Existence, Sense and Values. Essays in Metaphysics and Phenomenology by Wladyslaw Strozewski
"This collection of essays is about some of the most fundamental issues connected with metaphysics, theory of values and philosophy of man. In the first part of the book, the author is trying to answer questions concerning both the methodological status of metaphysics and the main subject-matter of metaphysical investigations. He convincingly argues that metaphysics is an indispensable domain of research that may help us to understand the world and what we experience in much better manner. In the next part, the author draws our attention to the problem of existence and the ways we experience it. The question on existence is definitely the central issue of this entire volume, also in the next two parts of the book where the author focuses on values, their origins and status as well as their relationship to human nature."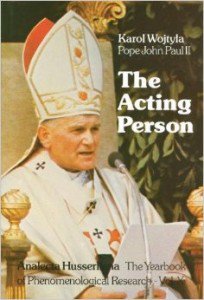 There's been some controversy over the translation of the following Wojtyla book, but for now this is the only one available. The Polish edition was one of the main springboards for Solidarity.
The Acting Person by Karol Wojtyla
"The book stresses that Man must ceaselessly unravel his mysteries and strive for a new and more mature expression of his nature. The author sees this expression as an emphasis on the significance of the individual living in community and on the person in the process of performing an action. The author states in his preface that he has tried to face the major issues concerning life, nature, and the existence of Man directly as they present themselves to Man in his struggles to survive while maintaining the dignity of a human being, but who is torn apart between his all too limited condition and his highest aspirations to set himself free."
Marxism and Christianity: The Quarrel and the Dialogue in Poland by Jozef Tischner
Tischner's classic texts collected in this volume show that both he and the pope were as engaged in dialogue with Marxism as liberation theology. The situation in Poland was a lot more complex then a good versus evil Manichean battle.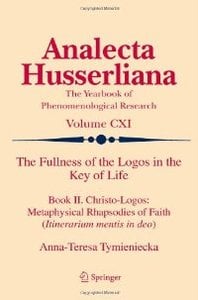 The Fullness of the Logos in the Key of Life: Book II. Christo-Logos: Metaphysical Rhapsodies of Faith by Anna-Teresa Tymieniecka
"This highly personal account of a lifetime's spiritual and philosophical enquiry charts the author's journey of faith through contemporary culture. Distinguishing between what she posits as the 'universal' and the 'rhapsodic' logos, Tymieniecka interrogates concepts as varied as creativity and the media, joy and suffering, and truth and ambiguity. She contemplates the possibilities and limits of communication between human beings, and outlines what she calls the 'transnatural destiny' of the human soul. The radiative meditations of this 'rhapsodic logos' weave their way through the entanglements of the mystery of incarnation, the constitutive archetypes, the inwardly sacred, the transnatural destiny of the soul, and finally ascend the rhapsodic scales toward culminating faith in the Christo-Logos."
The Polish dominance over the legacy of Husserl is most apparent in Tymieniecka's editorship of the Analecta Husserliana series. Her writings in this series are definitely worth a look.