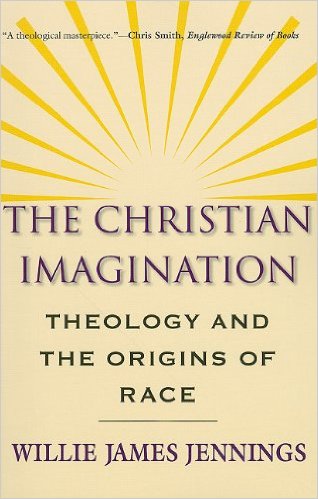 If you are in Seattle, you'll want to check out the following events tomorrow (October 15th) at SPU and the University of Washington:
Theology Between Art and the Body: Reimagining Our Future

Featuring Willie James Jennings, PhD, Associate Professor of Systematic Theology and Africana Studies, Yale University

One of the foremost scholars of race and theology, Dr. Jennings is the recipient of the 2015 Grawemeyer Award for his work The Christian Imagination: Theology and the Origins of Race. He recently joined the Yale faculty after over two decades at Duke Divinity School. He has written numerous essays in the areas of Christology, critical race theory, cultural identity, and theological anthropology.

1–3 p.m.: Panel Discussion
A conversation on theology, art, and the body featuring Dr. Jennings; Chelle Stearns, PhD, Associate Professor of Theology, Seattle School of Theology and Psychology; and Laura Lasworth, MFA, Professor of Art, Seattle Pacific University
Demaray Hall, Room 150, Seattle Pacific University

7–8:30 p.m.: Lecture "Embodying the Artistic Spirit and the Prophetic Arts"
Thomson Hall, Room 101, University of Washington
More details can be found here.
The book The Christian Imagination: Theology and the Origins of Race was on my radar, but I was out of the country when it first came out. Its argument is something worth pondering:
Why has Christianity, a religion premised upon neighborly love, failed in its attempts to heal social divisions? In this ambitious and wide-ranging work, Willie James Jennings delves deep into the late medieval soil in which the modern Christian imagination grew, to reveal how Christianity's highly refined process of socialization has inadvertently created and maintained segregated societies. A probing study of the cultural fragmentation—social, spatial, and racial—that took root in the Western mind, this book shows how Christianity has consistently forged Christian nations rather than encouraging genuine communion between disparate groups and individuals.

Weaving together the stories of Zurara, the royal chronicler of Prince Henry, the Jesuit theologian Jose de Acosta, the famed Anglican Bishop John William Colenso, and the former slave writer Olaudah Equiano, Jennings narrates a tale of loss, forgetfulness, and missed opportunities for the transformation of Christian communities. Touching on issues of slavery, geography, Native American history, Jewish-Christian relations, literacy, and translation, he brilliantly exposes how the loss of land and the supersessionist ideas behind the Christian missionary movement are both deeply implicated in the invention of race.

Using his bold, creative, and courageous critique to imagine a truly cosmopolitan citizenship that transcends geopolitical, nationalist, ethnic, and racial boundaries, Jennings charts, with great vision, new ways of imagining ourselves, our communities, and the landscapes we inhabit.
We'll see if I can secure an interview with the author. Stay tuned.