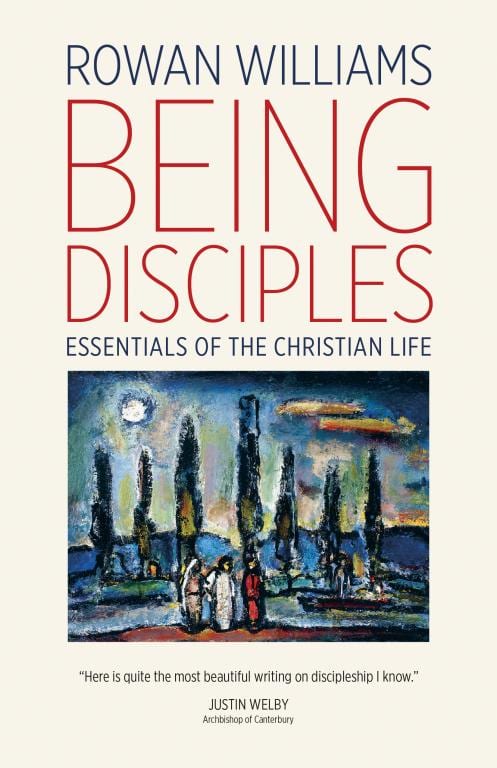 Rowan Williams has a clear knack for homiletical and devotional writing. I greatly enjoyed his previous work, Being Christian, which focused on the topics of baptism, the Bible, Eucharist, and prayer. I found many of his brief reflections utterly profound and spiritually inspiring. Williams has a way of drawing in wisdom from great theologians without it being too "academic."
This new work, Being Disciples, has the same format, though here split into six chapters: being disciples (ch 1), faith, hope, and love (ch2), forgiveness (ch3), holiness (ch4), faith in society (ch. 5), life in the Spirit (ch6). I found this book less fluid than the previous one, and perhaps it is because this one appears to be comprised of a collection of sermons Williams gave on several occasions (see links to those sermons on p. 88). That gives this book a sort of "kitchen-sink" feel, where "disciple/discipleship" seems to include just about everything related to the Christian life.
Something to keep in mind – Williams is
not
doing exegesis, he is not doing word studies. He is giving a series of "life reflections" on these themes. Sometimes that does rub me the wrong way – I would have wanted Williams to draw from the text a bit more. But it is what it is and there are some very rewarding moments. For example, his work on forgiveness (ch 3) is excellent. Here are a handful of lines
We should…think of those extraordinary words in the prophecy of Hosea (11:8-9) about the mercy of God: 'How Can I give you up, Ephraim?…for I am God and not a mortal.' To forgive is to share in the helplessness of God, who cannot turn from God's own nature: not to forgive would be for God a wound in the divine life itself…The disciple rooted in Christ shares that powerlessness, and the deeper the roots go the less possible it is not to forgive. (42)
Many more striking reflections from Williams in these short 80-some pages. It makes for very rich devotional reading.