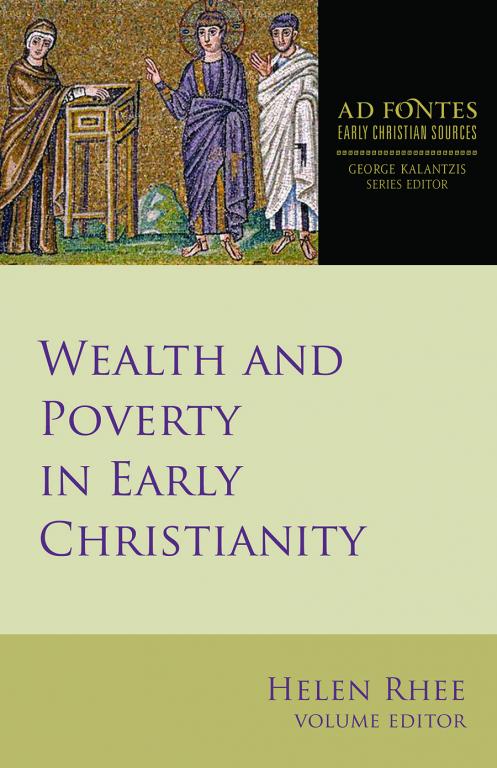 Fortress Press has a nice new(ish) series called Ad Fontes: Early Christian Sources (ed. G. Kalantzis). The purpose of the series is to offer primary source readings on a particular theme with light introductory guidance. Already released volumes include Biblical Interpretation in the Early Church (Graves), Church and Empire (Doerfler), and Understandings of the Church (Ferguson). The latest volume is Wealth and Poverty in Early Christianity by Helen Rhee (Westmont).
The source selections are about 5-10 pages per author/work. Rhee offers a wide range of readings from (for example) The Shepherd of Hermas, Clement of Alexandria, The Acts of Thomas, Lactantius, Chrysostom, Ambrose, Augustine, and Rabbula of Edessa. Rhee sometimes gives her own translation, and at other times updates an existing one.
The introduction first gives a broad sketch of earliest Christian thought on wealth before briefly introducing each author/text in the book. She notes that these writers had much to say about the vice of greed and the problem of wealth, and they did not dwell much on the subject of poverty (see p. x). Rhee also adroitly explains the Roman economic system that operated according to the notion of "limited good" – commodities (and other things) existed in finite amounts such that gaining more for oneself was naturally at the expense of another (as it was with status and honor as well). Thus, "the rich or those getting richer were usually seen in a negative light" (xi).
In terms of the readings themselves, I won't treat them in detail, but just give one observation – there are many wealthy people in the Bible (like Israelite patriarchs and kings), but time and time again these early theologians appeal to the ways and words of Jesus. It is remarkable to me how much Jesus addressed issues of greed and wealth, and showed in his own choices a lifestyle of simplicity and generosity. These theologians were so incredibly familiar with the teachings of Jesus, so they naturally became influenced by his acts and instruction. Would that we too have such knowledge and inspiration!