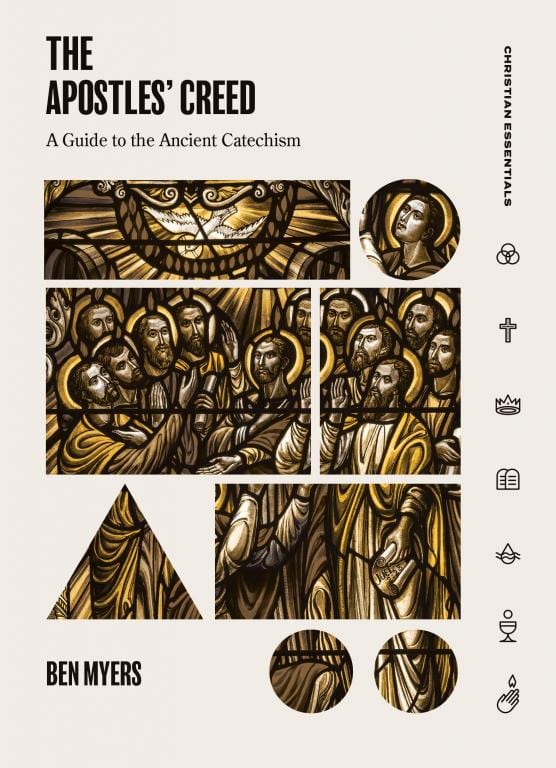 In seminary, Dr. Gary Parrett got me hooked on the importance of catechism/Christian education as a fundamental ministry of the church. Parrett introduced me to the Heidelberg Catechism and the teachings of Augustine. He also fostered in me a love for the three big staples of the traditional catechetical diet: the Ten Commandments, the Lord's Prayer, and the Apostles' Creed. And that love has stuck with me and grown over the fifteen years since I took that course ("The Educational Ministry of the Church"). So much so that I wrote a book on the Lord's Prayer, and I am co-teaching a course next year based on the Apostles' Creed.
In comes Ben Myer's new little book, The Apostles' Creed. This new series from Lexham Press ("Christian Essentials") aims to reinvigorate knowledge of and love for great traditions of the Church. Authors have been carefully selected both for their academic knowledge, but also for their ability to introduce and pass on these traditions with grace, wit, and insight, all at an accessible level. And Myers was an excellent choice to launch this series, because he is a fantastic and winsome communicator (#jealous). The book size is very small – like a devotional (its about the size of my hand). So, when I say it is ~130 pages, it feels more like 40-50 pages. In 21 very short chapters (4-6 pages each), he breaks the Creed up into small units of usually a few words. In terms of writing style, I would say it seems very C.S. Lewis-ish, or Alister McGrath, Rowan Williams, Kallistos Ware – learned, but faith-forming, accessible illustrations, etc. Easy to read, fresh and thought-provoking.
Myers does several good things at once—he addresses modern concerns and questions, he engages formative Patristic literature, and he draws from the story of Scripture. This is a masterful model of full interpretive integration, and what some call "Theological Interpretation of Scripture." Perhaps my favorite little chapter is on the "virgin birth." Myers says the focus is not on a one-off miracle, but rather a pattern in Scripture: "at the great turning points of history, we find a woman, pregnant, and an infant child brought into the world by the powerful promise of God. Israel's story is a story of miraculous births [Isaac, Samson, Samuel, etc]" (51). So, in Mary we confess a culmination, the gospel of the uniquely-born Jesus "silhouetted against the backdrop of God's promise to Abraham, the exodus from Egypt, the rule of the judges, the coming of the prophets, and the promised deliverance from exile" (54). Brilliant reading of Scripture, brilliant creedal emphasis, and now this will stick with me!
My only wish for this book (and series) is that it was longer. The short chapters are just a taste, a thought, a brief word. This is not a full-blown interpretation of the Creed (nor should it be). But I think it would have still been successful and useful to laypeople if it was even twice as long. I eagerly look forward to future volumes, not least my friend Wesley Hill on the Lord's Prayer!