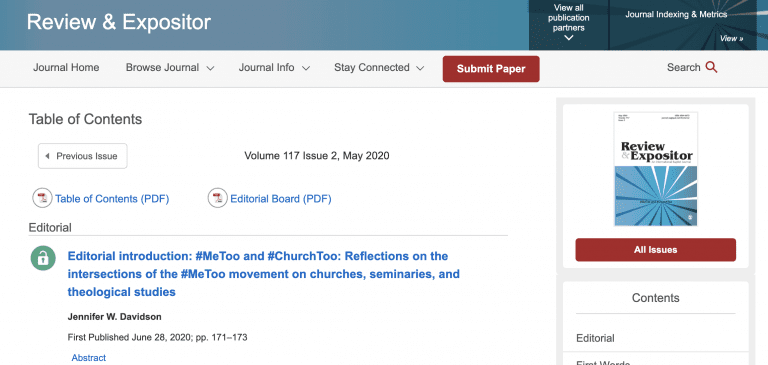 The journal Review & Expositor published a May 2020 issue dedicated to the subject of the #MeToo & #ChurchToo movements in theological perspective.
I'm not going to lie to you. These articles are very uncomfortable to read, especially since I am a man and I have hurt women through my words, actions, and inaction. But reading and learning is a key step towards change.
I found these articles especially insightful:
"#MeToo Jesus: Naming Jesus as a Victim of Sexual Abuse" (Jayme R. Reaves, David Tombs)

" 'And the Word Became…Gossip?': Unhinging the Samaritan Woman in the Age of #MeToo" (Angela N. Parker)

" 'When Jesus Saw Her…': A Hermeneutical Response to #MeToo and #ChurchToo" (Jennifer Garcia Bashaw)
**Sage Journals require subscription for access. But I think the Reaves/Tombs essay is a free sample.