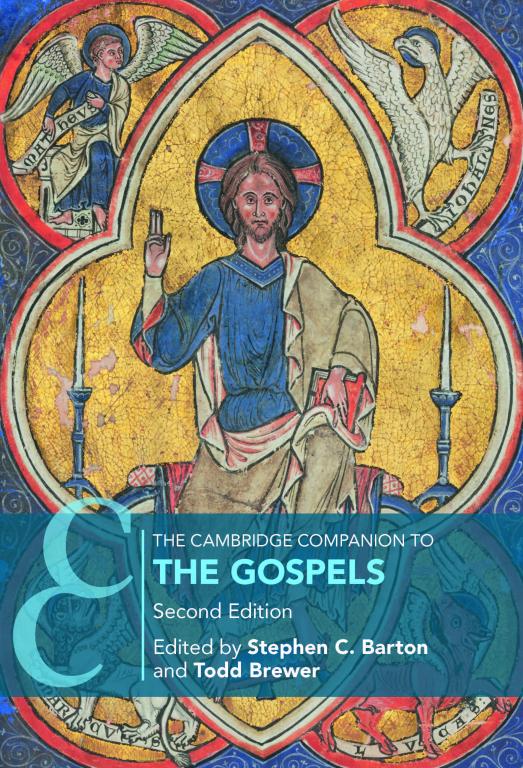 Recently I reviewed the new Cambridge Companion to St. Paul (July 2021; ed. Bruce Longenecker). Now, we are anticipating the publication of the second edition of the Cambridge Companion to the Gospels, edited by Stephen Barton and Todd Brewer (Feb 2021).
I recall how helpful the first edition was for my own understanding of the gospels and the state of scholarship at an accessible level (2006). The editor of the first edition—and one of the co-editors of the second edition—Stephen Barton, was my primary doctoral advisor at Durham. Stephen's work has been wide-ranging, but he made a name for himself in the UK as an efficient and collegial editor of many books. Here, well into his retire, he has taken up the editor's role again with the help of Durham grad Todd Brewer.
I emailed Stephen to ask for a sneak peek, and he was kind enough to pass along to me the cover image (which is nicely done) and the ToC—Many of the original contributors reprising their role, but a few new names in the mix. Check it out.
TABLE OF CONTENTS
Introduction
STEPHEN C. BARTON and TODD BREWER
Part I
Approaching the gospels: context and method
What is a gospel?
LOVEDAY ALEXANDER
The fourfold gospel
FRANCIS WATSON
Gospel sources and inter-relations
TODD BREWER
The scriptural matrix of the gospels
RICHARD B. HAYS and CHRISTOPHER BLUMHOFER
The gospels and 'the historical Jesus'
STEPHEN E. FOWL
The gospels and the reader
SANDRA M. SCHNEIDERS
Part II
The gospels as witnesses to Christ: content and
interpretation
The Gospel according to Matthew
ROLAND DEINES
The Gospel according to Mark
ELIZABETH E. SHIVELY
The Gospel according to Luke
JOHN T. SQUIRES
The Gospel according to John
CHRISTOPHER W. SKINNER
Non-canonical gospels as witnesses to Christ
SIMON GATHERCOLE
God and the knowledge of God in the gospels
STEPHEN C. BARTON
Part III
The afterlife of the gospels: impact on church
and society
The gospels and doctrine
FRANCES YOUNG
Reception history of the gospels
CHRISTINE JOYNES
Praying the gospels: spirituality and worship
GORDON MURSELL
The gospels embodied: the lives of saints and martyrs
DAVID MATZKO MCCARTHY
Living the gospels: morality and politics
SCOTT BADER-SAYE
The gospels for the life of the world
BEN QUASH