So excited to introduce you to my friend, Dr. Ellen Davis. She is not only a great HB/OT scholar, but also a gifted communicator. She is kind-hearted and models thoughtful inter-disciplinary work too.
30 Old Testament/Hebrew Bible Scholars to Read and Follow
---
Dr. Ellen F. Davis, Amos Ragan Kearns Distinguished Professor of Bible and Practical Theology, Duke Divinity School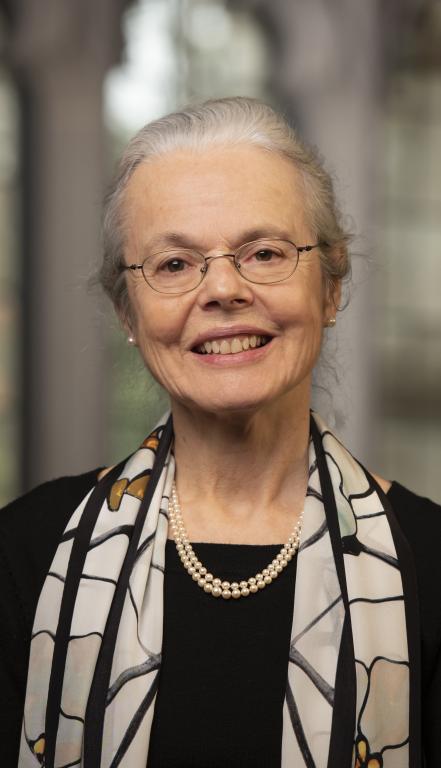 ---
Why do you love teaching and researching about the OT/HB?
I love the breadth of scope of the biblical canon, diverse perspectives developed and expressed in varying social settings over a millennium. That breadth encourages (maybe requires) us to bring a wide range of perspectives to the text. Much of my teaching and some of my writing is now collaborative, and almost all of both is interdisciplinary. I have learned much about reading the Bible from people whose perspectives and commitments differ substantially from mine: my Jewish teachers from my first study of the Bible, Muslim colleagues at Duke, farmers in North America and around the world, more recently dancers and other artists who in their own disciplines are doing theological interpretation of sacred texts.
---
What is one "big idea" in your scholarship?
The Bible altogether is "practical theology," rooted in the core realities of human existence and survival, from which many of us in the industrialized societies have distanced ourselves, to our peril. The HBOT especially is (in Bonhoeffer's vivid image) located "in the middle of the village"; it reminds us how delusory is the Western notion that religion can be separated from economic, political, and (as we now see) geophysical realities. Therefore the most helpful thing the preacher or theological teacher and scholar can do is to highlight how virtually every text illumines the joys, sorrows, and challenges of daily life for ordinary people: Jews, Christians, and also people who do not connect with a particular faith tradition.
Tutored by that practicality, I have increasingly over thirty years tried to "read the Bible with agrarian eyes," amazed at the insight it yields into essential connections between human and nonhuman life, including the life of land and sea, on the health of which we all depend. This idea was central to my Scripture, Culture, and Agriculture, and it has informed everything I have written since.
---
Who is one of your academic heroes and why do you admire them?
Brevard Childs was my "doctor-father" (director of my dissertation) and later my teaching colleague and close friend. As a theologian, he was wholly dedicated to both church and academy, and thus he encouraged me to become the scholar-for-the-church that I wanted to be. "Bard Childs" [this was a nickname he had at Yale] was a great scholar, certainly one of the most learned people I have ever known. Yet as I think of him (still on a daily basis), what has influenced me most is his modeling of the crucial personal qualities of a scholar and teacher in any field: dedication to the hard and sometimes tedious work of study and making the fruit of that study plain, humility in the presence of his students, a lifelong eagerness to rethink things and be challenged by ideas and ways of thinking he had not previously considered – that is, eagerness to learn from and with us, comparatively ignorant though we might have been. He never made a mental separation between the tasks of teaching and scholarship, as so many scholars do (usually showing a distinct preference for the latter!).
---
What books were formative for you when you were a student? Why were they so important and shaping?
I first encountered the Sermons of John Donne (17th century, available in ten volumes from the University of California Press) as a seminarian, worked with them as a doctoral student, focused on them for my second full book, and still draw upon them today, in teaching and writing. This great poet and preacher opened up for me the possibility of preaching – and biblical interpretation altogether – that is both theologically and psychologically astute, shaped throughout by a penetrating reading of the whole of Scripture, deeply imaginative, and with all that, beautiful.
Claus Westermann's Praise and Lament in the Psalms (1981) first introduced to me the important theological concept of lament and its prevalence in biblical literature, an idea I find indispensable to faith and worship in this difficult century.
The Art of Biblical Narrative by Robert Alter (1981) who had directed my undergraduate senior thesis some years before writing this), gave me a good model of biblical interpretation that is non-technical in style and yet filled with insight into the subtle workings of these carefully crafted texts.
The influence of all these books is present to some degree in most of my own books.
---
Read Davis' Writings
Preaching the Luminous Word (Eerdmans, 2016)
Opening Israel's Scriptures (Oxford, 2019)
---
If you ran into me at SBL, and you didn't want to talk about OT/HB studies, what would you want to talk about?
I am more inclined to have friends than hobbies. So we might talk about the importance of friendship, how vital it is for a humane life, and how widely undervalued it seems to be, judging from our dominant social discourse. I am continually surprised by the resiliency of friendship, how it can persist over decades, often with rare personal meetings. Sometimes I am surprised by a new friendship that offers itself suddenly and proves to be remarkably profound, with the promise of enduring into the future.
---
What is a research/writing project you are working on right now that you are excited about?
The painter Makoto Fujimura and I are writing (and painting!) a book on interpreting psalms, working through our different modes of "translation." We are both excited to discover that this collaboration enables us to see familiar texts in new ways and yields genuine theological insight into these ancient poems, perhaps the most "visual" and multivalent of all biblical texts.