Dr. Jaime Clark-Soles has written an excellent new book called Women in the Bible for the Interpretation supplement series (Westminster John Knox). She was kind enough to answer some questions about this important resource—which you should buy and read! Clark-Soles is not only a good scholar, but a fantastic writer and inspiring communicator. In this book and interview she talks about her motto: "Truth, with Hope." Isn't that great?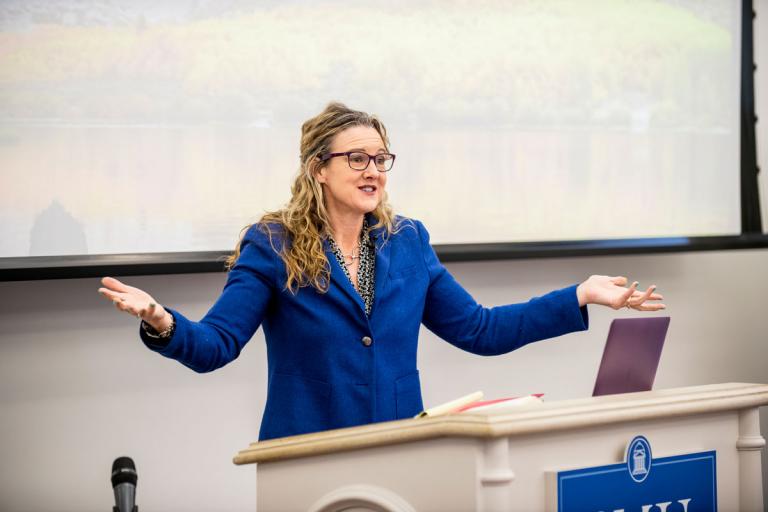 ---
Dr. Clarke-Soles, Why did you write this book? Why did you choose this topic?
I was invited to write the book. I welcomed the opportunity for a number of reasons. First, I appreciate this series, from the topics they've chosen to include to the way it combines academic rigor with resourcing a wider church audience, especially those called to preach and teach the Bible. Second, when I agreed to do it (about 10 years ago), I had never written specifically on women in the New Testament, let alone the whole Bible! So, I knew it would be a challenge and that I'd learn much along the way that would be relevant to me both as a scholar and a teacher, not to mention personally. I was right.
Third, the topic is crucial for anyone who wants to understand faith communities of both the past and the present with respect to this (still!) freighted, even controversial subject. On the one hand, there's so much to celebrate about women in the Bible and women in contemporary faith communities. On the other hand, it remains a fact that people don't know very much about the whole range of women in the Bible. It also remains a fact that vast portions of Christianity exclude women from many types of leadership in the church, using Scripture as a warrant for the exclusion. So, on many different counts, from basic education about Scripture itself to the ways its contents impinge upon our current choices about how best to conduct ourselves as the church, there's room for growth. And I'm a big fan of growth!
---
There are lots of books on women in the Bible, how is this one unique?
Yes, there are! I'm proud to say that one of the gifts of this book is to introduce readers to some of the great work my gifted colleagues have done, including some of the newer voices to the conversation.
I consider my book a "one-stop shop" for those who are newer to the subject or those looking to be brought up to date. The book is unique in that it has eight clearly stated goals that helped me choose what aspects of the topic to include and how to approach them. Trust me, I tried on for size many other goals over the decade; these are the one I felt were most useful for the reader:
Address well-known biblical women from fresh perspectives using a variety of interpretive methods.
Lift up stories of women who have been ignored.
Reinstate biblical women who have been erased, (rather than merely ignored) due to political moves in textual transmission (such as Junia) or through politically motivated translation moves of which the English reader may not even be aware (e.g., Phoebe).
Consider symbolic femininized figures such as Woman Wisdom in Proverbs, daughter Zion, and the "great whore" in Revelation.
Explore the ways the Bible employs feminine imagery and the ways it moves across or beyond gender. For example, God, Jesus, Paul, and the male disciples are depicted using feminine language.
Draw upon recent scholarship that addresses the status of women in ancient Israelite society, in Roman Palestine (and the empire more broadly), and in the early church.
Present insights from new perspectives that have emerged in the interpretive conversation through the growing attention to women in the Bible and the increasingly active participation of women in different social locations in the current global context.
Point the reader to excellent resources for further study.
Another specific feature of the book that I like very much is the attention to the lectionaries. I discuss the challenges of the lectionary in the introduction and also at the end of each chapter I discuss whether or not the material I've discussed in that chapter occurs in the lectionaries. In addition, I make suggestions to the preacher or teacher about ways to work with what's there and make up for what's missing. [NKG: I love that!]
My conviction in the book from start to finish is "Truth, with Hope." I try to look squarely at the materials and acknowledge both the potentially problematic and the promising always with a view to how these texts do, could, and should function within lived communities, including our own.
Finally, the book is unique by the sheer variety of content and topics represented. Though I draw on such works, I don't try to come up with a few categories into which all women fit (e.g., Helpmates, Harlots, and Heroes; Goddesses, Whores, Wives, and Slaves). Rather I invite the reader to consider the wide array of contents, questions, and ideas related to the topic of "women in the Bible." I think the TOC gives you a sense of that. For instance, I treat Ruth as one instance of "women's books," trusting that the reader will turn to Esther and maybe even Judith on their own. Here's the TOC:
Of Canaanites and Canines: Mt 15
God across Gender
Women and Violence in the Bible: Truth Telling, Solidarity and Hope
Women Creating
The Book of Ruth: One of the Women's Books in the Bible
Magnificent Mary and her Magnificat: Like Mother, Like Son
Women in Jesus' Life and Ministry
Jesus Across Gender
Women in Paul's Ministry
The Muting of Paul and his Female Coworkers: Women in the Deutero-Pauline Epistles
Conclusion: The End Goal: Truth with Hope
---
Is there a favorite section in this book, or a part that was especially interesting to research?
This is a really hard question to answer in a brief way! The book took 10 years to write. The hardest part, and what took the longest, was trying to decide the shape of the book and how to deal with certain challenges. For instance, women in the Bible (not just the New Testament)—what about them? What's important to know? Which women? There are a vast number of them, named and unnamed. And there are missing women (e.g. did the Prodigal Son not have a mom or sisters? In 1 Cor. 9:5 Paul says Peter is married and in Mark 1:30 Jesus heals Peter's mother-in-law, so why don't we ever meet this wife of Peter? Or the other wives of apostles mentioned by Paul in that verse?) And the nature of the ancient evidence is a challenge, since much of what remains comes from elite members of society, especially men. So, that was one kind of challenge.
"Favorite section" is difficult. On the one hand, I loved delving deeper into New Testament texts since I'm a New Testament scholar. It was enjoyable both to make my own new discoveries and to engage the work of my colleagues. On the other hand, it was richly rewarding to explore the Old Testament material. In each case I enjoyed surveying all that has been done with respect to both content and method, from getting up to date on the latest relevant archaeological materials to reading womanist treatments of texts.
It was also fun (but challenging) to write "themed" chapters that treat both Old and New Testament material. For instance, I was delighted to write the "Women Creating" chapter and celebrate the life-giving, inspiring examples from the Bible, from musicians like Miriam to savvy diplomats to Eve to prophetic women named and unnamed, and more. I was reminded that there are so many ways to be creative—from adding to human knowledge, to tending to various life forms, to leading us into hope, even in the midst of precarity or ruin. Unequivocally, each of us has something to offer for the flourishing of all creation. We need only discern and don the mantle.
---
This WJK series is focused on life in the church. What are your hopes for how your book might impact life in the church?
Here's what I say in the book: "…I aim to have an honest conversation with you about what kinds of things the Bible says and does not say about women; who is present and who is absent; what the text actually says and what interpreters have said it says. I want to provide information and point you to some excellent resources for further study. In many ways, I want to stoke your imagination and inspire you to come at the subject from a variety of angles, each yielding different fruit for different seasons. It will have to be done in a representative, not exhaustive fashion, of course.
If I am successful, you may learn something new about particular women or groups of women in the Bible, but, more importantly, I hope you will be equipped to "play" with these women from more angles than you might have before and that, in doing so, the Scriptural text will spark our imaginations about how we might live better, more just lives today. I suppose I see myself as the scribe of whom Jesus speaks in Matthew 13:52: "Therefore every scribe who has been trained for the kingdom of heaven is like the master of a household who brings out of his treasure what is new and what is old" (Mat 13:52 NRSV). Something old, something new—may you find some of each in the pages that follow."
I want people to be exposed to ideas that I don't often hear in churches, such as the important role that Woman Wisdom plays the both the Old and New Testaments or what a full, rich character Mary is. What Jesus preached, he learned from his mother, sometimes quoting her word-for-word (see the Magnificat as compared to the Sermon on the Plain in Luke 6 or Jesus' inaugural address in Luke 4). Mary is important not only as the moral shaper of Jesus, but as one of the founders of the church, which was born at the foot of the cross in John 19. She doesn't play a big role in the Protestant imagination, but she has much to offer all would-be disciples. This leads me to one of my biggest hopes, that this is not construed simply as a book by a woman, about women, for women. This book is aimed at people of ALL genders. Just as it is customary for women to learn from and consider the likes of the man who was born blind to be a model disciple worthy of emulation, people of ALL genders should ask how they might emulate the Samaritan woman's bold testifying about Jesus or the ways the Wise Woman of Proverbs 8 or Lydia in Acts conducts business or the generosity and communal care exhibited by Tabitha. Every word of Scripture, from Genesis to Revelation, is for ALL people of ALL genders ALL the time.
Here's one spot in the Introduction where I express my hopes to the readers:
"You have been taught to consider both what the text meant in its original socio-historical context, by its original author, for the original audience and also what the text means today for the church in the world. You live in a time in which you and your community have unprecedented access to an overwhelming amount of information. It used to be that you could simply rely on the standard commentaries, written by a single author, from a single perspective, usually employing the historical-critical method undergirded by modernist assumptions. Notice that most commentaries in a library reference room are by males. Now you work in a postmodern context in which a plethora of methodologies have yielded new questions and approaches and insights and voices from across the globe have entered the conversation. You are tasked with helping others navigate a complex world where politics, religion, gender, sexuality, economics, race, technology, and global forces factor into everyday lives. The moral issues you address are weighty: sex trafficking, reproductive rights, end-of-life decisions, proper use of technology, pluralism, war, care for the least of these, the alien and sojourner in your land. You do not have the luxury of burying your head in the sand and pretending that we live in "a simpler time" (if we ever did) and a small world where everyone thinks like we do. Your guidance and preaching and teaching are needed more than ever as unprecedented numbers of people have no knowledge of or connection to the life-giving power and genius that the Bible holds—wisdom from the ages, both pain and promise, breathtaking failures and astonishing moments of mystery and redemption."
If you want to see a video discussion of Clark-Soles' book, see HERE.
---
What is next for you in terms of writing projects and publications?
Thanks for asking! My book on 1 Corinthians came out March 2, which I'm excited about. It's much smaller and is in a format that lends itself to a 6-week study of 1 Corinthians.
I have just finished a technical, academic essay on the "Israel's Scriptures in John" for a new volume called The Old Testament in the New: Israel's Scriptures in the New Testament and other Early Christian Writings. Edited by Matthias Henze and David Lincicum (Eerdmans).
With the new Women in the Bible and 1 Corinthian books both just out, I'm spending a lot of time speaking to various audiences on both, which I always love and find energizing.
In terms of next projects, I'm in conversation about a book on Mark and a book on Galatians. Most of my publications have been in the area of the Johannine Literature, Death and Afterlife, or Disability Studies. So, as you can see, I'm branching out! I will continue to work in those areas, but I'm finding it refreshing to venture into these other areas.
---
Read the Endorsements:
Reading this book is like the best Bible study or class you ever or never attended. What distinguishes Clark-Soles s book from similar projects is that she doesn't t just walk you through texts but introduces you to a whole range of different and often unexpected interpretations for each passage. Even difficult and painful texts become occasions for new pastoral, spiritual, and prophetic insights. Attending to the needs of preachers, teachers, and general readers, Clark-Soles has created an incomparable resource for encountering the full range of women in the Bible. *Carol A. Newsom, Charles Howard Candler Professor Emerita of Old Testament, Candler School of Theology, Emory University
Clark-Soles provides a format allowing readers to enter at their own pace and in their own space. While addressing a timeless topic, this work reimagines what the pursuit of women in the Bible means in a time of gender fluidity. This is not another overview or mere summation. This is an opportunity to revisit and even disturb embedded biblical interpretations and social considerations for the sake of broader theological and ecclesial conversation. *Stephanie Buckhanon Crowder, Academic Dean and Associate Professor of New Testament, Chicago Theological Seminary
The rubric women in the Bible suggests yet one more prosaic catalog of names and roles, chapters and verses. But Jaime Clark-Soles offers instead a fascinating account that ranges from rich consideration of individual characters to reflection on the feminine work of God. It's difficult to convey just how remarkable this book is in its scope and its treatment. Clark-Soles s diverse array of conversation partners and keen pastoral sensitivity make this an ideal volume for students and pastors alike. Simply first rate! *Beverly Roberts Gaventa, Distinguished Professor of New Testament, Baylor University
Jaime Clark-Soles s comprehensive and thoroughly engaging book about the varied roles of women in the Bible seen and unseen is an excellent antidote to the historical wrong of erasing women as protagonists in the story of God s engagement with the world. It is a feast that places biblical texts in dialogue with modern literature and culture to offer a careful and honest analysis of their liberative potential and pitfalls for faith communities. Scholars, pastors, and laity alike will see biblical texts about women and their implications for our times through a new lens. *Raj Nadella, Samuel A. Cartledge Associate Professor of New Testament, Columbia Theological Seminary
Clark-Soles gives us the guide we need to the women of Scripture. For all kinds of today s readers (not just women!), Clark-Soles brings Old Testament and New Testament women springing from the page, full of righteous anger, wisdom, and power. They lived in fraught times, and so do we Clark-Soles shows us how much they can teach us for the living of these days. *Jacqueline E. Lapsley, Dean and Vice President of Academic Affairs and Professor of Old Testament, Princeton Theological Seminary