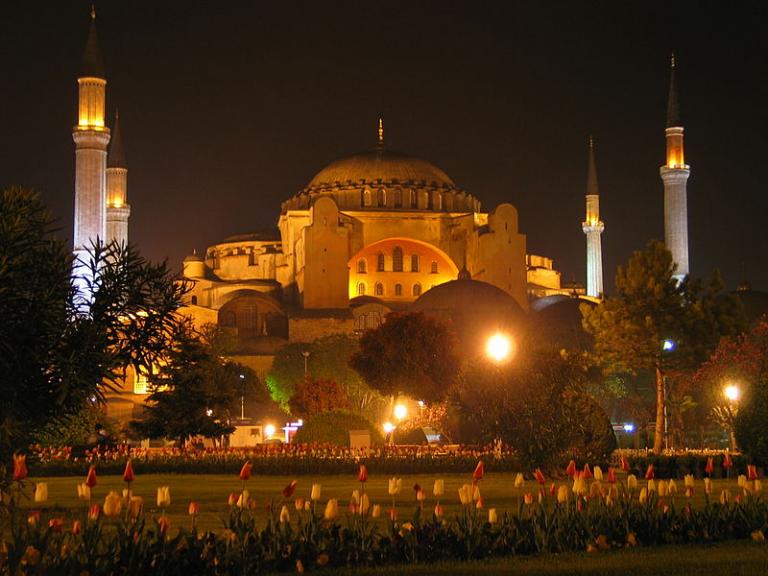 You may have noticed that Istanbul's magnificent Hagia Sophia has been on my mind of late, since even before the lamentable decision by the lamentable Turkish autocrat Recep Tayyip Erdoğan to turn the building into a mosque. (I've written about it on this blog, here and here, and in the Deseret News.)
Janet Ewell has kindly called my attention to this absolutely wonderful, even astonishing, item:
"Listen: The Sound of the Hagia Sophia, More Than 500 Years Ago"
I was unaware of it. Having listened to it now, though, my wife and I have ordered the CD and its accompanying materials.
And Susan Steinhaus, a friend from California high school days who grew up a Protestant clergyman's daughter and who is married to a priest of the Ukrainian Orthodox Church, generously alerted me to this article, which was written by a Muslim:
"Hagia Sophia's Status as a Mosque Mocks Prophet Muhammad's Covenant with Christianity"
The recent news about Hagia Sophia has hit the Orthodox communities hard; the church is, in a sense, something like their historical parallel to St. Peter's Basilica. "We are despairing," Susan writes to me. (I hope she won't mind my sharing that.)
As luck would have it, the well and sometimes beautifully illustrated cover article for the current issue of Archaeology, which is published by the Archaeological Institute of America, is about Hagia Sophia: Benjamin Leonard, "Hagia Sophia's Hidden History: Unprecedented fieldwork in Istanbul has revealed new evidence of the cathedral at the heart of the Byzantine Empire," Archaeology 73/4 (July/August 2020): 24-31.
The article quotes the sixth-century A.D. Greek historian Procopius, who saw Hagia Sophia when it was new:
The church has become a spectacle of marvelous beauty, overwhelming to those who see it, but to those who know it by hearsay altogether incredible. For it soars to a height to match the sky, and as if surging up from amongst the other buildings, it stands on high and looks down upon the remainder of the city.
Among other things, recent excavations have found numerous marks etched into the mortar between bricks in the shape of the Greek letter chi, χ, a symbol for Christ (χριστός), as well as many prayers and invocations, most commonly along the lines of Kyrie boethei ("Lord help"), followed by an individual's name. "You can see," says one of the principal archaeological investigators, "that the builders actually believed in what they were building."
Posted from Park City, Utah