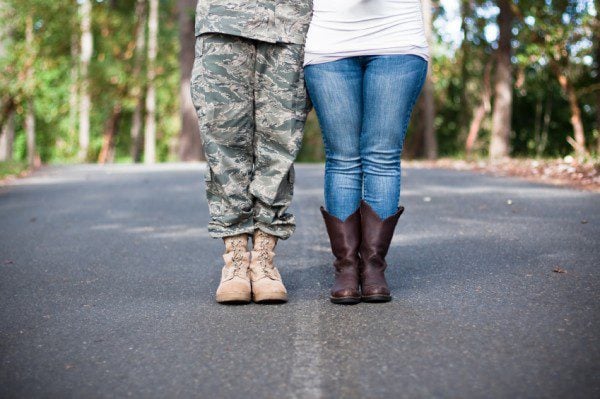 Many of you have written in asking for insights in the unique complexities of military marriages. Since I don't have personal expertise into these dynamics, I've asked my friend Claire Wood to share some insights. She and her husband, Ryan, have a wonderful ministry to military couples (Ryan is currently Active Duty). She has also written a great new book called Mission Ready Marriage. Please share this post with any military couples in your life, and THANK YOU to all of you who are serving (or have served) in our military! 
GUEST POST BY CLAIRE WOOD
We all know that marriage is a wonderful blessing, but it takes work to make it a successful and flourishing relationship. Some would argue that military marriages take extra effort to succeed due to the demands of deployments, frequent relocations, constant separations and the overall demands of military life.
There are four things that can help any military marriage thrive through difficult times:
1. Set clear expectations- B.L.U.F.
There is an often used acronym in the military, B.L.U.F., and it means Bottom Line Up Front. When we can be forthright and direct with our spouses about our expectations, our lines of communication can stay open, our true intent and motives can be better understood, and there's no second guessing what the other person is thinking. With constantly changing schedules and the demands of duty, knowing what my husband needs from me gives my own mission a better focus. When I openly express my expectations to him, he, too, knows what I need and can work toward finding a solution or offer his support.
2. Be your spouse's Battle Buddy
In training, soldiers are assigned a Battle Buddy. Battle Buddies help and assist one another inside and outside of combat. Sometimes I fall into the negative thinking trap that it's me against my spouse or me against his military service. I am not competing with either. By the nature of our marriage covenant, we are live-in Battle Buddies. I look out for my husband and likewise, he keeps my best interests in mind. We are on the same team; there to help and assist one another through thick and thin, in good times and in bad. Marriage is a partnership for life and with that comes many benefits: companionship, intimacy, friendship and building a wonderful life and family together.
Read the next two tips on PAGE 2