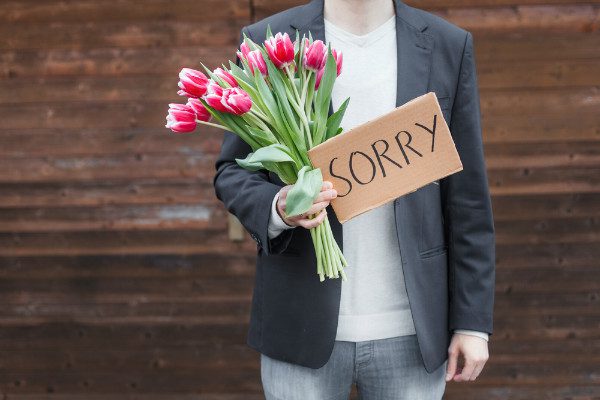 We have ALL blown it before. We've all had times when we need to seek forgiveness and we've all had times when we need to extend grace to someone. One of the hottest songs on the radio right now has Justin Bieber singing, "Is it too late now to say Sorry?" And those simple lyrics represent a timeless question: How do we give a real apology and how do we know when someone is giving a real apology to us?
This issue is way too important for me to just give my own opinions, so I've based this entire explanation on the Bible's explanation of forgiveness and seeking restoration in relationships. EVERY time we need to say "sorry" our apology needs to have five distinct elements:
1.Freely admitting fault.
Don't make excuses. Don't wait to get caught. Confess freely and fully.
2. Fully accepting responsibility.
Own up to it. Don't try to diffuse your responsibility by assigning blame to someone else. The is a huge step towards rebuilding trust.
3. Humbly asking forgiveness.
Don't put a "But" at the end of your apology, "I'm sorry, BUT". The "but" instantly takes the impact out of the apology. Just say, "I'm truly sorry. I have no excuses. I know I hurt you and I want to do everything in my power to make it right. Will you please forgive me and give the the opportunity to start rebuilding the trust I know that I broke?"
4. Immediately changing behavior.
Changed behavior is the most important evidence of a genuine apology. Words are easy. Actions are what count.
5. Actively rebuilding trust.
You don't have to trust someone in order to forgive them but you do have to forgive in order to make trust possible again. For more on this, watch my short video on forgiveness and trust (by clicking here).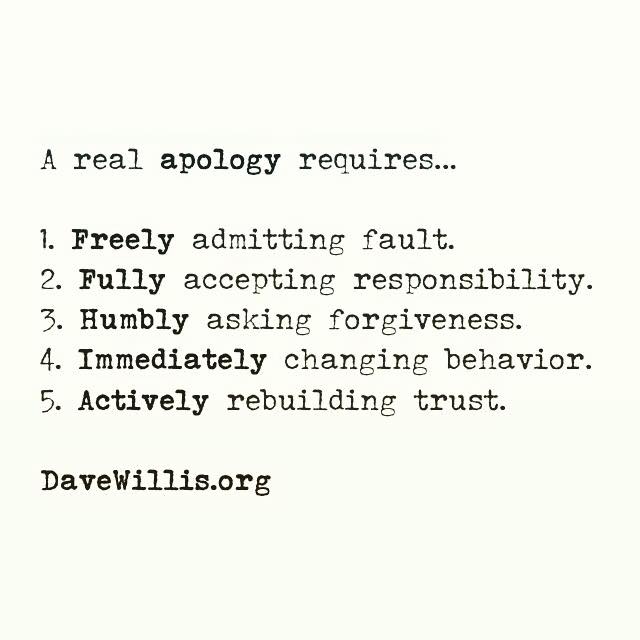 For more tools to help you build rock-solid relationships, check out my bestselling book The Seven Laws of Love (by clicking here) and you can also download our "MarriageApp" on your iPhone or iPad (by clicking here). A Facebook login is required to use the MarriageApp.
IF THIS POST HELPED YOU, PLEASE SHARE IT USING THE LINKS BELOW SO WE CAN HELP OTHERS TOO!