I'm not the first to be turned away from speaking at a university for my criticisms of the Black Lives Matter movement, and I certainly won't be the last. In fact, it's already happened again.
Douglas Muir is an executive lecturer at the University of Virginia's engineering school, and he and I agree that Black LIES Matter is a racist, hate-fueled organization. He offered that opinion on a Facebook posting of a picture from a lecture given by BLM co-founder Alicia Garza. Muir said the group is the most racist organization since the Ku Klux Klan: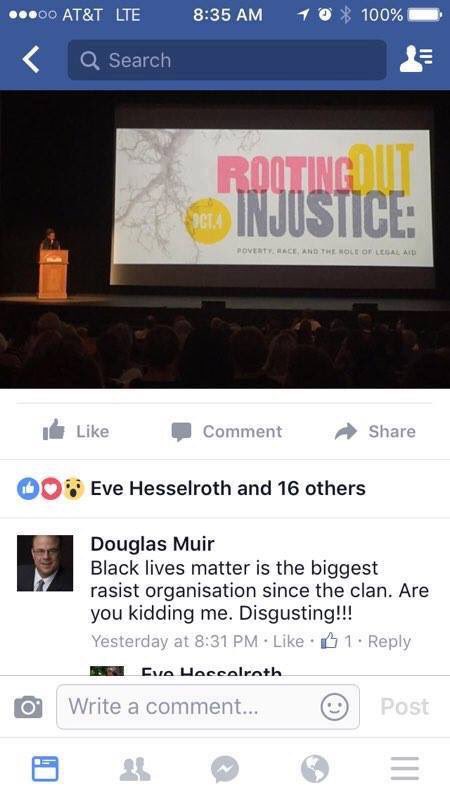 Muir deleted his comment but not before it was captured in a screenshot by someone who was outraged and notified UVA. He was asked to take a leave from his position at the school, The Blaze reports.
In typical fashion, UVA caved to the complaints of social justice warriors and released a statement about how the school champions free speech, which is fast becoming the great lie on college campuses across the country:
"While free speech and open discussion are fundamental principles of our nation and the University, Mr. Muir's comment was entirely inappropriate. U.Va. Engineering does not condone actions that undermine our values, dedication to diversity and educational mission. Our faculty and staff are responsible for upholding our values and demonstrating them to students and the community."
The vice president and provost of the school also chimed in, reassuring everyone that they aren't "looking to hinder academic freedom" but won't stand for "social injustice of any kind." The rough translation of that is: We are fine with any opinion as long as it lines up with our progressive ideals. It's that simple.
Black LIES Matter is an organization that uses fire, intimidation, and physical violence, even death, to make its point. Baltimore, Ferguson, Charlotte, Dallas and other cities have burned, police officers have been murdered, and white citizens have been taken out into the streets and beaten senseless during rallies riots. Its manifesto is rooted in favor of only the black race. Whites are a pariah.
BLM is the new KKK? Sounds reasonable to me.