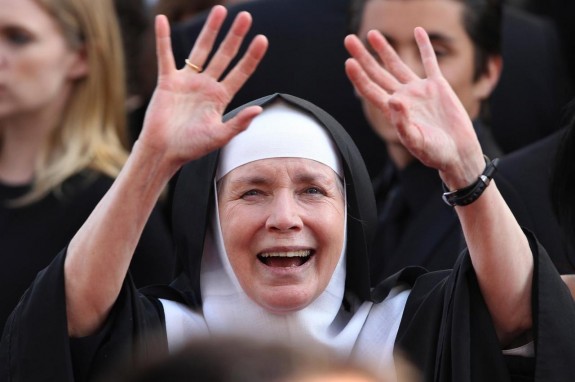 Hollywood's most famous nun since Julie Andrews returned to her old stomping grounds last night:
It wasn't hard to spot Elvis Presley's old co-star on the Oscars red carpet. She was the one wearing the nun's habit.

Mother Dolores Hart, who left Hollywood 49 years ago to pursue a religious life, made a dramatic return Sunday to take part in the 84th annual Academy Awards ceremony.

The Oscar-nominated documentary short film "God Is the Bigger Elvis," tells the 73-year-old nun's story.

"It's absolutely an extraordinary event," said Mother Dolores, her voice barely audible above the red carpet's screaming bleacher fans. "Believe me, this is very different than being in the monastery."

Hart left Hollywood in 1963 after starring in films with Presley, George Hamilton and others.

But even before her departure, she revealed Sunday, she was being drawn to her future calling.

"One of the things that Elvis and I did when we made 'King Creole' was we opened the Bible every afternoon before we went on set and we listened to the words of the Lord," she recalled.

Asked what Presley would think of her nomination, she replied, "I think he would be very happy."
The New York Post, meantime, adds another detail of her red-carpet walk:
Benedictine nun Mother Dolores — who stars in HBO's short doc "God Is Bigger Than Elvis" — made a triumphant return to the Oscars last night. The former starlet who left showbiz 47 years ago to become a nun, and was an Oscar presenter in 1959, walked the red carpet in a full habit. "When the bleachers section called out to her, she put her fingers to the corners of her mouth and let out a huge whistle to the fans," said a spy. "No one could believe such a loud sound came from the reserved Mother."
For those who missed it: sadly, the documentary on Mother Dolores didn't win.
RELATED: