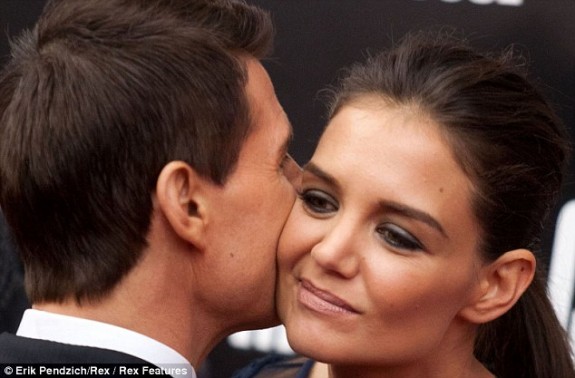 While one Hollywood Catholic gets hitched, another gets ditched.
Katie Holmes and Tom Cruise were both raised Catholic — at one time, he reportedly even considered the priesthood — but other bright shiny objects seem to have distracted them.
If you'd like a primer on the theology of divorce in the world of Scientology, look no further:
The divorce of Tom Cruise and Katie Holmes will not be recognized by Scientology, according to the church's doctrines.


The religion offers little advice to those for whom divorce has become the only option, preferring to focus on providing couple's therapy to fix relationships.

Katie, 33, filed divorce papers from 49-year-old Cruise on Thursday after it was reported that she had been unhappy in the marriage for years. The former Dawson's Creek actress was seeking sole custody of the couple's six-year-old daughter Suri, in what is expected to become a bitter legal battle.

There is a belief in the church of Scientology that marital problems come from 'withholds' or 'overts' – undiscussed issues or problems.

According to the official website, marriage is considered essential to family life along with the  belief that the religion will strengthen bonds between partners.


Scientologists also claim that people who follow the religion are more likely to stay married.


If a couple runs into a problem, they can take courses on how to improve their marriage or speak to counselors.

However Stephen Kent, a religion professor at the University of Alberta, told ABC: 'There's no real annulment in the church. Many members have been divorced, even founder L. Ron Hubbard was married three times.'

Tom Cruise and Katie Holmes were married in November 2006 in a fairy-tale, A-list wedding at a 15th century Italian castle before a church of Scientology minister.

When the romance began – Katie had met Tom to discuss the possibility of appearing in Mission Impossible III – she was immediately sent on an intensive and lengthy study course about Scientology, the religion founded by sci-fi author L Ron Hubbard in 1954, which holds that humans are descended from an exiled race of aliens called Thetans.

Although Holmes was raised a Catholic, she embraced the religion of her new husband at the start of their relationship. However she is alleged to have come to dislike and distrust the movement.


The church of Scientology bans members from having contact with doubters of the faith or unbelievers called PTS – potential trouble source.