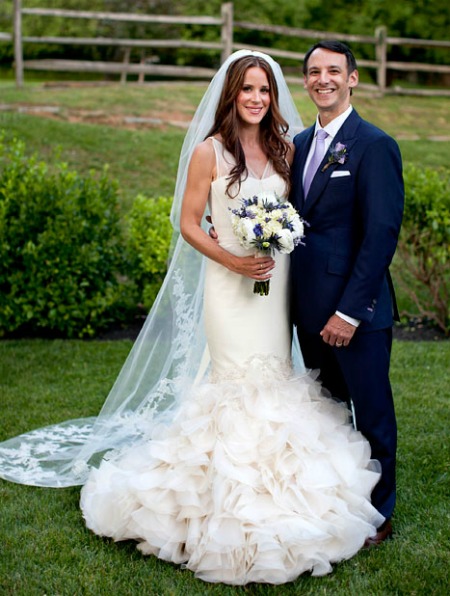 Vice President Joe Biden's daughter Ashley married a Pennsylvania doctor at a ceremony in Delaware, the vice president's office announced late Saturday.

A news release from Biden's office says 30-year-old Ashley Blazer Biden was married Saturday to Dr. Howard David Krein in Wilmington.

She is a social worker for the Delaware Department of Services for Children, Youth and Their Families. He is a New Jersey native and a facial plastic and reconstructive surgeon at Thomas Jefferson University Hospital in Philadelphia, according to The News-Journal of Wilmington.

The newspaper reported that the couple was exchanging vows at the same church where she was baptized, St. Joseph on the Brandywine, in a joint Jewish-Catholic ceremony. It was being followed by a reception at the Biden residence in Greenville. The guest list numbered about 200.
For those who may have questions about interfaith marriages, there's a very good primer at the USCCB's website For Your Marriage:
In cases where a Catholic is marrying someone who is not a baptized Christian – known as a marriage with disparity of cult – "the church exercises more caution," Hater says. A "dispensation from disparity of cult," which is a more rigorous form of permission given by the local bishop, is required for the marriage to be valid.

The union between a Catholic and a non-baptized spouse is not considered sacramental. However, Hater adds, "Though they do not participate in the grace of the sacrament of marriage, both partners benefit from God's love and help [grace] through their good lives and beliefs." …

… Because Catholics regard marriage as a sacred event, the church prefers that interfaith couples marry in a Catholic church, preferably the Catholic party's parish church. If they wish to marry elsewhere, they must get permission from the local bishop. He can permit them to marry in the non-Catholic spouse's place of worship or another suitable place with a minister, rabbi or civil magistrate – if they have a good reason, according to the U.S. Conference of Catholic Bishops. This permission is called a "dispensation from canonical form." Without it, a wedding not held in a Catholic church is not considered valid.

It's popular, and acceptable, for an interfaith couple to invite the non-Catholic spouse's minister to be present at the wedding. But it's important to note that, according to canon law, only the priest may officiate at a Catholic wedding. A minister may offer a few words, but he or she may not officiate or preside at a joint ceremony.

According to Hater, church policies generally recommend that interfaith weddings not include Communion, therefore, most interfaith weddings take place outside of Mass.

"The reception of Communion is a sign of unity with the ecclesial community," he explains. "On a wedding day, the fact that one-half of the congregation does not belong to the Catholic community [and, hence, does not receive Communion] cannot be a sign of welcome or unity on a couple's wedding day." It might be "likened to inviting guests to a celebration and not allowing them to eat," he adds….

…Jews and Christians share a view of marriage as a holy union and symbol of God's bond with his people.

Stricter branches of Judaism, such as Orthodox and Conservative, forbid or strongly discourage Jews from marrying non-Jews and prohibit their rabbis from participating in interreligious marriage ceremonies.

"Conservative Judaism sees only the marriage of two Jews as … a sacred event," reported the USCCB's Committee for Ecumenical and Interreligious Affairs, which discussed Catholic-Jewish marriages at a conference in November 2004. The Reform branch of Judaism strongly discourages mixed marriages, but there is no legal prohibition against it as there is in the stricter branches.

Often, a Catholic-Jewish wedding is held at a neutral site – with permission from the bishop – so that neither family will feel uncomfortable. In such cases, a rabbi is likely to officiate. The couple needs to have a dispensation from canonical form for such a wedding to be valid in the Catholic Church.
There's more at this link.