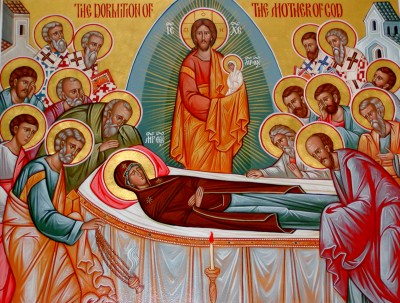 With tomorrow marking the Solemnity of the Assumption of the Blessed Virgin Mary, one of the great feasts in the Christian calendar, a writer at L'Osservatore Romano looks at one depiction of this event in iconography:
In the Byzantine tradition the first great celebration in the liturgical cycle is the Nativity of the Mother of God on 8 September, and it ends with her Dormition, and her being taken up into Heaven on 15 August. This almost intends to stress that for every Christian and for the whole Church the Virgin presents the journey that ushers us into the saving mystery of Christ. Established in the East at the end of the sixth century and introduced a century later into the West, the Feast of 15 August celebrates the passage and full glorification of the Mother of God as the first fruits of the Paschal Mystery of Christ, preceded on 14 August by a pre-feast and followed by an octave that ends on 23 August.

Two troparia of the Office of Vespers exemplify the close relationship between eucology and iconography. The former presents the icon of the feast as a liturgical celebration of the Dormition, alternating the eight musical tones of the Byzantine Tradition: Mary, dead or rather, fallen asleep, is at the center of the icon on a funerary couch which, however, also portrays a Christian altar. The Apostles and other figures surround her; Peter and Paul are always among the first, who indicate the whole Church's presence.

Christ, in the middle of a semicircle with the angels around him, holds his Mother's soul in his arms: "The supreme powers of heaven, presenting themselves with their sovereign, full of awe escort the most pure body which welcomed God; they precede it in an ascent beyond the world and, invisible, cry to the hosts above: Behold the Mother of God has arrived, Queen of the universe".