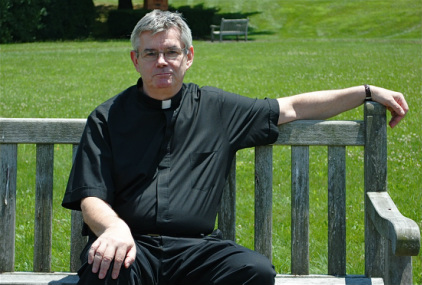 When it is performed by this fellow, "Chaplain Bill," who operates a service he calls "Progressive Catholics & Interfaith Weddings."  
Someone alerted me to his operation after reading this post, about a Catholic priest who assisted at a wedding involving two men.
So what, exactly, is the "Progressive Catholics" wedding service?  In a nutshell, it is whatever you want it to be.
We offer an all-inclusive Catholic and interfaith wedding ministry. Whether a first or second marriage, an interfaith celebration or a uniquely spiritual ceremony, let us help you craft the perfect day – and create a memory that will last a lifetime!

Today, many current and former Catholics — and others — are searching for an inviting wedding experience with the richness of the Catholic tradition yet different from that provided by the Roman Catholic Church. In fact, 40% of Roman Catholics are marrying outside of the institutional Church.

You may want to have a Catholic wedding but feel unwelcomed, for various reasons, by the institutional church. Those experiencing religious or other differences with the Church will find openness and acceptance here. Maybe you're looking for a personalized interfaith or spiritual ceremony uniquely designed to express your current values and beliefs. And you're looking for a ceremony that captures the joy and excitement of this wonderful time in life.

Together, we'll create the wedding ceremony you've been dreaming of and a memory that will last a lifetime!
The location for your wedding is entirely your choice. You can hold your wedding at one of our chapels or another church. Ceremonies can be held out-of-doors. The beach, the mountains, hotels, museums and private homes are all wonderful options. The Greater Washington DC area provides many exciting venues.

I am Rev. William "Bill" Freeman, a validly-ordained Catholic priest and wedding officiate, living and working in Northern Virginia. It would be my privilege to help you create the wedding ceremony of your dreams.
Is he actually a Catholic priest? Um, not the kind you may know. Here's his bio:
After 35 years as a Roman Catholic deacon, I was ordained a Catholic priest by the Most Reverend George R. Lucey, presiding bishop of the American National Catholic Church, along with my classmate Rev. Phillip Lichtenwalter in St. Louis on November 19, 2011.

My ministry is centered at the Friar Mychal Judge Pastoral Center in Northern Virginia where I am a chaplain working with the sick and those at the end of life, their families and caregivers. As part of that ministry, I oversee a worldwide Prayer Request Wall. I have an active wedding ministry with Progressive Catholic & Interfaith Weddings.

In addition, I am a university professor teaching courses in healthcare administration, leadership and ethics to master and doctoral students. I live in Arlington, Virginia with my partner of 24 years and two wonderful shelter dogs. Life is very good.
Okay. Glad to hear that, Bill. But what is the American National Catholic Church?  Their website offers this helpful primer:
What's the background of the American National Catholic Church (ANCC)?

We were founded in 2009 as a contemporary expression of Catholicism. We trace our independent linage thorough Roman Catholic Bishop Carlos Duarte-Costa of Brazil.

Bishop Duarte- Costa was a prophetic herald of the reforms of the Second Vatican Council. In as early as 1936, he called for the celebration of the liturgy in the vernacular while facing the people, a greater role of the laity in the liturgy including as Eucharistic ministers, and reception of the Eucharist in both bread and wine. His call for married clergy and general absolution has been realized in the ANCC.

We are absolutely committed to the implementation of the full vision of the Second Vatican Council believing that the Council's work and wisdom were a high-water mark in the history of the Church. We are heirs of that legacy, committed to its ongoing implementation.

We continue a rich tradition of grace-filled sacraments and a lived commitment to social action. In parishes and prisons, in hospitals and hospices, the ANCC is daily witnessing to the redeeming love of a welcoming God – a God whose love is beyond our wildest imagining.

Do you consider yourself Roman Catholic?

No, the American National Catholic Church is a valid expression of Catholicism outside of the Roman Church and the Vatican.
The "Progressive Catholics" website also notes that this outfit will perform same sex weddings; it will celebrate a "Mass" at which anyone can receive communion; it will marry those who are divorced; and it does not require any pre-wedding counseling.
Dig a little deeper and you'll find that the Bishop of Trenton lashed out at the American National Catholic Church when it set up a parish in his diocese. He branded the group "schismatic": 
Although claiming legitimacy as an "alternative" or "independent" Catholic Church, this group and the individuals leading or promoting it are not in communion with the Roman Catholic Church. No Catholic Church is "independent." This group and the individuals leading or promoting it are schismatics who refuse to acknowledge — or, worse, reject — the unity of the Roman Catholic Church and its leadership and laws. My greatest fear is that they will take other well‐intentioned Catholics down with them, leading them away from the true practice of their faith under the pretense of legitimacy. History has shown, time and again, that is a dangerous path to walk, for both the leaders and the followers, with dangerous spiritual consequences.
So, buyer beware.  An organization like the "Progressive Catholic" one mentioned above is not in communion with the pope; its weddings may be legally valid, but they are not sacramental and do not constitute the creation of a truly "Catholic" marriage, according to Canon Law.
People who think otherwise are being duped.
Meantime, for those who are curious, last winter I looked at the question of why Catholics have to be married in a church.  Check it out.
And, as a footnote: I'm bemused to see this sort-of-maybe-not-quite priest bedecked in a Roman collar.  Clerical attire is a subject of no small fascination to deacons.  I'm glad to see the American National Catholic Church has  settled the issue—at least, for its priests.  I wonder what its deacons wear?