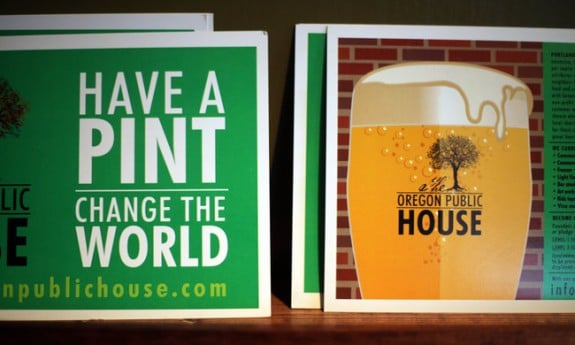 A very cool trend worth noting, from the New York Times:
Ask a bartender exactly how much profit was collected from that pint of beer you just drank, and the answer is likely to be as murky as a barrel-aged bourbon stout. The economics of alcohol, like the calorie count, are usually about the last things purveyors want their customers focused on.

But now a new generation of beer halls dedicated to something beyond the cash register is cropping up around the nation and the world, with proceeds going not into an owner's wallet but to charity, and bending elbows may never be the same.

"More people will want to support your business than if you're just doing it to pay for your second home," said Ryan Saari, a minister and a board member of the Oregon Public House, which is preparing to open here as soon as next month in a residential neighborhood, pledged by its charter to donating all profits to charity.

The place already has a slogan outside on the century-old red brick facade, "Have a pint, change the world," and a painting on the back wall of St. Nicholas, the patron saint of giving.

The beer-for-charity movement, like the microbrew phenomenon that preceded it, is different depending on where you look. In Houston, for example, where a group of giving-minded bar owners opened a place called the Okra Charity Saloon last month, patrons get a vote with every drink as to which charity should receive the next month's profits. A project in Melbourne, Australia, plans to put geography into the equation — sale of a beer from Africa, for example, will be linked to microloans or charities in the country of the beer's origin.

Other projects are in some stage of development, in cities from Hyderabad, India, to San Francisco.

People who track philanthropic trends said the number of upstarts going full tilt toward a charity-driven business model, especially in the viciously competitive food and beverage industry, remained small. But in the post-recession landscape, they say, a ferment of experimentation is clearly in the air, as many private charities continue to struggle for funds.

Giving by individual Americans, while up from the nadir reached in 2009 during the recession, was still lower in 2011 than in 2000, according to the most recent figures from Giving USA.

"It's a clever idea and certainly a noble ambition," said Patrick Rooney, the associate dean at Indiana University's School of Philanthropy, referring to the charity pub concept.