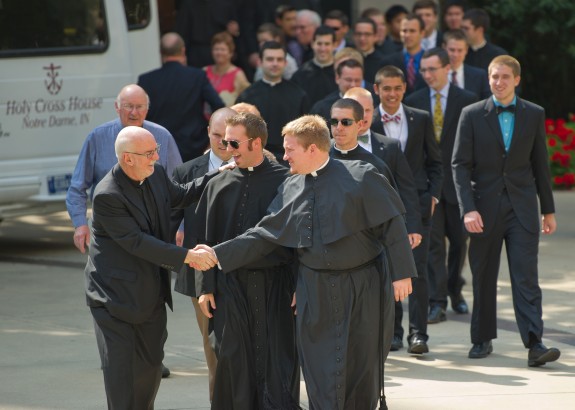 Today's Catholic News, the web publication for the Diocese of Fort Wayne-South Bend, takes a look:
With more than 50 men in formation, the vocations program of the Congregation of Holy Cross, United States Province of Priests and Brothers, is among the healthiest for Catholic religious orders in the United States.

Personal attention and an engaging, interactive online social media presence have led to one of the largest seminary classes in recent years. The class comes from 15 different states, Canada, England and Ireland and from all walks of life, with diverse educational backgrounds, hobbies and interests. They all share common goals: to serve God with zeal and to become "Men With Hope to Bring" as they begin to live out the charism of Holy Cross during their formation.

The U.S. Province's Office of Vocations uses social media to spread the word about upcoming events and to increase general awareness on the Internet. Young men considering a vocation to the priesthood and religious life are able to learn more through Facebook, Twitter, YouTube, Flickr and blogs.

"It has become one more place where we can connect with those who are interested in considering a vocation to the religious life or priesthood," said Vocations Director Holy Cross Father James T. Gallagher. "We use social media as a way to make ourselves known to those young men discerning a call to religious life. But the personal interaction still comes first. Our social media outlets are just tools we use to help make Holy Cross known, share discernment tips and help deepen a man's prayer life."

All men considering a life in Holy Cross get the personal attention of the vocations team. Throughout the year, they work with more than 100 young men who are discerning a call to the priesthood or religious life by way of vocation retreats, discernment groups on campus at Notre Dame and visits to the seminary.