Really?
Yes.
Sister Donna Quinn, a Chicago native who has been a Catholic nun for over 50 years, said it's about time for Illinois to approve legislation that would legalize same-sex marriage.

"We believe in this, this has to be done," she said. "We can do nothing less."

Quinn, the coordinator of the National Coalition of American Nuns, which comprises over 2,000 nuns from across the country, said giving gay and lesbian couples the right to marry is about fairness and respecting the love of people in committed relationships.

This breaks away from messages from the Chicago Archdiocese of the Roman Catholic Church, which is advocating against the bill.

"It's more of a belief in people, in all people, gay and lesbian and — it doesn't matter," said Quinn. "Their choice to marry is important and the benefits are crucial for their living, their livelihood, and the children they raise."

Quinn and other members of the local faith community have thrown their support behind the Religious Freedom and Marriage Fairness Act, a bill that could potentially see a vote in the Illinois Senate as early as Thursday and in the Illinois House as early as Sunday or Monday.

"I think the support from the religious community is heartwarming," said Rick Garcia, longtime LGBT rights activist and director of the Equal Marriage Project at The Civil Rights Agenda. "It's critical. It's critical to counter the anti-gay fundamentalists and Catholic bishops."

Quinn and several religious leaders are condemning recent comments by Chicago Cardinal Francis George of the Roman Catholic Church, in which he said same-sex marriage violates natural law because gay and lesbian couples cannot produce children. George sent a pastoral letter to local Catholic priests, urging them to lobby against the bill.
If Quinn's name is vaguely familiar, you may remember her as the nun who served as an escort for women seeking to have an abortion (picture below).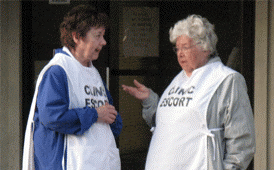 That led to her being reprimanded by her order, which expressed regret for the scandal her support for abortion caused.