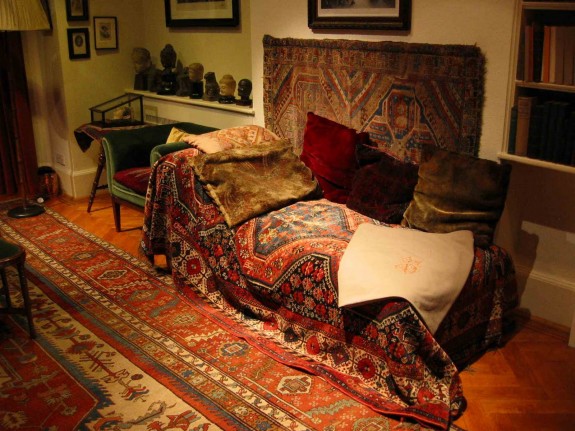 The Bench is pleased to welcome The Couch—and Greg the Deacon welcomes Greg the Doctor, too!
I invite you to pay a visit to Patheos' newest blog, "Faith on the Couch," presided over by the esteemed Dr. Greg Popcak.  The good doctor has some wisdom on psychology, culled from his years of experience, and all filtered through the perspective of faith.  A Catholic shrink?  Who knew?
In his inaugural post, Dr. Greg notes:
There are any number of people on both sides of the fence who think that psychology and religious faith (and perhaps, especially, Catholicism) go together like…well, two things that don't go so great together. My hope is that this blog will help my fellow Catholics, and people-of-faith in general,  both appreciate the helpful role psychology can play in their lives and also become faithful, discerning consumers of psychological news and insights.

Although this blog will, at times, address topics related to general spirituality, my primary focus will be more on the intersection of religious faith and mental/emotional/relational health and specifically, how Catholicism might best interact with current trends in psychology.

The Catholic Church has taken a lot of hits over the last decade–many self-inflicted.  Religion, in general, is seen as being on-the-ropes in our current culture.  It is often said that we live in a post-Christian age.  Although the number of people identifying as "spiritual but not religious" is growing, and rates of religious non-affiliation among 18-29 yo's has doubled from 8-16% (according to Pew) in the last decade or so, 80% of the US population still claims affiliation with one denomination or another (with 70-75% of those are various Christian denominations and the remainder divided between Jewish, Muslim, Hindu and other faithful) and 40% of the US adults claim weekly Church attendance.  Despite the fact that religion's influence has decreased, in this day of hyper-partisanship and cultural-compartmentalizing, it seems to me that getting 40% of Americans to do anything on a given day every week is something just shy of a miracle.  Religion is still a powerful force in our culture.

Likewise, it would be hard for anyone to deny that psychological insights and doctrines impact everyone for good or ill.  Psychological terms like "self-esteem," "drive," "sibling rivalry," "actualization," "identity," and so on are part of almost everyone's vocabulary. And, of course, Catholics are not strangers to psychological counseling.

Regarding this last point about mental health treatment, Catholics face a special challenge.  As fellow Patheos blogger, Mark Shea, is fond of noting,  the sociologist, Peter Berger once remarked that if India was the most religious nation in the world and Sweden the least, then the US is a country of Indians ruled by Swedes. We might as well say the same thing about mental health in the US; specifically, the US is a nation of Indian patients treated by Swedish shrinks.
That's just for starters.  Read more.
So, after you've visited The Bench, spend some time on The Couch.  Best of all: it's free, so you know your insurance plan will cover it.