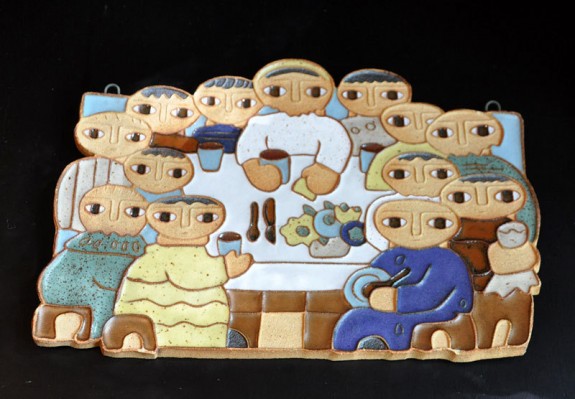 You have probably seen his work in gift shops or churches and not even realized it. The image above —depicting The Last Supper— shows his distinctive, simple style.
Details, from the Los Angeles Times:
Father Maur van Doorslaer lived a kind of double life.

For decades, the Benedictine monk spent half the year working in a studio at an abbey in Belgium, painting abstract art in varying shades of white. For the other half, he took in the High Desert summers at St. Andrew's Abbey in Valyermo,where he made "cookies," his name for the folksy porcelain plaques he designed depicting angels, saints and biblical scenes.

"For six months of the year, I'm a serious artist," he told The Times in 1986, "and for six months a year, I play with dolls."

Van Doorslaer, whose earth-colored ceramics became a money-maker for the Antelope Valley abbey and a fixture for decades at its annual fall festival, died Friday of complications relating to colon cancer at a hospice near the religious order's mother abbey in Bruges, Belgium, said Father Francis Benedict, abbot emeritus of St. Andrew's. He was 87.

Van Doorslaer's angels, which feature wide-open eyes and playful designs such as firefighter angels, angels with gardening tools, and angels with poodles, built him a loyal fan base across North America.

"It's a very simple and kind of primitive art, but it does evoke spirituality," said Benedict, a fellow monk who first met Van Doorslaer in 1965, when the California-based monks enlisted his help in finding an industry that could help sustain them financially.

After 10 months of traveling to Mexico and studying folk art, Van Doorslaer emerged with the trademark "cookie" design, so named because it reminded him of St. Nicholas cookies given to Belgian children. He later incorporated hobbies and sports teams into his designs to boost their popularity. "He created a recognizable trademark for us through those big-eyed saints and angels," Benedict said.

Van Doorslaer's designs sometimes showed flashes of his humor, such as a plaque of a troupe of angels playing cards or another of Jesus roller-skating with friends at Venice Beach, which was adapted in 1997 for a mural on the exterior of a Venice church. Today, the abbey produces 40,000 ceramic pieces a year for sale from 600 retailers and its online store. The abbey's fall festival, where collectors often stood in long lines to get their angels autographed by Van Doorslaer, was discontinued in 2009.
Eternal rest grant unto him, O Lord, and let perpetual light shine upon him…