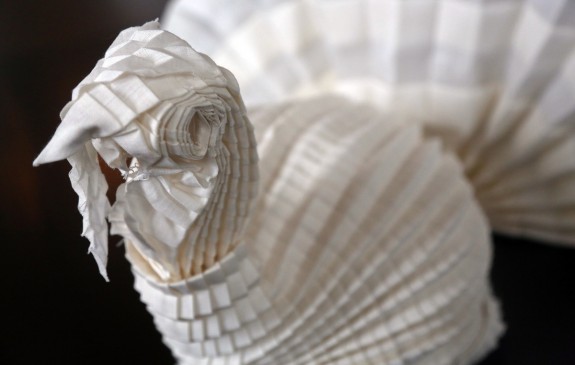 Here's a palate-cleanser for you: a remarkable display of a rarely-appreciated talent, napkin-folding. After seeing this all the work involved, you may want to just use your sleeve. These creations are just too pretty to ruin with gravy.
From Huffington Post:
Guided by Joan Sallas's hands, napkins transform into ornate structures, armadillos, giant griffins. But they do not, under any circumstances, mop up errant drops of barbecue sauce from the corner of your mouth.

By most accounts, Sallas, 48, is the world's best "virtuoso" napkin folder, more or less singlehandedly reviving the Baroque-style art after it peaked in 17th century German-speaking countries.

According to the Agence France-Presse, European courts as far back as 1529 relied on the impressive, folded creations to wow guests. But the labor-intensive tradition slowly faded, disappearing completely until Sallas revived it.

Despite his hours of research, Sallas still can't wrap his head around recreating some of the ancient designs.

"My favourite piece is always the one I haven't deciphered yet, the one I don't know how to fold yet," he told AFP in 2010. "It is incredibly exciting for a researcher to investigate how an object was folded: you can sit there for days and nights, until you understand how an object was folded."
Read the rest. And see an amazing slide show, too.
Photo: by Getty