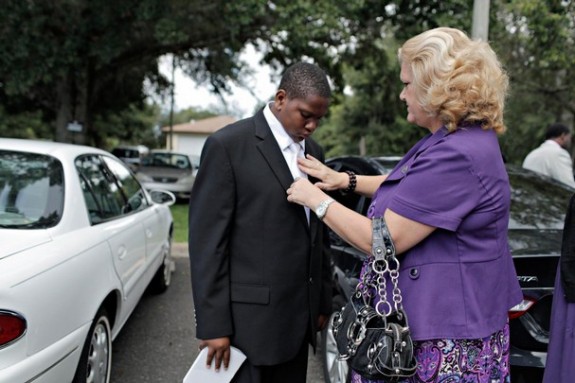 Photo: Melissa Lyttle, Tampa Bay Times
Wow.  Just wow.
From The Tampa Bay Times in Florida:
As soon as they pulled into the church lot, Davion changed his mind.

"Miss! Hey, Miss!" he called to his caseworker, who was driving. "I don't want to do this anymore."

In the back seat, he hugged the Bible someone had given him at the foster home. "You're going to be great," Connie Going said.

Outside St. Mark Missionary Baptist Church, she straightened his tie. Like his too-big black suit, the white tie had been donated. It zipped up around the neck, which helped. No one had ever taught Davion, 15, how to tie one.

"Are you ready?" Going asked. Hanging his head, he followed her into the sanctuary.

This had been his idea. He'd heard something about God helping people who help themselves. So here he was, on a Sunday in September, surrounded by strangers, taking his future into his own sweaty hands.

Davion Navar Henry Only loves all of his names. He has memorized the meaning of each one: beloved, brown, ruler of the home, the one and only.

But he has never had a home or felt beloved. His name is the last thing his parents gave him.

He was born while his mom was in jail. He can't count all of the places he has lived.

In June, Davion sat at a library computer, unfolded his birth certificate and, for the first time, searched for his mother's name. Up came her mug shot: 6-foot-1, 270 pounds — tall, big and dark, like him. Petty theft, cocaine.

Next he saw the obituary: La-Dwina Ilene "Big Dust" McCloud, 55, of Clearwater, died June 5, 2013. Just a few weeks before.