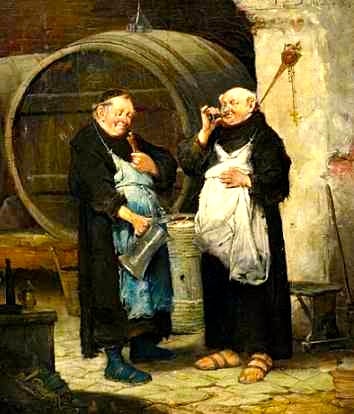 From my blog neighbor Frank Weathers:
Let me just skip you straight to the Wikipedia citation for champagne, complete with footnotes for you to follow up on:

Contrary to legend and popular belief, Dom Pérignon did not invent sparkling wine, but he did make important contributions to the production and quality of Champagne wine.[6][7] The oldest recorded sparkling wine is Blanquette de Limoux, which was apparently invented by Benedictine Monks in the Abbey of Saint Hilaire, near Carcassonne in 1531.[8] They achieved this by bottling the wine before the initial fermentation had ended.

Skipping over to the citation for Blanquette de Limoux, we learn the following,

Records show that Livy traded in non-sparkling white wines from Limoux as far back as the Roman occupation of the region.

Blanquette de Limoux is considered to be the first sparkling white wine produced in France, created long before the Champagne region became world renowned for the sparkling wine Champagne. The first textual mention of "blanquette", from the Occitan expression for "the small white", appeared in 1531 in papers written by Benedictine monks at an abbey in Saint-Hilaire. They detail the production and distribution of Saint-Hilaire's blanquette in cork-stoppered flasks. The region's location, north of the Cork Oak forest of Cataluña, gave Limoux producers easy access to the material needed to produce secondary fermentation in the flask, which produces the bubbles necessary for sparkling wine.[1]
Read more. Cheers! And Happy New Year!