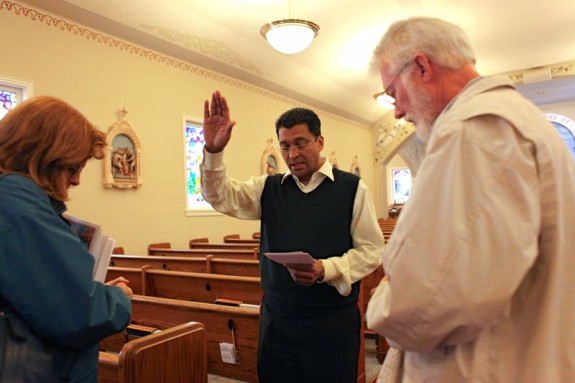 Photo: Zac Boesch/St. Louis Review
From inside a dark home, through a cracked door, a faceless voice tells Jim G'Sell, "Go away. I'm pagan."

G'Sell walked away and said "Hey, we need to pray for her, 'Lord, she's suffering because she doesn't know You and maybe next time we knock on her door, maybe she'll be a little more receptive.'"

As part of the door-to-door evangelization ministry at St. Anthony of Padua Parish in High Ridge, G'Sell and other volunteers have visited more than 2,500 homes. The group intends to visit about 7,000 homes within the parish boundaries. Maybe then the person inside the home will meet the missionaries.

The word missionary brings to mind the image of priests and religious in a distant country, not within suburban neighborhoods in the Midwest.

"Missionaries are here," Father Sebastian Mundackal, pastor of St. Anthony of Padua since 2010, said. "Here (are) the people most in need than anywhere." Born in India, Father Mundackal knows what it means to be a missionary. He sees evangelization as his primary duty as pastor. Back home, he would make door-to-door visits often, but in order to run a parish and to meet this need for evangelization, Father Mundackal recruited the help of a few parishioners.

"I told them, 'It's my job, but I'm sharing it with you,'" Father Mundackal said. Parishioners gave "a very reluctant answer to me, they were scared. They said, 'It's not my job father, I'm afraid to talk,' and all kinds of lame excuses."

In October 2012, the group was trained by Society of Our Mother of Peace, a religious community located in High Ridge. During their first day of training, they reluctantly visited maybe 20 homes, G'Sell said.

"All four of us felt very uncomfortable going (on) cold calls, door to door. We thought, 'Are we Jehovah's Witnesses? Are we Mormons?' I mean this is something Catholics typically don't do," G'Sell said. Despite these feelings, they continued to visit homes and slowly changed their dispositions.