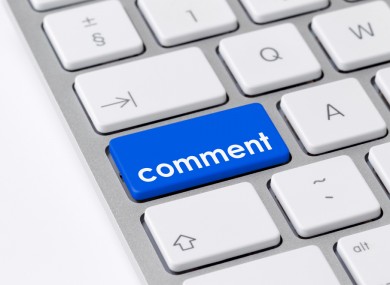 This could serve as a handy companion piece to my Examination of Conscience for the Internet.
It comes from Cara Joyner at Relevant magazine:
In absence of guidelines for healthy and polite social media etiquette, we are left to determine our own boundaries for navigating the seemingly endless opportunities available to us.
Joyner lists several points to ponder, then strikes a particularly resonant chord:
Let's return to Paul and his call to love. "Love is patient. Love is kind."

Our culture tells us it's our right to comment on everything, regardless of whether it was addressed to us and without consideration for how it might affect others.

We've replaced face-to-face confrontation with sharp comments and mocking memes. We write demeaning tweets addressed to celebrities or openly criticize individuals we have never met, hiding behind the convenience that they cannot directly defend themselves and nobody is putting our personal lives on display for public criticism.

We have been given covered space from which to throw grenades, without requiring us to take responsibility for the weight of our words, their effect on other people and their reflection on the Church. Jesus said the world would recognize us by our love. What messages are we sending?

Social Media seems to be built around the idea that it can infiltrate nearly every part of our lives. And if we let it, that's exactly what will happen. We are the ones who say when its reach becomes unhealthy.

As children, our parents laid out rules for our protection and as adults we took on the task of caring for our own well being and personal growth. It's our job to set boundaries and ask tough questions, tending to the bigger picture of our relationships and the way our actions reflect Christ's love for this world.

It's worth noting that these are questions we ask of ourselves, not criteria for interpreting and evaluating others. We cannot know their hearts anymore than they can know ours.

Let us pause and give ourselves an honest moment to reflect—bringing discernment, love and wisdom to each picture and word we share.
Read it all. It's a keeper.
UPDATE: My pal Deacon Bill Ditewig adds to the conversation, with some more questions, like:
Am I competent to address the issue? Everyone is entitled to an opinion, but not all opinions carry the same weight or value. I might have an opinion about the latest influenza strain. How nice for me! But a medical doctor who posts her professional opinion on the same subject gets the nod! I'm not saying folks have to have a degree in order to comment or to have an opinion. But what I see so often is that if a person has an opinion, they presume that it must be the final word and that their opinion is the only one that is true or that matters! I have frequently taught logic and critical thinking courses. As we find out in class, when two people disagree on something, we may conclude any number of things: a) one is correct and the other is wrong; or, b) both are correct but in different ways; or, c) both are wrong. All a disagreement tells us is that there is a disagreement; the veracity of one position over another is something else again. That is where "competence" comes into play, along with an ability to think critically and honestly. So, when sharing my opinion, I must be brutally honest with myself: What is my level of competence or incompetence in writing on an issue? The anonymity of the internet often communicates a false confidence and competence: a person can claim many things which can not always be verified in fact: that a person is a priest or deacon, for example, or that he or she holds this or that academic degree, or that they were just talking about this very issue with the Pope last week! That's why it can be very helpful, when offering opinions, to provide verifiable information which supports one's position. There are any number of blogs for example in which the blogger claims certain ecclesiastical status (priesthood, for example) but then proceeds to act in ways which would cast serious doubt on the veracity of such a claim.