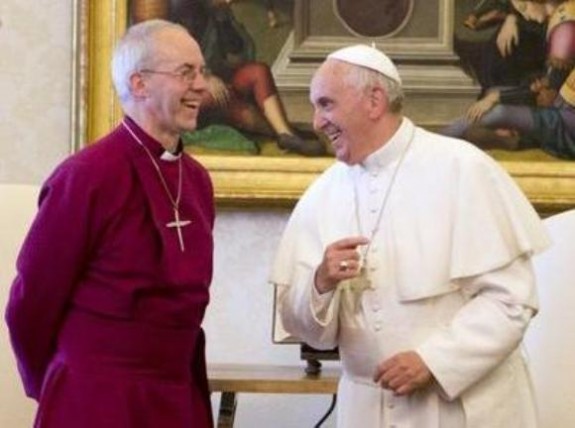 Deacon Bill Ditewig reminds us that we are beginning the International Week of Prayer for Christian Unity—and after the recent controversy over that picture with Cardinal O'Malley, quotes this passage from Lumen gentium:
The Church recognizes that in many ways she is linked with those who, being baptized, are honored with the name of Christian, though they do not profess the faith in its entirety or do not preserve unity of communion with the successor of Peter. . . . We can say that in some real way they are joined with us in the Holy Spirit, for to them too He gives His gifts and graces whereby He is operative among them with His sanctifying power. Some indeed He has strengthened to the extent of the shedding of their blood. In all of Christ's disciples the Spirit arouses the desire to be peacefully united, in the manner determined by Christ, as one flock under one shepherd, and He prompts them to pursue this end. (17*) Mother Church never ceases to pray, hope and work that this may come about. She exhorts her children to purification and renewal so that the sign of Christ may shine more brightly over the face of the earth.
And there's this from the Decree on Ecumenism:
For men who believe in Christ and have been truly baptized are in communion with the Catholic Church even though this communion is imperfect. The differences that exist in varying degrees between them and the Catholic Church-whether in doctrine and sometimes in discipline, or concerning the structure of the Church-do indeed create many obstacles, sometimes serious ones, to full ecclesiastical communion. . . . But even in spite of them it remains true that all who have been justified by faith in Baptism are members of Christ's body, and have a right to be called Christian, and so are correctly accepted as brothers by the children of the Catholic Church. Moreover, some and even very many of the significant elements and endowments which together go to build up and give life to the Church itself, can exist outside the visible boundaries of the Catholic Church: the written word of God; the life of grace; faith, hope and charity, with the other interior gifts of the Holy Spirit, and visible elements too. All of these, which come from Christ and lead back to Christ, belong by right to the one Church of Christ.
There's much more. Read it all.