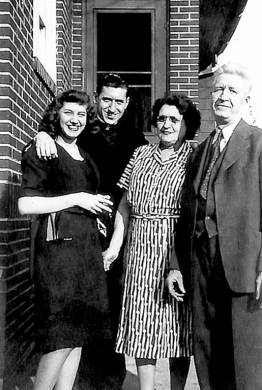 A surprising piece of news uncovered in Catholic New York:
Cardinal John O'Connor, who as Archbishop of New York cultivated and cherished his strong ties to the Jewish community, was born of a mother who was born Jewish.

It is not known whether he knew that his mother, Dorothy Gumple O'Connor, was born Jewish. She converted to Catholicism before she met and married Thomas O'Connor, the late cardinal's father. Mary O'Connor Ward, the cardinal's sister, told CNY in an exclusive interview that her mother never spoke about having belonged to another faith.

The fact that Mrs. O'Connor was Jewish by birth came to light during a genealogical search undertaken by Mrs. Ward at the prompting of one of her daughters, Eileen Ward Christian, who had begun digging into the family's history. Mrs. Ward said in an interview that when she was growing up she surmised that her mother was a convert, but that the family never discussed the matter.

Asked whether Cardinal O'Connor was aware of his Jewish lineage, she said, "I have no way of knowing that." But she added, "I just don't understand, if he knew, why something wouldn't have come up before. He was so close to the Jewish community."

Musing about his probable reaction to the news, she said, "I think he would have been very proud of it." She said that she was very proud when she discovered her Jewish ancestry, and she noted that Cardinal O'Connor often spoke of the Jewish people as "our elder brothers" in faith.

"I don't think you can be a Catholic and not feel that connection," Mrs. Ward said.
In a sidebar, the late cardinal's sister writes poignantly:
My brother revered the Jewish people for their sublime dignity as God's chosen race. It was the Jewish people who taught mankind what it means to know and trust God, and to be His beloved. He would have considered it the greatest honor to be united with ties of blood to the race that bore our Savior Jesus Christ and His Holy Mother. I see now that my brother's entire life was shaped by the faith of Jewish people. Whenever he spoke of the Holocaust he did so with tears in his heart. As a priest, during a trip to the Nazi concentration camp at Dachau, he was pierced to the core. He vowed that he would do whatever he could, until his dying breath, to promote the sacredness of every human life.

He said that the men and women who died at Dachau shaped his adult life. His childhood was shaped by a woman who did not die at Dachau, but could have, had the circumstances of her birth been different. She shaped his heart and warmed his love. She taught him the faith and how to pray to God. He wrote to her before his ordination to the priesthood, "To my Mother, in appreciation of the fact that if her son ever becomes (a) good priest…the credit and the reward will be hers."

I marvel at God's mysterious ways.