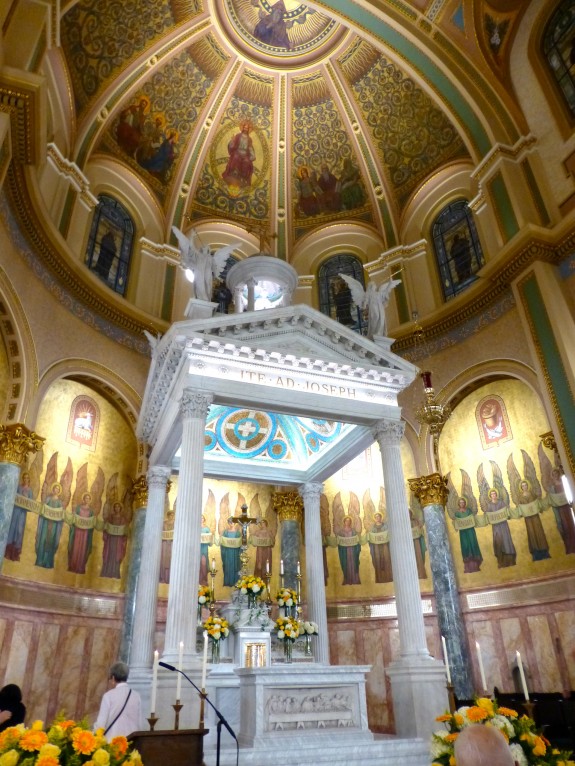 A little history was made in the Diocese of Brooklyn last night, as Bishop Nicholas DiMarzio dedicated the new Co-Cathedral of St. Joseph on Pacific Street, just a stone's throw (or a long free shot) from the shiny new Barclay Center, home to the Brooklyn Nets.
The 100-year-old parish church has been freshly renovated—stunningly so, in fact—and will serve to host some of the diocese's larger liturgical functions, such as the annual Chrism Mass and ordinations. St. Joe's seats close to 1500 people—more than double the capacity of the Cathedral Basilica of St. James.  It also happens to be located in the heart of a Brooklyn neighborhood that is enjoying phenomenal growth right now—thanks to the Barclay Center—and the parish should benefit from that.
Below are some images of this historic event.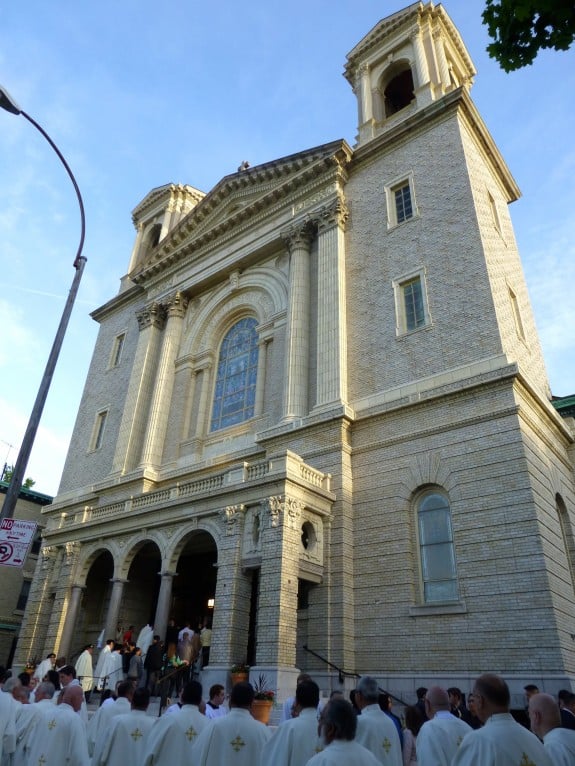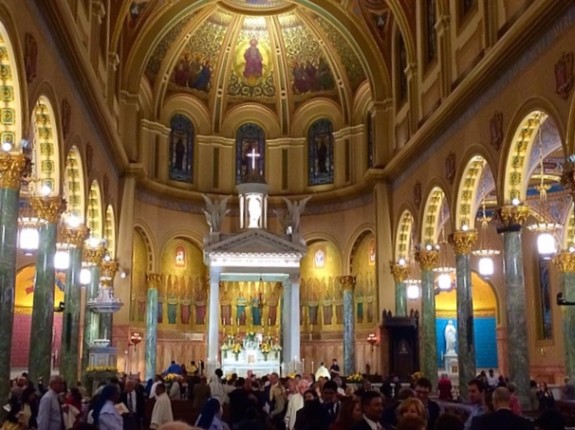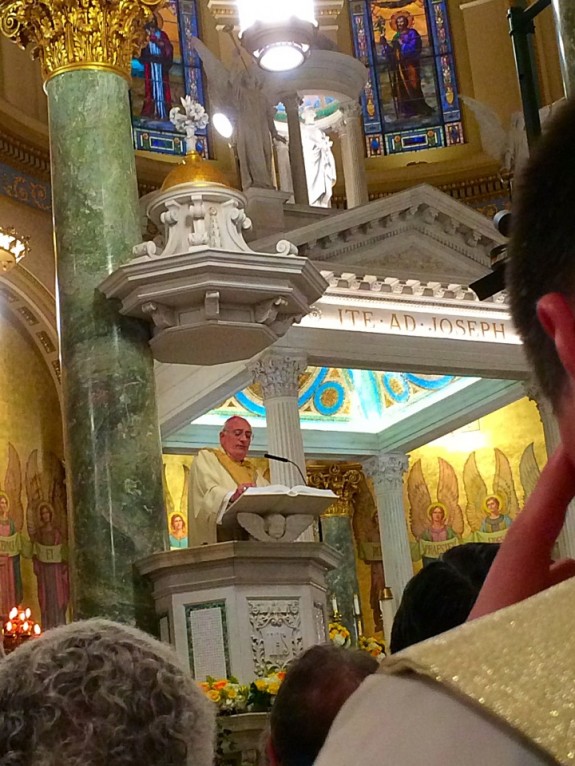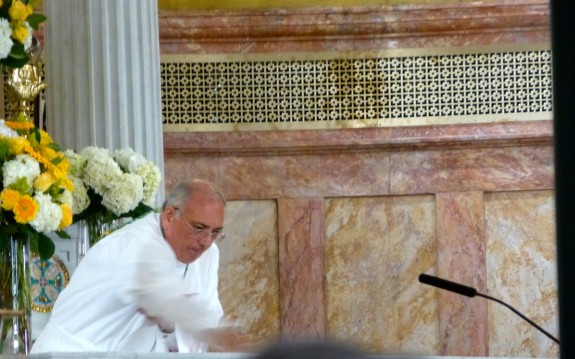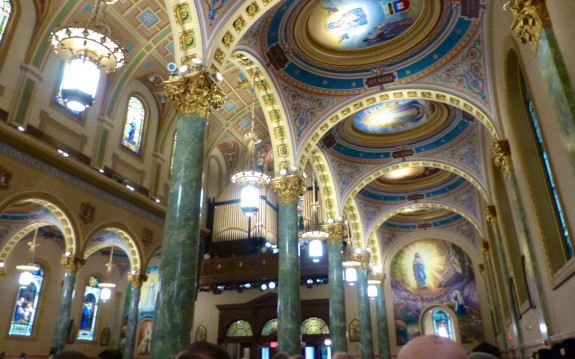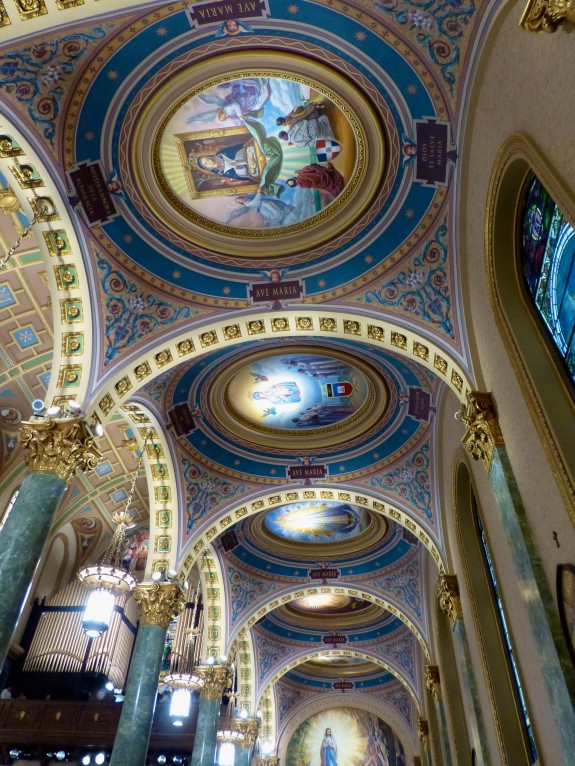 Above: for the "diocese of immigrants," the co-cathedral has 20 Marian Murals, depicting the Blessed Mother from countries as varied as Ireland (Our Lady of Knock) and Czech Republic (Our Lady of Hostyn).
But my favorite mural is the one below, in the choir loft, depicting American saints and future saints: Francis Cabrini, Jean de Lelande, Marianne Cope, Bishop Ford, Rene Goupil, Isaac Jogues, John Neumann, Fr. Bernard Quinn, Dorothy Day, Rose Duchesne, Elizabeth Ann Seton, Pierre Toussaint, Kateri Tekakwitha, Theodore Guerin, Katherine Drexel and Damien of Molokai. The mural also depicts (though it's hard to see in this shot) landmarks in the diocese, including the Brooklyn Bridge, the Unisphere (from the World's Fair of 1964) and St. Joseph's itself.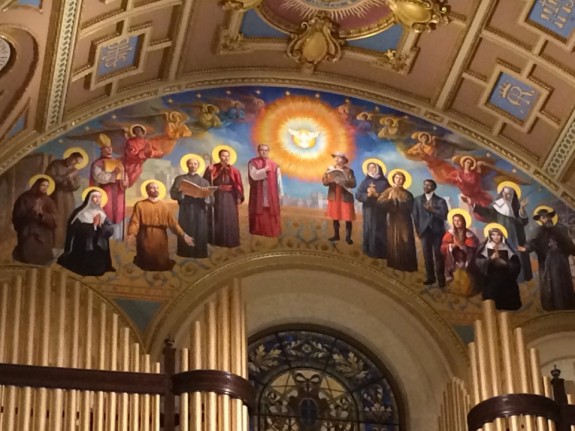 If you've never been to a church dedication, it is something to experience. The rite itself draws on many of the same symbols and signs as baptism: water (sprinkled on the walls), chrism (marking the altar and the walls), fire (the lighting of candles and burning of incense of the first time) and the litany of saints. In a sense, the building itself is baptized—consecrated to Christ for God's people. It's beautiful and humbling—and reminds us that the Church is something alive and forever new, constructed of "living stones."
Congratulations to Bishop DiMarzio and the co-cathedral's rector Msgr. Kieran Harrington. Not so very long ago, the building was in such bad shape, there was serious talk of tearing it down. But instead, the diocese has done something that is only supposed to happen in fairy tales.
Brooklyn has awakened a sleeping beauty.
Ad multos annos!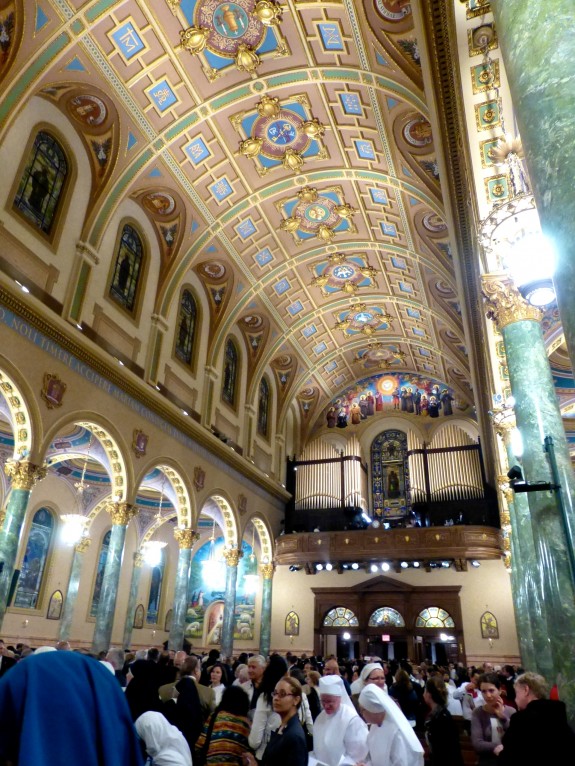 The video below shows more detail and some of the work that's been going on to restore the building.