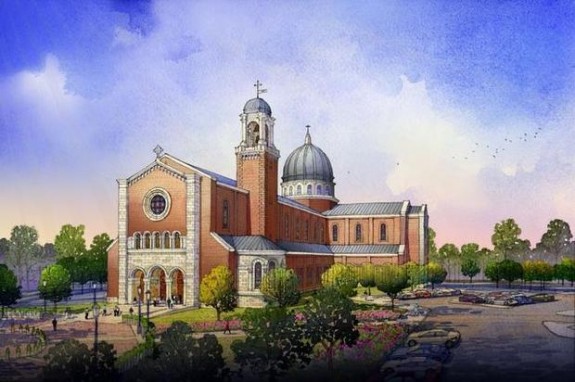 Catholic Bishop Michael Burbidge unveiled a scaled-back plan for a new cathedral in West Raleigh on Tuesday, saying the changes reflect feedback from parishioners and the diocese's ability to raise money.

Holy Name of Jesus Cathedral, the mother church for the 54-county diocese, will cost about $41 million, compared to an estimated $75 million to $90 million that church officials proposed for the cathedral campus in 2011. Burbidge has long said that the Catholic Diocese of Raleigh would build the cathedral that "God's people will let us build," and fundraising indicated that people didn't want to spend that much.

"We showed what an entire campus would look like," Burbidge said. "This is more in line with the funds that people have stepped up to give to us."

Burbidge said the diocese has raised about 75 percent of what it needs to build the cathedral on 39 acres it owns off Western Boulevard. It hopes to break ground in December, he said, and the building should take about two years to complete.

Holy Name of Jesus Cathedral will replace Sacred Heart Cathedral in downtown Raleigh, which with a capacity of about 300 is the second-smallest cathedral in the country after Juneau, Alaska, according to Burbidge. When the diocese first announced plans for the new cathedral, it presented artist renderings of a 2,000-seat building with a large bell tower, an adjacent gathering hall and a three-story parking deck, designed by architect James McCrery of Washington.

The new plans come from another architect, James O'Brien of O'Brien and Keane in Arlington, Va., the firm that designed St. Catherine of Siena Catholic Church in Wake Forest.

The cathedral will still seat about 2,000 people, but the bell tower is shorter and the gathering hall and the parking deck are gone. A planned basement, or crypt, has also been eliminated.
Read more and see more images here.