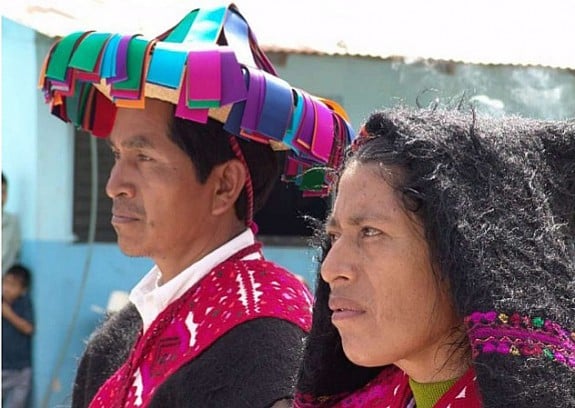 A reader sent this bit of news my way:
Late last month Mexican Bishop Felipe Arizmendi Esquivel announced that after a 14 year church-ordered suspension of the rite, indigenous deacons would again be ordained in the Diocese of San Cristóbal de Las Casas, Chiapas—where the local church serves a largely Maya population.

A rare reversal in church policy, resumption of deacon ordinations in Chiapas appears to signal an end to official ecclesiastical suppression of liberation theology and practice.

In a striking statement, Cardinal Gerhard Ludwig Müller, the current head of the Congregation of the Doctrine of the Faith (the Vatican organization that once spearheaded the Vatican attack on liberation theology under then-Cardinal Joseph Ratzinger) recently placed liberation theology in context with the work of the "great Doctors of the Church like St. Augustine and St. Thomas."

Cardinal Müller also edited a collection of essays on liberation theology—including one by its founder, Peruvian Gustavo Gutiérrez—published with a preface by Pope Francis and presented to the public this past February.

Pope Francis welcomed Gutiérrez to the Vatican during his stay in Rome for the presentation. In his first official teaching document, The Joy of the Gospel, Francis exhorts Catholics to "overcome suspicion" and embrace "a church with many faces."

Still, until now, Francis had not rescinded the actions of two predecessors who censured liberationist theologians and dismantled institutions that promoted liberationist thinking and practice. But the Pope's approval of Bishop Arizmendi's plan to ordain 100 new indigenous deacons to serve the Maya populations of Chiapas is a game changer.

Ordination of Maya indigenous deacons in Chiapas was the brainchild of Bishop Samuel Ruiz (1924-2011), one of the beloved (so-called) "red bishops" of Latin America and a renowned advocate of Mexico's Maya and other indigenous peoples during his four decade episcopal ministry. An erstwhile seminary rector, Bishop Ruiz was "converted" by the poor of his diocese, much as Oscar Romero had been.

There are more than two million Maya indigenous in the Diocese of San Cristobal, which encompasses both the sprawling mountain highlands and the vast Lacandon Jungle in one of Mexico's poorest states. Ruiz responded to the extreme poverty and marginalization of the diocese's majority indigenous population with pastoral innovations that promoted liberation on the ground. With financial support from Mexico's Papal Nuncio, the bishop established schools for catechists that drew scores of Maya indigenous to San Cristóbal where they encountered the Catholic teachings of Vatican II and, for the first time in Maya history, were entrusted with the Bible.

After a period of church testing and consultation with local communities, Bishop Ruiz began ordaining some of these catechists to the permanent diaconate. As ordained ministers permanent deacons are authorized to baptize and preside at marriages and communion services in the absence of priests in the 2500 local Maya communities in Chiapas. Unlike transitional deacons eventually ordained to celibate priesthood, permanent deacons in Chiapas are married and rely on the assistance of their wives in attending to pastoral needs, including catechism classes, marriage preparation, and visits to the sick.

Bishop Ruiz elevated an extraordinary number of Maya men to the permanent diaconate, an ancient institution revived by Vatican II. In 2000, 341 of Mexico's 800 deacons served the Diocese of San Cristobal, the largest number of deacons in any Catholic diocese in the world.